An Intellectual Leader
george brown named first holder of drinan chair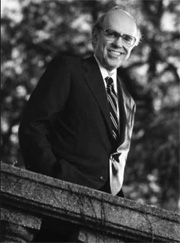 Photo by Judy Sanders/Wildsands

I haven't really managed the paperless office. I could probably throw out half this stuff," admits Professor George Brown, indicating bookshelves crammed with volumes of the Harvard Law Review and the Supreme Court Reporter, "but I don't like to throw things out."

One pile of paper that has preoccupied Brown recently is a 113-page printout of the June 2006 Supreme Court decision in Hamdan v. Rumsfeld. The case struck down military commissions established by the Bush administration to try people detained on suspicion of involvement in terrorist activities, and was widely seen as "a great rebuke of presidential power," according to Brown. "This is a very difficult case," he says, leafing through the heavily underlined pages. "I've been reading it for a month, and I still don't fully understand it."

The frank admission denotes the caution and attention to nuance of a scholar whose eminence in the legal academy guarantees that attention will be paid to his opinions. In August 2006, Brown was named as the inaugural holder of the Robert Drinan, SJ, Chair at Boston College Law School. "George has been the intellectual leader of this faculty for thirty-five years," says Dean John Garvey, "and this recognition of his leadership is long overdue."

Nationally known for his work in the fields of government ethics, political corruption, and federal-state relations, Brown has turned recently to the study of terrorism and the relationship between the courts and the political branches of government. "The whole question of how we reconcile our commitment to civil liberties with the very harsh realities of the war on terror is one of the most important issues facing the country," he says.

For Brown, a central concern is the extent to which the courts should "show deference to the executive branch, particularly in the decisions that it makes in the war on terror." His grasp of the dynamic tension between different branches of government comes from first-hand experience, as Assistant State Attorney General under Elliott Richardson in 1968, and as Legislative Assistant to Massachusetts Governor Francis Sargent from 1969–1971.

Brown's fascination with the intersecting worlds of current events, politics, and the law developed while he was a French major and later a graduate student in Paris in the late 1950s and early 1960s, seeking to understand anti-American feeling in France. He switched from French to law, thinking that law school would offer more opportunities to explore these issues.

Almost from the day he entered Harvard Law School, Brown was drawn to the life of the legal academic, with its potential for balancing scholarship with participation in public life. But a short spell of teaching after graduation convinced him that he needed to season his academic interests with real-world experience, and he headed for Beacon Hill.

That taste of public service proved invaluable, when as Chair of the State Ethics Commission from 1994 to 1998 under Governor William Weld, Brown investigated reported breaches of conflict of interest statutes by officials at the state, county, and local levels. Cases were often far from clear-cut, says Brown, and having been a public servant, he could see both sides of an issue. He also took the initiative in mending fences between the Commission and the state legislature, by holding an hour-long question and answer session with legislators in the State House—the first time such a dialogue had been attempted.

When not parsing Supreme Court decisions, teaching, or keeping up what Dean Garvey calls a "constant stream" of influential articles, Brown can often be found fishing in the upper reaches of the Charles River, sometimes with his colleague and friend Professor Zygmunt Plater. Since Brown's daughter moved to London, he has also discovered the pleasures of exploring the city's neighborhoods on foot. And although he gave up the formal study of French decades ago, Brown and his wife, Pat, regularly vacation in the Perigord region of France to savor "la douceur de vivre.""
-Jane Whitehead