A Personality for Business
legal acumen serves notini well in industry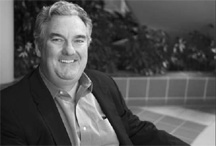 Sonus Networks was in the throes of an accounting nightmare three years ago when Albert A. Notini '83 became president and COO. The Chelmsford provider of voice-over-Internet Protocol (voIP) applications and services, was facing audits and lawsuits over questionable financial reporting practices. Investors were jittery, and share prices were down.

Notini, forty-nine, already on the Sonus board of directors, assumed responsibility for marketing, sales, finance, legal, engineering, and manufacturing operations. He implemented new internal guidelines to make the company compliant with Sarbanes- Oxley regulations, added an employee ethics-training program, and beefed up the finance and accounting staff.

In the 1990s, when Notini was a senior partner at Hale and Dorr (now WilmerHale), he wouldn't have predicted he would end up in the corner office of a telecommunications company, leading the charge from circuit-based to data-based "packet" technology. As he himself asks, sitting in the company's headquarters in a quiet office park, "Why is a lawyer doing this?"

The answer is simple, he says. "A foundation in law gives you very solid analytic reasoning skills. When you use those skills in the real world, they create opportunities for you to do any number of things."

As Notini moved through his career—from Hale and Dorr to general counsel and senior vice president at Wang Laboratories to Manufacturers' Services director and CFO—he noticed that many of the investment bankers and business executives were lawyers, that people trained as lawyers were playing a full set of roles around the table.

"Lawyers know how to think through what other people are nervous about," says Notini. "We are trained to break down problems into component parts, think about how to bring pieces together, come with a pathway through, and then start driving it. That's the way you run a case, whether it's a piece of litigation or a corporate deal."

The seeds of Notini's business acumen were planted early, when he worked in the family company, A. H. Notini, a wholesale distributor in Lowell. But law was his passion, and he went on to BC Law School, where he was editor of Boston College Law Review.

Notini specialized in commercial and bankruptcy reorganization at Hale and Dorr and in that capacity counseled Wang after it declared bankruptcy in 1992. He then was hired by Wang and found he enjoyed "getting my hand on the wheel" of a very large company.

Notini encourages other attorneys to think outside conventional professional pathways. "Consider being the player in the drama; leading the company; leading the transactions; driving change in creating value; pooling capital, people; segmenting markets and creating something that wasn't there before," says Notini.

"As a lawyer you find ways to limit and avoid risk; as a business executive, you take risks, and that transition is an important one," he explains. "I take risks for a living as opposed to managing risks. But I also still manage risks to make good solid business decisions in a more pro-active way." He adds that the ability to present an argument on your feet effectively is rare in the business world.

Notini sits back in his chair in the conference room where, just recently, representatives from Germany, Japan, and France visited. He's off for a trip soon to visit Sonus operations in London, Rome, Tokyo, and India. He has so many frequent flyer miles he's stopped counting. But in the end, he says, his priorities lie in New England, in the Concord home he shares with his wife Barbara and their two teenage children. He loves the eighteenth century landscape and homes as well as the region's economic diversity. But, he says, pausing, "I don't like the weather."

—Cynthia Ann Atoji
More from Esquire:
The Power of Literature
Playing for High Stakes
Bookshelf
Golf Tournament Turns Good to Gold
Overseeers Celebrate Drinan Chair
Chapter News