Golf Tournament Turns Good to Gold
event honoring morisi raises scholarship funds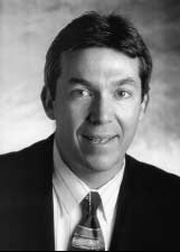 When attorney Michael V. Morisi died of pancreatic cancer six years ago, his family and friends wanted to commemorate the life and accomplishments of this 1979 Boston College graduate who touched so many lives. Founder of the Quincy law firm Morisi & Oatway PC, Morisi "was a champion," said Massachusetts Attorney General Thomas Reilly '70 in a letter to Lawyer's Weekly at the time of Morisi's death.

Helping aspiring law students who emulate Morisi's life seemed to be the logical way to honor this dedicated practitioner who died at the age of forty-two after almost a decade of battling his disease. So, in 2001, the Michael V. Morisi Scholarship Fund was formed. For the past six years, a charity golf tournament and dinner have helped raise proceeds, with many of Morisi's former clients acting as sponsors for the event. This year's outing, held October 2 at the Thorny Lea Golf Club in Brockton, is the final year for the tournament, but Carmen Ortiz, Morisi's widow, says they hope to continue awarding scholarship monies. "Michael was a person who loved life and lived it to the fullest, never taking a day for granted," she says.

Like many past recipients, this year's winner, David Scheffler '07, exemplified "the way Morisi loved the law but loved his family even more," says Andrew Oatway '92, Morisi's former partner.

The scholarship has raised more than $125,000 since its inception, $75,000 of which has been donated to Boston College Law School.

Among other distinguished legal accomplishments, in 1998 Morisi represented the plaintiffs in Valenti v. Lubin & Meyer PC, and won the multimillion dollar legal malpractice case in the US District Court in Boston. The verdict, which was among the top five of the year in Massachusetts, is reported to be the highest legal malpractice verdict in state history.

Establishing a scholarship in memory of someone can ensure that his or her name continues in perpetuity," says Michael Spatola, BC Law director of development.

In receiving this year's scholarship, Scheffler says, "Michael's friends and family will always be in my thoughts. His life is an inspiration to me."

—Cynthia Ann Atoji
More from Esquire:
The Power of Literature
Playing for High Stakes
A Personality for Business
Bookshelf: Published Alumni
Overseeers Celebrate Drinan Chair
Chapter News