Power of Literature
reading program changes criminals' lives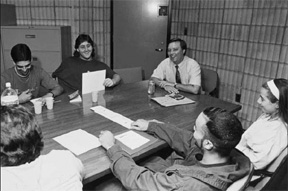 Robert Waxler (upper right) co-founded the reading program with Judge Robert Kane '72. This is an early class, conducted seminar-style, at UMass Dartmouth
Judge Robert Kane '72, a Superior Court judge in New Bedford, starts every day reading fiction. "I don't want to be a human being who is just concerned with logic," he says. "I also want to be concerned with humanity. I make judgments about risks and freedom, and I need to be as well schooled in what makes people tick as any part of my learning."
Literature, he says, makes this possible, and he believes that it can make the lives of the criminals he sentences better as well. So in 1991, together with Boston College alumnus Robert Waxler, a professor of English at the University of Massachusetts at Dartmouth, he started the Changing Lives Through Literature Program, in which a group of eight to twelve offenders on probation meet for twelve weeks to discuss fiction that ranges from Frankenstein to the short stories of Raymond Carver.
Kane and Waxler began the program, now duplicated elsewhere in the country, as an alternative to incarceration. They believe in the power of literature as a mirror into the personality. Not only can participants read a story and begin to have an internal conversation about the plot and lessons, but the participants also are introduced to the concept of articulating their feelings about the story in a group setting. Kane explains that this is a big step for people who "haven't engaged in the kind of verbal skills that all of us prize. This is important in terms of unleashing them from the sense that they can't make themselves known."
The participants work with a professor, usually from a local college, the judge, and a probation officer. The program is done in conjunction with probation, though some offenders are sentenced only to probation, while some already have done jail time. Kane says that he chooses who will participate "by instinct," although there are a few guidelines: motivation and the ability to read.
"We are absolutely opposed to homework. We don't want this to become a mirror of a classroom they didn't do well at," Kane says. Instead, the program is run as a seminar. And while some judges scoff at his program or mock it, he admits, he also is convinced that it works. A 1995 study showed that the program reduced expected recidivism by 20 percent. And Kane's own anecdotal experience has led him to believe this rate is higher. "I get stopped on the street in New Bedford or Fall River by people who have attended," he says. "They tell me they have continued to read." Most important, Kane says, for the offenders, professors, and judges alike, the end result is a sense of the "commonality that makes you so aware that every human being is so close to others," Kane says. "They feel it with the judge and themselves. Yes, they feel intimidated to a degree, but they also know that this is a search for meaning that everyone has."
Versions of the Changing Lives Through Literature Program are currently implemented throughout Massachusetts, seven other states, Canada, and England. Waxler notes that some 4,000 offenders have gone through the program. "I think we have changed a lot of people's lives," he says. "It's a great testament to the power of literature."
—Kathryn Beaumont '08
More from Esquire:
Playing for High Stakes
Golf Tournament Turns Good to Gold
A Personality for Business
Bookshelf: Published Alumni
Overseeers Celebrate Drinan Chair
Chapter News