In Limine
vicki sanders, editor-in-chief
High Achievers
Alumni stories are page turners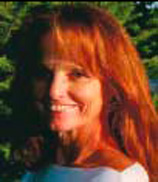 Producing an alumni magazine is a little like stirring up the silt in a pond, then watching to see what is there when the water clears. The most striking picture to emerge from this issue of BC Law Magazine is the law school as a community of achievers. Certainly, the successes of alumni and faculty have been visible in past issues, but this time in particular it seems achievers live on nearly every page.
One example is Gerald Zerkin '76, who waged a valiant four-and-ahalf year battle to defend terrorist Zacarias Moussaoui. A thankless task at best, the trial tested most every legal skill in Zerkin's canon. He faced tough odds: a hostile, unpredictable client; a nation that reviled the defendant for his connection to the September 11, 2001 attacks; the mandate to try to spare Moussaoui the death penalty. Zerkin lived to tell the story of his fateful encounter with a terrorist and he does so with candor.
The 9-11 attacks on the World Trade Center also brought out the best in another advocate, Debra Brown Steinberg '79, a New York securities litigator. Her pro bono labors on behalf of families of victims was the subject of a BC Law Magazine cover story in 2002. Most recently she's been urging passage of a bill before Congress that would grant green cards to undocumented immigrants who received money from the September 11 Victim Compensation Fund. Steinberg is among alumni featured in "Payback with Interest," a look at the Law School's efforts to train lawyers for public service.

Standing tall among her colleagues is Joan Lukey '74, a tomboy turned courtroom top gun. Winner of the Best Oralist award in the national Moot Court Competition while in Law School, Lukey has never looked back in her ascent up the professional ladder. There are reasons why a lawyer who goes up against her in court says, "I always feel I have to be at the top of my game, because she'll be at the top of hers, and it's a pretty lofty one."
When one measures achievement by the standard of generosity, then Douglas MacMaster and fellow members of the Class of 1958 must be counted. Together with David B. Perini '62, they established a chair at BC Law in the name of Robert F. Drinan, SJ. Chairs recognize scholarly talent, which leads us to another high achiever, Professor George Brown, the inaugural holder of the Drinan Chair.
Speaking of chairs, pull one up and sit down with BC Law Magazine. You'll find yourself in the best of company.
Vicki Sanders
Editor-in-Chief