A Novel Kind of Lawyering
collaborative law gains traction - and gets results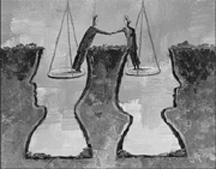 In 1990, a family lawyer decided he was going to practice law differently. Stuart Webb of Minneapolis wanted to achieve settlements without resort to litigation. By contractual agreement, Webb and the opposing attorney agreed to withdraw if the process turned adversarial. The clients knew that they must reach resolution outside a courtroom or they would be forced to hire other counsel.
This radical approach launched a movement among some lawyers that fundamentally changes the way they practice. The feature unique to collaborative law—that lawyers are contractually bound not to litigate the case—seems to run counter to everything that lawyers are taught. But proponents say that without the threat of the courthouse looming behind them, lawyers and clients become joint problem solvers, rather than adversaries.
Doris Tennant '89 of Tennant Lubell in Newton has practiced collaborative law since 2001. A founding member of the Massachusetts Collaborative Law Council, Tennant had a traditional law practice for more than a decade before deciding that "there has to be a better way" for the divorce cases she was handling.
In a series of four-way meetings that include both the lawyers and their clients, the parties work to resolve seemingly intractable positions. In a recent case for Tennant, the husband expressed a need to sell the marital home to provide equity for his housing needs while the wife wanted to remain in the home. After a series of meetings, the parties were able to make tradeoffs that gave the husband an increased cash flow, alleviating his need to liquidate the home's equity. Without collaborative law, Tennant says, it's likely a judge simply would have ruled that the wife stay in the home with no attention given to the husband's concern for cash flow.
Nancy Gold Greenberg '94 of Gorman and Greenberg in Dedham is another convert to collaborative law. "It's the way I've always wanted to practice," she says. She finds that the frequent and open communication that is the foundation of collaborative law sets the stage for a better working relationship among the parties once the matter is resolved, which is particularly important where children are involved.
For lawyers trained to litigate, the concept of collaborative law requires a paradigm shift away from lawyers as battle commanders towards lawyers as peacemakers.
Tennant dismisses critics who say that her practice does not represent zealous advocacy. "Collaborative law is not for wimps," she says. Rather, Tennant believes the process represents the best form of advocacy. "I think zealous advocacy is apprising your client of all the options open to him or her and advocating for something that works for your client," she says. In her experience, the results are less costly, in both financial and emotional terms, than in the cases she used to handle more traditionally. (She keeps a file in her desk filled with notes, cards, and emails from satisfied clients like this one: "I have come to see that some lawyers can be compassionate, and the process does not have to represent the 'scorched earth' principle. I have a renewed respect for your profession.")
Recently, lawyers have begun to pioneer the concept of collaborative law beyond family law to encompass areas that include business, contracts, insurance, employment, and trusts and estates. Collaborative lawyers argue that the process makes sense in any situation where a continuing relationship is valuable.
Some litigators have doubts about its efficacy outside the realm of family law. Thomas Hennessey '91, a partner at Bingham McCutchen, says, "In commercial matters, the truth is that the adversarial system does work. It gets the cases settled, although sometimes with more pushing and shoving than necessary. People have to concede the reality that 10 percent of cases will not settle and 50 percent will not settle short of the courthouse steps."
Still, the collaborative law movement is gaining momentum. Tennant estimates that the Massachusetts Collaborative Law Council has trained more than 400 lawyers since June 1999, when she met with nineteen other lawyers interested in finding a more holistic way to practice. The membership of the International Academy of Collaborative Professionals (IACP) reflects a similar trend. In the past five years, the IACP has experienced tenfold growth, from 200 members to 2,000 members.
Those who practice collaborative law are looking forward to its continued expansion. "Sometimes I have to be careful of not coming across as proselytizing," Tennant says. "But yet when you see something working and you see the power of it, it's hard not to say, 'Look at this.' For me, it's proven to be a better way."
—Marlissa Briggett '91
More from Legal Currents: