Other BC Alumni Who Are Giving Back to the Community
Starr Granby '07
Testing Her Wits as a Public Defender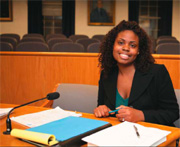 Photo by Judy Sanders/Wildsands

Starr Granby '07 is aware that more students apply for jobs as prosecutors than as public defenders. But she's sticking with the defenders' side.

"I have more compassion for those who are accused of crimes," she said. Granby attributes her devotion to the cause of the accused to her Christian upbringing and to her life experience. She grew up in New York City and witnessed friends and classmates who lacked opportunities and wound up in jail. "My mom's a housewife and my dad's a teacher," she explains. "I had both my parents; I had a net at home, and I didn't fall into things [my classmates] did."

Granby's public service work includes an unpaid stint with New York City Youth at Risk—a program for teenage ex-convicts—and summer jobs with the Lawyers Committee for Civil Rights under Law and the Public Defender Service in Washington, DC. As a third-year student, she's participating in BC Defenders, the Law School's public defense clinic.

For Granby, the clinic has made the impact of public defense more tangible. It was where she got her first look at prisoners behind bars. The reality of seeing people caged, she says, was so much more powerful than her previously abstract understanding of imprisonment. "If I don't defend my client like I should, or if a prosecutor makes a mistake and puts the wrong person in jail…," she muses, comprehending in a new way exactly what is at stake.

The clinic has also given Granby a taste of what it's like to succeed as a public defender. She drafted a motion asking a judge to rethink a client's jail sentence, which was presented in court by the lawyer she was assisting on the case. "She emailed me and said, 'Guess what! The motion you drafted worked! He's out!'" recalls Granby. "It made me realize how important this work is. This piece of paper made a difference between this person being incarcerated and this person being out."

Granby believes that pro bono and public interest experiences are central to educating aware and deep-thinking lawyers. She says that students who have this exposure are forced to face their assumptions, rethink their beliefs, and notice different angles. "It makes you a better lawyer, no matter where you are," she says.
–Jeri Zeder

Geoffrey Why '98
Looking Out For The Consumer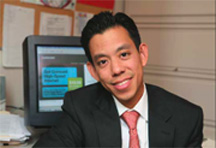 Photo by Judy Sanders/Wildsands

When AT&T billed over 40,000 Massachusetts residents in error, Geoffrey Why '98 not only obtained restitution for consumers, injunctive relief, and $140,000 in investigative costs, he and a team of lawyers also got AT&T to issue $25,000 in calling cards to Massachusetts National Guardsmen, most of whom are stationed in Iraq. Why says that every Massachusetts guardsman in Iraq received twenty minutes of calling time as a result of the settlement.

When Comcast was engaging in questionable advertising practices, Why, with three of his colleagues, obtained a $1 million settlement and forced the telecom to clean up its act. The settlement included an agreement from Comcast to provide $250,000 worth of computer equipment to Boston area Boys and Girls Clubs and to the Crittenden Women's Union.

"What's great about the cases I do is they resolve and change business behavior, and can also sometimes provide extras to the community," he says. Why serves as assistant attorney general under Massachusetts AG Thomas Reilly '70. He's in the Consumer Protection and Antitrust Division, where he readily sees how his work makes a difference. "You can feel the impact of the cases immediately, see money returned to consumers, see policies change, have business done in a more fair and just manner," he says.

Why's entire legal career has been in public service. He worked as an assistant district attorney before his current job. Prior to law school, Why was a professional photographer for seven years following his graduation from Boston College. "My intention when I went to law school was to have a career in the public sector," he says. "I was fairly mature about what I wanted to do and more certain about it."

For Why, attending BC Law was a reflection of his own values. "Part of the calculus in choosing BC for law school is that it is a Catholic school and among the Catholic ideals is service to others. That includes pro bono and public service work," Why explains. "The history of law has always included people who want to do public service. Every good school should assist those students in achieving those goals."
–Jeri Zeder


Susan Ganz '83
Caring For The Neediest Population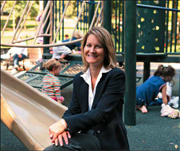 Photo by Judy Sanders/Wildsands

From venerable law firm to vulnerable clients: that's been the career path of Susan Ganz '83, who began her practice on Wall Street and now represents society's neediest: abused and neglected children.

When Ganz entered the job market, she, like many of her colleagues, had to take into consideration her student loan debt. "I got caught up in the lure of big law firms and big salaries," she says. Her first job was with the Wall Street firm Sullivan & Cromwell, which she enjoyed, but after she had her first child, the hours proved too much. She left to open a small firm with three friends in Connecticut, where she and her family were living at the time. It was a "local, Main Street kind of practice," she says. She had two more children, moved to Boston, and took nine years off from law practice. Her reentry was as in-house counsel to a large corporation, but she found herself yearning for something different. And she was in a different place in her life, able to practice law without a paycheck.

"I wanted to be doing something that mattered," she says.

A newspaper article introduced her to CASA: court appointed special advocates for abused and neglected children in state custody. She went through their training program and got her first case in December of 2005 as guardian ad litem to a family of three children. She works entirely pro bono.

Confidentiality prevents her from talking about specifics, but she says her role is to investigate, evaluate, and objectively advise the judge regarding the best interests of the child—a child whose care is being directed by a bureaucracy, whose needs are being addressed by an often uncoordinated array of psychologists, social workers, doctors, and teachers. Ganz has to prepare a report for the judge, who has about ten minutes to digest the information and make a decision that will affect the child's welfare. "I try to find out as much as I can about a child and his situation," Ganz says. "Then I work to ensure that the system is meeting that child's needs. It might be trying to get services for a child who isn't speaking or just a new pair of glasses."

"Effective advocacy for a child can mean the difference between a child falling through the cracks of the child welfare system or ending up in a safe, secure, and stable home," she continues. None of Ganz's other legal experiences compares to this. "This work is much more focused on individual lives," she says. "That makes the work incredibly difficult and also incredibly rewarding."

She expresses admiration for the many lawyers who take on this work, but she's also now more aware than ever that the need far outpaces what the legal system makes available. "In a perfect world, we would have well-trained attorneys to serve every level of client," she says.
–Jeri Zeder


Debra Steinberg '79
Helping Victims of Terrorism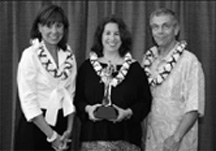 Photo by Judy Sanders/Wildsands

Debra Steinberg, who has been a powerful force in the lives of families of the victims of the September 11 terrorist attacks, was honored in August for her work by the American Bar Association. In a fortuitous circumstance, the awards ceremony in Hawaii marked the first time that a president of the ABA (Michael Greco '72) and an ABA Pro Bono Publico Award recipient (Steinberg) were Boston College Law School alumni.

A partner at Cadwalader Wickersham & Taft, whose office is four blocks from the site of the World Trade Center terrorist attacks, Steinberg spearheaded the firm's pro bono efforts on behalf of relatives of firefighters and low-wage restaurant workers killed on the job. Many of the cases have involved complex, estate, social service, and immigration issues, particularly in instances where relatives were undocumented.

"They are not an easy population," she told BC Law Magazine in an article in 2002. "You have to fight for them for everything."

Steinberg visited BC Law this fall to speak to Professor Dan Kanstroom's Immigration Law class and to attend a luncheon in honor of her pro bono achievements.