75th Anniversary Celebration Events
the honorable guido calabresi leads a discussion about what a judge must do when the law is wrong.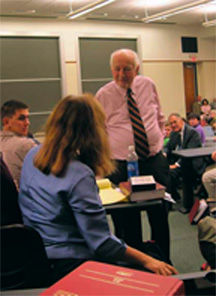 The Honorable Guido Calabresi.

What keeps a federal court judge awake at night? As the Honorable Guido Calabresi told a standingroom only crowd at BC Law in October, it is the fear of having to exercise judgment in a case in which he considers that the law is not only wrong, but also "deeply immoral."

Calabresi is "one of the most important figures in American law of the last fifty years," Dean John Garvey said in his introduction. A judge on the US Circuit Court of Appeals, Second Circuit, Calabresi clerked for Supreme Court Justice Hugo Black and is the former dean of Yale Law School. He has received more than forty honorary degrees, including one from Boston College, and was here to receive the Law School's Seventy-Fifth Anniversary Distinguished Service Award.

Calabresi began by confessing, "I don't want to judge, in some fundamental way. This doesn't mean I don't administer the law." By way of elaboration, he told the story of an Italian farmer, who during the early years of World War II risked his life to hide Jews, partisans, American servicemen, and members of Calabresi's own family from Mussolini's fascists. Following the success of the Allies, he hid Germans and fascists with equal selflessness.

Visiting his native Italy after the war, Calabresi confronted the farmer with this apparently contradictory behavior. "Don't you know the difference between right and wrong?" he asked. The farmer said, "Right, wrong, they understand these things in Rome." But when these people came to him, he said, he saw only people in trouble. "Erano tutti figli di mama," he said, "They were all some mother's child."

Now, said Calabresi, "I'm not only in Rome. I am Rome. I'm a judge. I can't duck it." And the aspect of the law that he fears having to administer is capital punishment, which he rejects on both utilitarian and moral grounds.

What is a judge to do in such a case, he asked? Should he, Pontius Pilate-like, wash his hands and recuse himself, leaving the field clear to those who agree with capital punishment? Or should he resign himself to being no more than "the mouth of the law," an automaton with no free will? No, said Calabresi emphatically. Instead, he said: "You wake up in the night and try to find a way that is correct in the law, a way that is just." And if there seems to be no way of reconciling the two, he said, "you have to ask yourself: Did I work hard enough? Did I dig deep enough? Did I use all the brains God gave me?" He has not yet handled a capital punishment case. But when he does, like all good judges, he promised, "I'll decide that case when it reaches me."
—Jane Whitehead