More Stories from In Brief
spring/summer 2006
Advocates Help Prisoner Prove Innocence:
Leaster Recalls 20 Years Behind Bars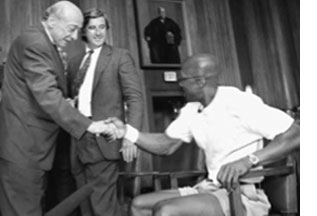 Bobby Joe Leaster (seated), shown with Suffolk Superior Court Justice Paul Liacos (l) and BC Law adjunct professor Christopher Muse, is a frequent speaker on wrongful convictions.
On September 27, 1970, two assailants robbed the Talbot Variety Store in Dorchester, Massachusetts, shooting and killing the store's owner, Levi Whiteside. That afternoon, based on a police radio broadcast that described the suspects in the murder, Bobby Joe Leaster was arrested near his home in the South End. He was convicted of first-degree murder in June of 1971, and the jury declined to impose the death penalty. He was nineteen years old and had no criminal record.
Over the next twenty years, Leaster would fight to clear his name and to correct the wrongs done to him by the state. In 1977, Boston attorney Robert F. Muse was appointed to Leaster's case, and his son, Christopher J. Muse, now a Massachusetts Superior Court judge and adjunct professor at BC Law, also took up Leaster's cause. They helped exonerate him.
This past April, Judge Muse introduced Leaster to the BC Law community to tell his story of incarceration and fight for freedom. The talk was sponsored by the Criminal Justice Law Project, a recently reincarnated student group that hopes to educate students about approaches to criminal justice.
Leaster started fighting his conviction almost immediately. "I constantly stayed in the library and filed motion after motion," Leaster said. On his own, he twice unsuccessfully petitioned for writ of habeas corpus, and it was on his third petition that he met the Muses; by then he'd already served seven years. "When Chris came to see me and said he believed I was framed, I felt deep in my heart that my life was beginning to change," Leaster told the BC Law gathering. "They stayed in contact with me. Brought me a cake on my birthday. That made me feel really good. Prison life is a very lonely life."
While continuing to file motions for a new trial, Leaster and the Muses began to collect evidence that would prove another man committed the murders and petitioned the court to hear previous evidence that had been improperly presented to the jury. In 1986, they decided to try to get his sentence commuted, and as the new evidence mounted in Leaster's favor, the Board of Pardons unanimously voted to do so. A motion for a new trial ultimately was granted, and Leaster's indictments were dismissed. In 1992, the state legislature appropriated $500,000 to purchase an annuity for Leaster, in order to "discharge the Commonwealth's moral obligation relating to the wrongful conviction of crimes for which he was innocent."
"Bobby served as an example against the death penalty and his compensation is a model for [wrong] convictions," Judge Muse said.
Speakers such as Leaster provide a perspective on the criminal justice system that the Criminal Justice Law Projects co-founders Emma Winger '08 and Hilary Berliner '08 hope to continue to bring to BC Law students. "The need for adequate representation is so important, especially for people who can't pay," Winger said.
—Kathryn Beaumont '08
Rankings Watch
Law Review, School in Top 30
The Boston College Law Review's "impact ranking"—determined by the Washington & Lee Law Review Impact Factor Rankings—increased from forty-one in 2003, to thirty-one in 2004, to twenty-three in 2005.
A law review's impact ranking is determined by the average number of citations per article in each journal, a system distinctly different from those that measure total number of citations and thus tend to reward larger journals for their sheer number of articles and pages published per year.
This average-number statistic, therefore, takes into account a smaller journal's careful selection of articles.
BC Law Review most recently ranked above Fordham Law Review, Notre Dame Law Review, Boston University Law Review, and the Georgetown Law Journal.
Boston College Law School also saw some categorical jumps in the US News & World Report rankings of the Top 100 Law Schools, while holding steady from last year with an overall rank of twenty-seven.
The Law School rose to eighteen from twenty-two in the rankings for clinical programs and landed on the board for the first time in the intellectual property category with a ranking of twenty-one.
—Kathryn Beaumont '08
LL.M. Program Launched
First Students Expected in 2007
Plans are underway to add an LL.M. degree program at Boston College Law School, with the first class entering in the fall of 2007.
The one-year Master of Laws program will cater primarily to international candidates by offering an introduction to the United States legal system and a research and writing course that will familiarize foreign lawyers with American standards of legal communication. The program will be open to applicants who have attained a first degree in law from their respective countries.
Though the Law School will not discourage domestic applicants from applying, it expects the bulk of its candidates to come from overseas. "The thought is, given the focus of the program, that it will appeal mostly to foreign students who want exposure to US law," says Professor David Wirth, director of international programs.
Wirth says the program's aim is to increase both the diversity of the law school's student body and the depth of the curriculum. It will also put the school on a par with peer institutions that already have LL.M. programs.
"The program will enhance how Boston College Law School is viewed from abroad," Wirth says. "At some point in the future, the goal would be to have representatives from every point on the globe here with us."
BC Law anticipates an inaugural LL.M. class of five to eight candidates, with the potential for as many as thirty in the future. Because the goal is to provide a broad background in American law, the LL.M. offered will be a degree in general studies, rather than a certificate in specific concentrations.
Administrators are in the process of hiring a non-faculty program director to oversee LL.M. affairs. Teachers for the twenty-four credit curriculum will be drawn from the existing pool of Law School faculty.
—Michael Henry '08
Scholars' Showcase
Social Justice Binds Volume of Essays
In an effort to raise awareness of the groundbreaking scholarship of its faculty members, Boston College Law School has compiled excerpts of faculty research papers for publication in a hardbound collection. The volume, titled Heights of Justice, is a one-of-a-kind publication, the first attempt by a law school to combine previously published essays and articles by its various scholars into one collection with an overarching theme.
"This is a brand-new approach," said BC Law Academic Dean Lawrence Cunningham, who edited Heights of Justice. "Instead of sending out glossy pamphlets about our scholarship, we are sending out the scholarship itself."
When Cunningham stepped into the role of academic dean last year, he considered strategies for maintaining the school's commitment to producing high quality research. A book project seemed like an effective approach to raising awareness of the work of professors and inspiring them to produce the best work possible.
The theme connecting the forty-five essays is how to ensure that a sense of justice permeates the world's legal systems. Cunningham said tying the articles together in this manner grew out of his observation that the faculty's scholarship was rooted in social justice, itself an outgrowth of the university's foundation in Jesuit teaching.
—Jan Wolfe
Other articles from In Brief:
A Banner Year for Oral Advocacy
Winning an Immigration Case
Generational Powerhouse
Legal Epiphany Saves the Day