Generational Powerhouse
goldberg draws on family strengths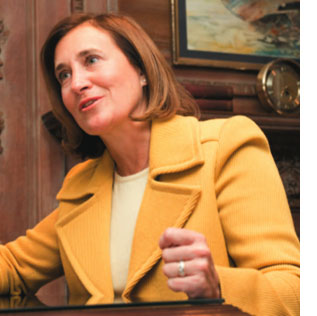 In her bid for lieutenant governor of Massachusetts, Deborah Goldberg is drawing on her arsenal of experience in business, law, and public service.
When you piece together the Rabb/Goldberg family traits, it is clear where Deborah Goldberg '83 gets not only her community-minded values but also the intellectual wherewithal to shape a singular career informed by law and business.
A descendant of Talmudic scholars, a great-great-grandmother who supported a family of eleven children with her North End grocery, a grandfather who was a state superior court justice, parents who were politically involved, and a clan that founded the Stop & Shop supermarket chain, Goldberg is drawing upon the lessons of this lineage in her bid for lieutenant governor of Massachusetts. For her to want to serve the public interest in a job at the intersection of policy and politics, government and business, is a result as natural to her as breathing.
"Everything is connected: family, community, business life, and politics," she said during a spring visit to BC Law to attend a class and meet with students. Her interest in those interrelationships explains in part the pattern of her educational and professional choices.
"I grew up sweeping floors and stacking flour," she says of her time in the family business. The company's determination to provide a living wage and benefits even to part-time employees taught her an early lesson in the humanity of sound business decisions. She worked in retail for another five years after graduating from Boston University, then got a law degree from BC Law and an MBA from Harvard.
"I'm glad I did both degrees," she says. "Often business doesn't understand legal ramifications and visa versa." She applied those skills in a variety of ways during the six years she served on the Board of Selectmen in Brookline, Massachusetts, eventually becoming chair and shepherding the city during an economic downturn without layoffs or cuts in services. "When you've been taught how to run a business of 50,000 employees on a 1 percent profit margin and give health insurance and pensions, it's not so different from managing in a public environment," Goldberg says.
Indeed, educational improvements, affordable healthcare, community empowerment, and economic growth are part of her campaign platform. "The lieutenant governor is the interface between local communities and the corner offices. I have local level experience and I understand what communities need from the lieutenant governor. I've done it," she says.
—Vicki Sanders
Other articles from In Brief:
A Banner Year for Oral Advocacy
Winning an Immigration Case
Legal Epiphany Saves the Day
More Stories from In Brief