Luke Scheuer '07, Therese Forgacs '08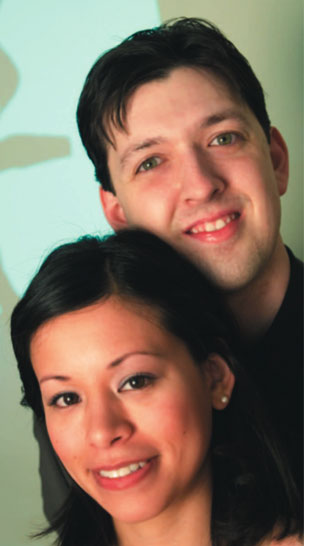 Husband and wife Luke Scheuer and Therese Forgacs are a long way from the footlights of Toronto, where they had previous lives not only as graduate students, but also as professional ballet dancers. After graduating from the National Ballet School, Scheuer danced with the Alberta Ballet and National Ballet of Canada, then completed his bachelor's and master's degrees in English literature at the University of Toronto. A Massachusetts native, Forgacs trained with the Massachusetts Youth Ballet and was part of a Philippine performing group, with which she traveled the world. She also attended the University of Toronto, where she received a bachelor's and master's degree in art history. Married since 2003, the couple met in 1999, while dancing with a Toronto-based contemporary ballet company.
Why law school?
Scheuer: I spent several years performing with the National Ballet, but that was the only period during which I was dancing exclusively. Ballet is a great way to earn a living, but it's over by the time you reach your thirties. I didn't want to be thirty-two and out of a job with no education. We were married the year after I finished my master's, and we had concerns at that point about how realistic it would be to go into academia.
Forgacs: Around that time, Luke started thinking about law school and brought home famous closing arguments to read, just to learn more about the law. We read books like Ladies and Gentlemen of the Jury, as well as books by Alan Dershowtiz. We were intrigued. We like the intellectual challenge and stimulation of the law. The decision was more between law and academia as opposed to law and ballet.
Why law school in the US instead of Canada?
Scheuer: Things are bigger here; the consequences are larger. When you see the scandals on CNN, they are always in the US. Perhaps that's better for Canada, but as a lawyer, I knew I would much rather be playing on this field.
Are there similarities between ballet and
law school?
Forgacs: It may seem that law is a complete 180-degrees from dance, but they test the same analytical skills and require the same discipline and work ethic. When you're performing, you're practicing twelve hours a day, so in that sense, the time commitment is similar to law school.
Scheuer: Being used to performing also helps immensely with being able to speak comfortably in front of others in both law school and the courtroom.
—Kristine Povilaitis '07