The Untold Story of Rumsfeld v. FAIR
how students and faculty helped make a federal case out of the solomon amendment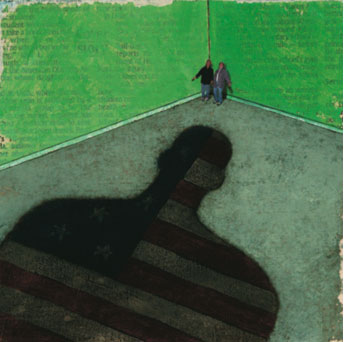 Opinions differ over whether opponents of the Solomon Amendment are anti-military or anti-discrimination.
Joshua Rosenkranz declines most offers to speak at conferences. But when the student members of BC Law's Coalition for Equality asked the lead counsel in Rumsfeld v. FAIR, the Supreme Court challenge to the Solomon Amendment, to deliver the keynote address at its November 2005 conference on the issues raised in that case, he felt there was only one answer. "This was one invitation I could not turn down," Rosenkranz said.
And no wonder. Though largely ignored in the media that otherwise gave plenty of play to this litigation, the role of many BC Law students and faculty in Rumsfeld v. FAIR was substantial. Rosenkranz's exception to his no-speaker rule was a well-deserved tribute to those at BC Law who helped initiate the case that dared to tell the US Department of Defense (DOD): We protest the military's discriminatory policies against gays and lesbians.
Ultimately, the students, faculty members, and law schools who signed on as plaintiffs lost the case before the US Supreme Court. In an opinion delivered March 6, a unanimous court ruled that the Solomon Amendment did not violate the plaintiffs' free speech rights because they were free to speak out against the military's policy of excluding gays and lesbians from military service. In the wake of this defeat, it remains likely that many BC Law students and faculty members will continue to protest vigorously against the military's discrimination against gays. But the question arises: Was the tactic of suing all the way to the Supreme Court worth it?
First, some history. The Solomon Amendment has gone through several versions, but at its core, the legislation denies federal funding to institutions of higher education that interfere with the military's recruiting efforts on campus. Law schools across the country faced a Hobbesian choice: either violate your own nondiscrimination policies or lose millions—for yourselves and your parent universities—in federal funding. In the case of BC Law, the Solomon Amendment was a challenge to one of the oldest law school nondiscrimination policies in the country, dating back to 1982.
It was then that BC Law added sexual orientation to the litany of factors—race, sex, creed, color, religion, national origin—upon which it pledged not to discriminate. At that time, only about twenty law schools had voluntarily added sexual orientation to their nondiscrimination policies, according to Professor Alan Minuskin. When, in 1990, the Association of American Law Schools required its members to add sexual orientation to their nondiscrimination policies, the military's stand on gays and lesbians came into direct conflict with the policies of more than 150 law schools. As growing numbers of schools across the country began excluding military recruiters, Congress, in 1995, passed the first version of the Solomon Amendment. Initially, funding only from the Department of Defense was at risk. Then, in 1996, Congress extended Solomon's reach to funding from the departments of Labor, Health and Human Services, Transportation, and Education. More ominously for the law schools, Solomon II targeted money for student financial aid. With help from US Representative Barney Frank (D-MA), student activists at BC Law led a national letter-writing campaign that caused Congress to wipe the denial of federal student aid funding off the books in 1999.
Around the same time, Interim Dean James Rogers asked Professor Minuskin to chair a committee to look into the Solomon Amendment. "Are there legislative pressures, litigation options, some way under existing law that we can comply with the law minimally? That was the charge of the committee," said Minuskin. Out of the committee's work grew BC Law's minimal compliance policy: no access for the military to the resources of the Law School's career services office; military recruiting pamphlets allowed only in the library; interviews booked through the dean's office only; no more free diet Sprites and chocolate chip cookies for recruiters; no screening resumes at career services. In other words, give the military access to students, but without the convenience and first class treatment other, nondiscriminatory employers enjoyed.
"We lived under that for a couple of years," said Minuskin. But after September 11, 2001, things changed. "The DOD identified twenty-two law schools that were also engaging in some form of minimal compliance, including Harvard, Columbia, and USC [the University of Southern California], and said, "'What you're doing doesn't cut it,'" according to Minuskin. In 2002, the Air Force sent a letter to BC Law objecting to its minimal compliance practices and warning that federal funding would be denied, not just to the Law School but to all of Boston College, if military recruiters were not given "equal access" to students. On September 9, 2002, the faculty suspended the Law School's nondiscrimination policy with respect to sexual orientation.
Student activists opposed the suspension. Upset at what they considered the Law School's easy capitulation to the military's demands and willingness to abandon its anti-discriminatory principles, a couple of dozen gay and straight students banded together to form the Coalition for Equality (CFE). They started asking questions, and were told that $35 million were at stake on the main campus. "When we pressed further, it became clear that no real legal analysis had been done about the law or its enforcement," said Daniel Roth '04, a CFE co-founder. "A lot of us felt that, not only had the students been compromised, but it had been done in a way that was unlawyerly. All legal options had not been pursued, all legal research had not been done."
Most CFE activity on campus was political in nature, and was backed by a number of other student groups, including the Black Law Students Association, Asian Pacific American Law Students Association, Jewish Law Students Association, and Women's Law Center. But a handful of students—four, to be exact—approached Professor Kent Greenfield and asked him if he would teach a course on the Solomon Amendment. Greenfield agreed. The students produced a seventy-page legal memorandum exploring the Solomon Amendment's legislative and enforcement history, analyzing possible claims against the amendment, and delving deeper into what was at stake. As it turned out, what was at stake was more like $4 million to $6 million, not $35 million. "That was one of the revelations that came from some digging," said Roth. "It took work, but it wasn't rocket science. Just a few people with a year and a half of law school under their belts."
The students presented their work to the faculty, in hopes they would reinstate the nondiscrimination policy as applied to sexual orientation. The effort failed. But the students' legal memorandum informed much of the complaint in Rumsfeld v. FAIR filed in 2003 in the federal district court of New Jersey. "I learned later, in the context of the Supreme Court case, that the first piece of research by Shara Frase was to read that memo," said Roth. Frase was co-counsel for FAIR.
FAIR itself, the plaintiff in the lawsuit, was the brainchild of BC Law Professor Greenfield. As students and faculty from law schools around the country began investigating the possibility of challenging the Solomon Amendment in court, it became clear that the Association of American Law Schools was not going to come forward as a plaintiff. No individual universities would come forward as plaintiffs, either. "The US had just invaded Iraq," observed Greenfield. "It was not a good time to be suing [Secretary of Defense] Donald Rumsfeld."
Faced with the prospect of no plaintiff, and hence no litigation, an idea came to him. "While on a phone call, I mentioned to Josh [Rosenkranz], why don't we just create our own association," Greenfield recalls. Rosenkranz dubbed it FAIR, the Forum for Academic and Individual Rights, and law schools, faculty, and student groups could join without publicly disclosing their membership in the organization. FAIR satisfied the jurisprudential need for an institutional plaintiff and gave political protection to schools and entities that feared retaliation by the government and media. BC Law has never officially disclosed whether, as an institution, it joined FAIR. But groups within the law school, including some students and faculty members, signed on.
Among them was the student group, Coalition for Equality. The pile of declarations filed in the trial court included articulate and moving statements from professors Greenfield, Minuskin, and Rogers, as well as students Gerald May '04 and Sara Smolik '04. Jared Wood '06 and Smolik, as plaintiff liaisons for CFE, regularly participated in conference calls while their lawyer, Rosenkranz, as his team strategized and shaped the litigation. The approach they took was to challenge the military on First Amendment grounds.
For Smolik, one of the challenges was explaining to CFE why the lawsuit was based on the First Amendment, rather than equal protection. "How do you get from the government's discrimination to the Law School's academic freedom and First Amendment rights? It's an odd, convoluted thing," she said. But that's a standard legal technique, Smolik says: getting the courts to look at issues in a rubric with which they're comfortable. Equal protection wasn't going to fly; unlike race, the US Constitution does not recognize sexual orientation as a suspect class. The plaintiffs felt they had a better chance of prevailing under the First Amendment, so they argued that by penalizing law schools that refused to allow employers who discriminate onto campus, the Solomon Amendment infringed on the schools' right to speak, the right to be free from compelled speech, and freedom of association FAIR lost in the trial court, but on appeal the Third Circuit ruled that the Solomon Amendment was unconstitutional and that the government could not compel the plaintiffs to allow military recruiters on their campuses. The government appealed, the Supreme Court granted cert. and, with a contingent of BC Law students, professors, and alumni present in the courtroom, heard the government's appeal on December 5, 2005.
The justices were not gentle with Rosenkranz and FAIR that morning, and Kent Greenfield said he left the Court feeling disappointed. With good reason: The justices soundly rejected FAIR's position in the end. Which gets back to the question: Was it worth it?
Consider the words of Smolik, a student who was crushed when her law school abandoned its nondiscrimination policy in the face of Solomon Amendment pressure. "'Today was the day I finally forgave the Law School for discriminating against me,'" Greenfield recalled Smolik telling him on the marble steps of the Supreme Court building following FAIR's grueling morning before the justices. "'You did all that you could to stand up for me.'" Smolik and others who can relate to her words surely would have preferred to win. But on some level, it was enough that some of their professors rose up to support their rights, suffering public scorn in the process.
Why did this become such an important case for so many members of the BC Law community? There are many levels on which to answer the question. Certainly, the doctrinal questions cut to the core of what an academic institution is for. "Virtually all high-quality institutions receive government money," said BC Law Dean John Garvey. "If giving financial aid to an institution means the government can say what can be proclaimed or promoted in an institution, that's going to have the effect of homogenizing higher education across the country."
Greenfield, who took his seven-and-a-half-year-old son to the Supreme Court arguments, articulated a personal reason. "Gay rights is the most pressing civil rights issue of our day. When my son asks me fifty years from now what did you do in that civil rights movement, I want to have a good answer."
Jeri Zeder is a freelance writer living in Lexington and a regular contributor to this magazine.