Adjuncts Get Practical
with so much law to teach, practitioners offer real-world know-how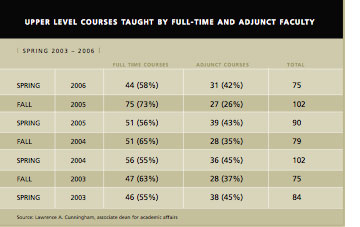 Alumni who love teaching but are happy to leave legal scholarship to others have the option of becoming adjunct law professors. Adjuncts are practicing lawyers or judges who teach law part time. The American Bar Association encourages law schools to tap practitioners as vital teaching resources. "Adjunct professors supplement the expertise of the full-time faculty," says Associate Dean for Academic Affairs Lawrence A. Cunningham. "We take seriously the value of offering courses to our students that draw upon the experience and wisdom of practicing lawyers and judges to enhance our educational program."
BC Law employs about sixty adjunct professors, most of whom have extensive teaching experience at ABA-accredited law schools. Adjuncts substantially enrich the law school curriculum, offering about fifty elective courses each year in a wide range of subjects, from hands-on clinics like mediation, negotiation, and civil motion practice, to certain subfields, like entertainment law, education law, and state and local government.
ABA standards require that full-time faculty teach the major portion of the law school's curriculum, including substantially all of the first-year courses. The chart at right shows the distribution of upper level courses and credits between fulltime and adjunct faculty at BC Law.
Raymond J. Brassard '71, associate justice of the Massachusetts Superior Court, is a seasoned adjunct, having taught in area law schools for about ten years. At BC Law, he teaches civil motion practice and a course on the American jury. He says adjuncts play a different role from law professors. "We come from a background of practice as lawyers and judges," he explains. "Professors become full-time scholars. They bring tremendous perspective to our law. People who are practicing say: 'Let's take these ideas and see how they play out in the real world.' It is important for students to be exposed to both kinds of people."
"When I have my students stand up in my civil motions course and argue a motion, they can see by the questions I ask as a judge that there's a lot more to being effective in a courtroom," Brassard says. "They get a keener grasp of something as basic as how critical the facts are in a case, not just lofty principles of law, but exquisite attention to evidence. I believe I get this across very graphically. It makes them better law students."
Massachusetts Assistant Attorney General Thomas A. Barnico '80 has been director of BC Law's Attorney General Clinical Program since 1989 and faculty coach for the Braxton Craven Moot Court Team since 2001. "I truly enjoy working with the students in a clinical setting," he says. "The clinic is their first exposure to practice. They draft their first pleadings, argue their first cases in court. It's a thrill to see them take their first steps.
"The full-time faculty can only cover a certain range of substance or practical experience," Barnico continues. "The law's so multi-faceted. The adjuncts who do clinical placements offer something that can't be provided on site, by definition." Barnico says that adjuncts also offer students mentoring and career guidance culled from current, real-world experience.
Adjunct faculty not only improve the law school, they also bolster the profession. "Teaching forces me back to first principles and forces me to look at them in a new light. When I get a new case, if I've taught the hornbook law in the last two weeks, I seem to have a running start into the books in the area," Barnico says. "The fresh look at the first principles often comes from the students."
Brassard agrees. "The thinking I do as I prepare for class, and the work that I do, always complement each other," he says. "Sometimes, when you're giving your thoughts to your students, all of a sudden you make a point that never occurred to you before. You knew it, but you didn't know it. My understanding of aspects of the jury system are considerably better having taught than having only practiced it."
"Teaching," Brassard concludes, "makes my whole career more fun."
—Jeri Zeder