Inquiring Minds
for certain alumni, there is no career like a scholar's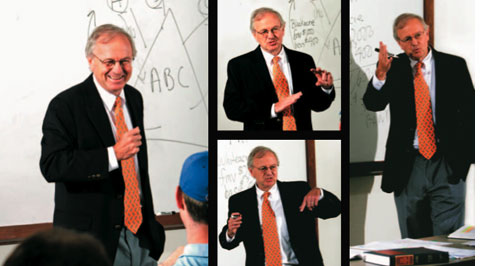 "Any law school that aspires to be a great law school has an obligation to produce scholars," says McMahon, who obviously relishes his time in the classroom at the University of Florida.
This is the voice of a young lawyer who yearns to be a professor:
"More and more, when I answered the question that I had been asked to consider, I had asked myself many more questions that no one was going to pay me to explore. I wanted to address questions with complete freedom, instead of forcing the answers into preconceived desirable answers for my client. By the fourth year of practice, I was chafing for the freedom of inquiry."
That's Martin J. McMahon '74, recalling his early days in private practice. He is now professor of law at the University of Florida Fredric G. Levin College of Law, and has been in academia for nearly thirty years. He is one of some seventy-five BC Law graduates across the country who have felt that pull toward freedom of inquiry so undeniably that they have made their professional homes in the world of legal academic scholarship and teaching. Why they do it, how they got there, and how their alma mater influenced them reveals much about teaching and scholarship at BC Law.
It is standard for law school graduates to choose careers in private practice, government, politics, or the judiciary. A career in academia is in many ways the road not taken. Those who tread this path say law scholars have a special role to play. "It's a good idea for society to constantly reexamine itself and have people anticipate where things are going," says Alfred S. Konefsky '70, who holds the title of distinguished professor at the University of Buffalo Law School. "It is important to have ideas examined and reexamined all the time by people who have an opportunity to stand back and take a look and reflect on what's at stake and how to shape things and frame things," he says.
Because courts and legislators read scholarly law journals, scholars' work can influence social policy. "I've written articles that have resulted in changes in security rules, tax laws, and most recently, in rules that govern the conduct of lawyers in tax matters," says James Repetti '80, professor of law at BC Law. In contrast to lawyers, who are constrained by billable hours and the interests of their clients, or judges, who must apply the law and resolve cases, law professors are commentators. They have the luxury of stepping back, taking note of legal patterns and trends, observing social and economic currents, and questioning the status quo.
"I think that any law school that aspires to be a great law school has an obligation to society to produce scholars," says the University of Florida's McMahon. That obligation, he says, comes from the university's responsibility to do good in society. Does that mean law schools should consciously aim to graduate people who will become law professors? Konefsky and Repetti say no. "We should try to educate students so they can pursue any area of law that they find interesting," says Repetti.
Law is a status-oriented profession, and it is the most elite law schools—Yale, Harvard, and Stanford, for example—that churn out more than their share of legal scholars. They also tend to attract highly ranked students with scholarly proclivities and academic interests.
But qualities other than where you went to law school can matter as much, or more. Take, for example, Michele Goodwin '95, professor at DePaul University College of Law. She loves to be critically engaged in ideas. Before she was even aware of it herself, her college professors at the University of Wisconsin had pegged her as someone who would study and teach law one day. Aware of her potential, Professor Herbert Hill, the late NAACP labor director, advised her specifically to attend BC Law. "He told me forget about Harvard, forget about Yale. BC is a place that's solid and grounded with an excellent faculty and a great mission," Goodwin recalls.
But what does it mean to have an excellent faculty? And where do students fit into the equation? "You need people on both sides of the podium, students and faculty, who are not satisfied with just knowing what the rules are but also who are insistent on understanding why the rules are what they are and whether there's a better rule that better comports with society's philosophical, social, and economic values," says McMahon. "Professors need to satisfy students who want to talk about things that are not in the book, but are inferred by what's in the book," he says.
Goodwin concurs. Asked what kind of law school tends to graduate people who become law professors, Goodwin ticks off the following: "A faculty that's critically engaged in its own scholarship. A faculty that encourages critical thinking. An environment where it's safe to scrutinize various ideas. A cadre of people coming in and doing workshops and lectures that are open to students. A place where scholarly writing among students is encouraged. Modeling by professors." In other words, a law school where the spirit of inquiry flourishes, and where professors take their students seriously.
BC Law graduates who became law school professors loved their law school experience, and they developed deep, collegial, and long-lasting relationships with their professors. Ronna Schneider '76, professor of law at the University of Cincinnati, recalls her first-year constitutional law class with BC Law Professor James Houghteling. "I fell in love with the First Amendment and I never fell out of love," she says. She keeps a photo of the late Houghteling on her office wall.
"I went to law school here and benefited from several outstanding teachers," says BC Law's Repetti. The excellence with which they practiced the craft of teaching, their ability to convey complex ideas, and their eloquence all captured him. "What a wonderful profession it would be to become a law professor," Repetti says he remembers thinking.
"The reason I'm a professor, and a tax law professor, is Paul McDaniel, Mary Ann Glendon, and Peter Donovan," says McMahon, naming his BC Law mentors. When he attended law school, these professors fed his need for constant questioning and analysis, for asking why this, why not that.
Buffalo's Konefsky says his BC Law first year civil procedure professor, Hiller Zobel, left an indelible mark on him. When Konefsky attended the Law School, there were no courses in legal history. But Konefsky approached Zobel, a legal historian, after class one day after reading Zobel's first book on the Boston Massacre. Zobel invited Konefsky to come and talk with him, and got him a job at the Massachusetts Historical Society. "He got me started," Konefsky says. "I'm forever grateful to him." Konefsky has made his career as a legal historian.
Robert Glennon, professor of law at the University of Arizona Rogers College of Law and, like Konefsky, a legal historian, attended BC Law during a time when many young people were drawn to law as an agent of social change. "I was a first year law student in 1966, 1967. I was an anti-war student; I wanted Eugene McCarthy to run for president," he says. "To read the passionate dissents of William O. Douglas or Hugo Black over civil rights issues was inspiring." He counts the idealistic Professor Arthur Berney as an influence on his career to this day. "It's easy to be jaded, but there's still a role for people who think big and have noble ideas," Glennon says.
The typical path to becoming a law professor goes something like this: Go to Yale (or some other elite school). Graduate with high grades. Clerk for a judge in a prestigious court. Practice for a few years in a well-regarded law office, get published in scholarly journals, and then enter the Jobs for Professors Sweepstakes sponsored by the Association of American Law Schools. What's interesting is how many of the alumni- professors interviewed for this story didn't follow this route into the legal academy—and how many credit their BC Law teachers with helping them launch their careers:
• After law school, BC Law Professor Robert Bloom '71 became a civil rights lawyer in Georgia supported by a poverty law fellowship, and then a legal services attorney in Massachusetts. He started teaching at BC Law running the civil and criminal clinical programs, then taught substantive criminal procedure. Next thing he knew, he was on the tenure track.

• "[BC Law Professor] Ingrid Hillinger knew I should be a professor," says Michele Goodwin, who was interested in health and medical law. "She contacted people and I didn't even know it." Through Hillinger's efforts, Goodwin got a call from DePaul University, which has one of the top ten ABA accredited health law programs in the country. Goodwin believes the hierarchy and status thing is overblown. "You have to know yourself and cultivate relationships," she says, and develop a publication record of scholarly writing that will stand for itself.

• Professor Michael A. Perino '88 of St. John's University School of Law never clerked for a judge and practiced law for six years, longer than most people who become professors. "There are lots of ways to get into teaching. You don't have to have the classic law professor's resume to get a job teaching," he says.

• BC Law's Repetti clerked for federal district court judge Walter Jay Skinner (Boston) and practiced tax and corporate law at the Boston law firm of Ropes & Gray. "[BC Law Professor] Paul McDaniel was leaving BC to go into practice. He encouraged me to throw my hat in the ring," at the Law School, says Repetti. "So did [Professor] Sanford Katz. I was absolutely amazed when they hired me."

• Schneider applied to exactly one law school, the University of Cincinnati, where she still teaches today. Then-BC Law Dean Richard Huber and Professor Mary Ann Glendon (now at Harvard) helped her get the job.
Probably none of this would surprise BC Law professor and former dean Daniel R. Coquillette. He teaches "Topics in the History of American Legal Education" at Harvard Law School, a seminar populated half by BC Law students, half Harvard Law students. The course dissects everything about legal education in America, and in the process of surveying the many kinds of law schools that exist, demonstrates the wide diversity of approaches to legal teaching. Law schools are secular, religious, big, small, theoretical, practical, public, and private. Some use the Socratic method, some don't. They have traditional curricula, programs with flexible hours, cooperative learning opportunities, clinics, and internships. They each have their own ways of doing admissions, faculty recruitment, promotion, evaluation, and tenure. They may or may not have affirmative action programs or merit scholarships. Coquillette has been teaching this course since 1995, getting his students to dig into the issues these various approaches to legal education raise. He says he knows of at least twenty-five students from his course who have gone into teaching law.
So while there is no one route to academia—and, as Coquillette's course shows, "academia" itself is not a monolith—the fact remains that the field is highly competitive, especially for those with unorthodox credentials. "The simple fact of life is that the vast majority of law professors come from the elite schools," says St. John's Perino. "It's not about the nature of the legal education you get in those schools, but about the prestige factors. One of the things BC Law might think about doing is signaling to students that this is a viable career option for them and, for those students who want to pursue this option, provide support." While BC Law does not currently have a formal career placement program in place for aspiring professors, individual faculty take promising students and alumni under their wing to help them get where the want to go.
And what kind of student should consider a career as a law professor? Someone who's intellectually engaged, who's curious, who likes to raise questions and think critically about the law, the practicing scholars say. Someone who is committed to writing, speaking, and teaching about complicated ideas in an engaging way. Someone who will avoid becoming an ideologue. Someone with a gentle sense of humor.
Someone, finally, who wants to pass on what they have been given. Here's BC Law Professor Robert Bloom: "There's a saying in the Talmud that goes something like this: Every blade of grass has its angel that bends over it and whispers, grow, grow. I think about the angels, people like Sanford Fox, Richard Huber, people who looked over me and said, grow, grow. I feel as though that when I do the same with my own students, I'm giving back to something that was given to me."
Jeri Zeder is a contributing writer to BC Law Magazine.