A Trader in Justice
garcia applies morals to study of international law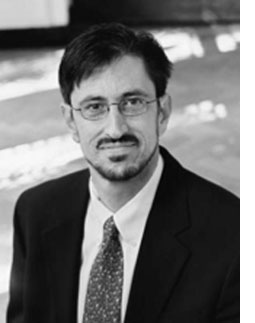 Garcia founded a program to help small-scale producers negatively affected by the WTO's decision to remove tariff protection.
Growing up in San Francisco, the son of Spanish-speaking immigrants from Colombia, Frank Garcia's first exposure to the glamour of international trade was in the office where his father worked for an international freight forwarding company. "All these products going everywhere seemed so interesting and romantic," Garcia, professor of international trade and comparative law, said in a recent interview.
But Garcia's earliest career ambitions took him in a different direction. He studied medieval philosophy and theology at Reed College in Portland, Oregon, and was considering training for the priesthood when he literally bumped into the woman who was to become his wife while rowing in the school's co-ed boat.
Even before that meeting, said Garcia, he had become disillusioned with the purely theoretical nature of his religious studies. The law, he thought, would offer both intellectual stimulation and practical engagement in the commercial world, so he obtained a JD from the University of Michigan Law School. But the demands of life as a corporate lawyer thwarted the scholarly side of his temperament. "Not being able to choose what I wanted to think about, and think about it for as long as I wanted," was deeply frustrating, said Garcia, forty-four.
He found a better balance between action and reflection in a teaching post at Florida State University College of Law. As a professor and consultant to governmental, international, and non-governmental organizations, and particularly as a Fulbright Fellow at the University of the Republic, in Montevideo, Uruguay, he began to develop the ideas about the interrelationships among international trade, political philosophy, and justice that informed his book, Trade, Inequality, and Justice: Toward a Liberal Theory of Just Trade (Transnational Publishers, 2003).
One of Garcia's key concerns is the survival of small economies in the global trading system. On a consultancy trip to Barbados in 2002, he witnessed the human devastation caused by a World Trade Organization (WTO) decision removing tariff preferences from small-scale banana producers competing with multinational companies in the European export market. A result of that visit was his founding of the Law and Justice in the Americas Program as a vehicle for students to work with him on his periodic consultancy projects in Latin America and the Caribbean.
Many of his students, said Garcia, are "very energized by questions of social justice." He channels that energy by linking the theoretical side of international trade law with the study of individual cases highlighting the impact of legal structures and principles on the daily lives of poor people in struggling economies.
Garcia works with the Nicaragua-based Center for Development in Central America (CDCA) to advise workers' co-ops on developing new products and services and to study the impact of the 2005 Central American Free Trade Agreement (CAFTA) on small businesses.
Among Garcia's CDCA clients is a workers' co-op run by forty women, a garment assembly factory in one of the poorest slums of Managua. In 2005, the Port of
Atlanta detained a container load of their products, and the shoestring operation was in danger of losing a major US client. "Getting that container through customs represented the survival of the co-op," said Garcia, whose negotiations with the Nicaraguan consulate and the customs authorities, with research support from law and justice students, helped salvage the shipment.
In September 2005, Garcia and his wife, Kim, a poet and adjunct professor at Boston College, were invited to act as advisors to a conference on trade, growth, and poverty reduction in Latin America organized by the US Conference of Catholic Bishops. Though Catholic, Garcia had never considered collaborating with the church, but now he is keen to develop more cooperative projects promoting economic justice in the global economy.
In addition to teaching, writing, and consulting, Garcia puts his energy into his family; he and Kim have a son, eighteen, and a daughter, fifteen, and his twin passions, movies and sailing. An admirer of film director Wes Anderson's The Life Aquatic, Garcia admits that in his own boating adventures in Boston Harbor and off the North Shore, he's more likely to run across natural gas tankers and cruise ships than mythical sharks. Which brings him back to thinking about international trade.
—Jane Whitehead