Behind the Columns
bc law dean john h. garvey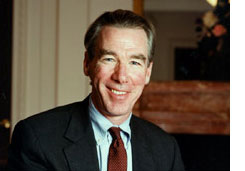 While waiting for a plane in Washington recently I met a friend of mine, an alumna of Newton College of the Sacred Heart, and we got talking about the place where she went to school. I feel a sentimental attachment to the Newton alumnae. They built their college here sixty years ago; the Law School moved in thirty-one years ago. So we have inhabited the same space for roughly equal periods, and because of that our lives are intertwined. Barat House is named for St. Madeleine Sophie Barat (1779–1865), who as a young woman in post-revolutionary France started a company of women parallel to the then-suppressed Jesuit order. Stuart House is named for Jane Erskine Stuart (1857–1914), an Englishwoman and sixth Superior General of the order Barat founded. Kenny-Cottle was built in honor of Newton College's first president, Eleanor Kenny.
It's not just the names that connect us. There is a tunnel that links Stuart House with Barat House. It's toasty even in the winter because the steam pipe runs through it. Though it's closed to traffic now, my friend remembers traversing it in her bathrobe as a college student. I have a pink bathtub in my office bathroom, and the walls feature the four-inch pink ceramic tile that was so popular in 1947, both reminders of the day when the Newton College president lived here. We have any number of other rooms whose size and shape don't fit their function because they were designed as dormitories or chapels or offices for a different purpose.
This all has its charms. Lots of families (mine included) dress their children in hand-me-downs, and if the chain of custody is long, the clothes may look snug, faded, and dowdy by the time they reach the last child. Seeing little Margaret in the smocked dress at Easter is reassuringly familiar to the older children. It's not so great for Margaret, though. And that's how it is with some of our buildings. I want to describe for you two approaches we are taking to cope with the problem of living in a place with some history.
The first is long-range planning. A few years ago we began a strategic planning process designed to project our growth over the next decade. We held public discussions of faculty, student, and program needs. Parallel to these, but less visible, was an effort to measure and solve the space demands we will face if we reach our program goals. We anticipate hiring ten new faculty. They will need offices and support staff. We have already approved the creation of an LL.M. program. It will require space for a director, a secretary, and functions. Our alumni and development staff must grow to help us pay for these changes. This will put new strains on Barat House, where they are housed. It is bad business to wait for these needs to arise, and then respond by committing the space that happens to be available. Over time that approach produces a patchwork arrangement with an unattractive design, poor traffic and workflow patterns, and inefficient use of space. We took a wiser course. We hired an architectural firm and asked them to look at the entire Newton campus, with a time horizon of twenty years.
This has been a very useful exercise. We have a renewed appreciation for the beauty of buildings like Stuart House and Barat House, and a sense of the utility (to say no more) of Kenny-Cottle, the former library. The planners feel that these buildings will require important renovations over the next decade. There is less to be said for the Smith Wing, which connects Stuart to Kenny-Cottle. Opening up the space it now occupies would allow us to improve the rear approach to our campus and to develop the courtyard on the right side of Stuart House the way we have done with the Mone Courtyard on the other side.
The next step in the long-range plan is to meld these proposals into the University's master plan. Like the Law School, the University is looking creatively at its future growth. We are an important part of that projection, but this is a cooperative undertaking, and it may be another year before they and we can make any certain commitments.
Meanwhile, we continue to work at the other part of our strategy. If you visit the Law School from time to time you may have noticed how, each year for the last six years, we have done floor-by-floor renovations in Stuart House: the classrooms on the third and fourth floors; the cafeteria on the second floor; the Law School Commons in the Smith Wing (my friend told me that this used to be the Student Union for Newton College). Last summer we did half of the third floor to unite the Dean for Students with Academic Services and to increase the size of the Admissions Office.
This summer we are making changes in both Stuart House and Barat House. In Stuart we will do the other half of the third floor: my office and reception area, and the offices of the administrative dean, operations manager, and fiscal officer. And we will give the foyer a much-needed facelift. In Barat House we will turn the old library into a beautiful office for emeritus faculty. We will also take over several rooms on the second floor to unite our alumni and development staffs on one level.
If you have a reunion this year, or are in the neighborhood next fall and have a few minutes to spend, I hope you will drop in for a look. It's changed a lot from the place my friend went to school.