Achilles' Heels
legal inconsistencies prevail at tribunals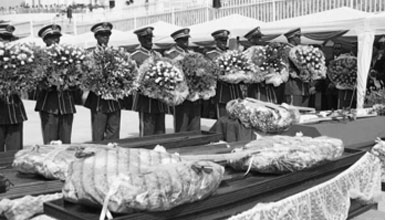 Members of the Rwandan Army visit a mass grave in Gisozi in 2004 to pay respects to victims of the country's 1994 genocide.
Some years ago, career prosecutor Pierre R. Prosper was arguing a case at the UN tribunal that hears cases stemming from the Rwandan genocide of 1994. At one point, the young American rose to object to what he saw as the defense's witness-badgering.
Looking puzzled, the chief judge, from Senegal, asked his fellow judges, a Swede and a South African, "Objection? Do you have this in your [country's legal] system?" Neither one did, and Prosper was ordered to sit down.
When the badgering continued, Prosper objected once again, with the same result.
Later in the trial, Prosper, emboldened by the judge's ruling, was leading a witness through an aggressive cross-examination. Prosper's opponent, a Cameroonian, rose and after a flowery preamble in which he showered praise on the judges and tribunal, said, "I have an observation. The prosecutor is being rude to the witness." After a moment in which he seemed to ponder the lawyer's remarks, the chief judge looked Prosper in the eye and said: "Don't be rude!" Prosper, who went on to serve as United States Ambassador-at-Large for War Crimes Issues, came away from the incident with this lesson: "In international procedure, you can't make objections, but you can make observations."
Prosper's experience toiling in a legal tower of Babel is hardly unique in the world of international war crimes tribunals. The twenty-five judges at the International Criminal Tribunal for the Former Yugoslavia (ICTY), the oldest such tribunal currently hearing cases, come from no fewer than twenty-three countries, each with its distinctive legal tradition, according to BC Law School Professor Judy McMorrow. She and Prosper, a BC graduate and member of the Board of Trustees, and seven other experts, spoke at a forum on the tribunals that took place at the Law School on March 24. The symposium, sponsored by the Boston College Environmental and Comparative Law Review and the Boston College Center for Human Rights and International Justice, was called "Sharpening the Cutting Edge of International Human Rights Law: Unresolved Issues of War Crimes Tribunals."
In addition to the problem of integrating personnel from many disparate legal systems, the tribunals have suffered from a lack of expertise not only among judges but also among lawyers, several panelists at the forum noted. They explained that few people have the dual expertise in criminal and international law that's required to work effectively in an international criminal court.
Moreover, the tribunals are creatures of the United Nations, as more than one panelist pointed out, and appointments of judges and prosecutors can be promoted or blackballed not because of the appointees' expertise, or lack thereof, but to advance the member nations' political agendas. (Panelist Patricia Wald, a former US appeals court judge who also served as a judge at the ICTY, recalled that a high UN official once told her that "from a UN point of view, if their country nominates them and they don't have two heads, we don't object.")
The quality of judging in particular came in for hits from panelists. William Fenrick, a former prosecutor at the ICTY, recalled that in a case he was working on, trial judges as well as appellate judges rendered decisions that "totally misread the [UN] secretary general's report establishing the tribunal." David Crane, former chief prosecutor of the Sierra Leone Special Court, called judges, "the Achilles' heels of every tribunal," adding that, when it came to the Sierra Leone cases, "my biggest fear is reversible error."
Perhaps most vexing of all for lawyers and judges facing the kind of hard legal questions that inevitably arise at war crimes tribunals, the guidance provided by precedent, statute, and rules of procedure and evidence can be thin or nonexistent. That's not surprising in a type of legal forum that, if you don't count the pioneering Nuremberg trials of more than fifty years ago, has existed for not quite fifteen years. Questions arise on matters as basic as sentencing standards and even which crimes the tribunals are allowed to prosecute.
Panelist Philip Weiner '80, a prosecutor who runs BC Law's ICTY program, faced such a conundrum not long ago, when defense counsel moved to dismiss a case on grounds that the defendant was mentally incompetent. "The problem," Weiner said, "is that [the ICTY] had no rules or statutes relating to competency to stand trial. Is competency required? If so, what are the standards, and who decides?" Ultimately, the judges found a requirement for competency buried in better-established rights, including the defendant's right to understand the charges, and they set standards for competency that included the abilities to direct counsel and to appreciate the potential consequences of the trial. They also placed the burden of proof for lack of competency on the defense but set the standards of proof low, a balance of probabilities rather than proof beyond a reasonable doubt.
Very gradually, out of decisions like this one, a common law of tribunals is taking shape, Weiner and other panelists said, and decisions reached by one tribunal are being adopted by others, a trend that should ease the work of future international war crimes tribunals. (Indeed, the ICTY judges' test for mental competency has since been adopted by the tribunal for war crimes in East Timor, and Weiner expressed the hope that other tribunals would use it as well.)
And for all the tribunals' shortcomings, panelists agreed, they have done enormous good, holding individual wrongdoers (not only nations and governments) accountable and giving victims a sense of judicial redress. Interestingly, according to research cited by panelist Diane Orentlicher, professor of law at American University, both the self-image and community status of war crimes victims improves measurably when the victimizer is convicted. Further, the tribunals create a historical record that would not otherwise exist. "If future political demagogues try to rewrite history," argued panelist Aryeh Neier, a well-known author and president of the Open Society Institute, "tribunal records are the best" weapon against them.
Of course, coming when it did, the forum inevitably unfolded in the shadow of the death, two weeks earlier, of former Yugoslav leader Slobodan Milosevic four years into his unfinished trial before the ICTY. Milosevic's case, several panelists agreed, illustrates the tension between two sometimes conflicting goals: creating a clear historical record and administering justice swiftly and surely. In the forum's waning minutes, former ICTY prosecutor Fenrick remarked that it probably would have been better to charge Milosevic more narrowly and thus speed up the trial, even at the expense of the historical record.
A comment made by Prosper earlier in the day could have served as a response to Fenrick's retrospection. "We need to ask ourselves," he said, "whether poor justice is better than no justice. In some cases, it is."
—David Reich
More from Legal Currents: