75th Anniversary Celebration Events
Rethinking Church v. State
Stephen Carter Shifts the Paradigm—Again and Again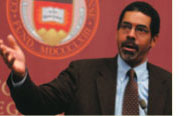 Carter leads a discussion before accepting his Distinguished Service Award from the Law School.
Stephen L. Carter, noted Yale law professor and legal scholar, was presented with the Law School's Distinguished Service Award in March as part of its Seventy-fifth Anniversary Celebration. Often described as a conservative, Carter is more properly characterized as a revolutionary thinker, known for taking popular theoretical perspectives and framing them in unconventional terms.
As a prelude to the award presentation, Carter led a discussion on "The Separation of Church and State." He emphasized that society should rethink the popular conception that separating government from religion is a battle between the "good guys" (the state) and the "bad guys"(the church).
Carter, author of eight books, including the critically acclaimed Reflections of an Affirmative Action Baby and The Culture of Disbelief, suggested viewing the separation of church and state not as a vehicle for insulating government from religious indoctrination, but for protecting the rights of individuals to practice religion freely without secular restraints. Society's perspective tends to skew in favor of protecting state interest, he said, when perhaps framing the debate in light of family interests would be more appropriate.
"It is the responsibility of the family, if they choose to exercise it, to create the moral world that their children live in," he said. "[This world] may be very different from the moral world of their neighbors."
While public schools are forbidden from mandating prayer as part of the "truce" between church and state, Carter noted, subjects are taught in public schools that are offensive to the religious values parents try to instill in their children.
The root of the state's argument for controlling religious instruction, Carter argued, is the notion that faith is a choice, not an innate act. Government interest in promoting informed choice is nothing more than a counterargument to the family's right to believe, he said. Neither theory is morally absolute, he stressed, rather they are simply competing theological perspectives.
It is therefore the height of irony, Carter said, that state interference in religious teachings turns on the parochial argument that the only proper upbringing is one that minimizes firmly held family values.
Carter cautioned that religion, which promulgates itself through children, may die out if it is not allowed to shape itself in subsequent generations. So where to draw the line between freedom of choice and the family's right to instill belief?
"We must be scrupulous in making sure [children] are not harmed," Carter said of his live-and-let-live philosophy. What constitutes harm is another debate entirely, he added.
—Michael Henry '08
"No One Is Born With Hatred"
ADL Head Calls for Tolerance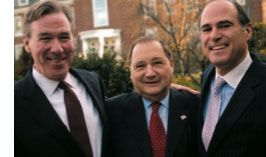 ADL National Director Abe Foxman (center) is flanked by Dean John Garvey (l) and James Randolph '75, chair of the ADL New England Board.
In an East Wing classroom last April, Dean John Garvey introduced a man who he said has long been willing to "suffer the arrows" of a public fight: Abraham Foxman, national director of the Anti-Defamation League (ADL). Addressing an audience of students, faculty, and members of the ADL assembled to celebrate the Law School's seventy-fifth anniversary, Foxman talked about his efforts to combat bigotry and prejudice in all its "virulent and pervasive" forms.
He stressed the need for open dialogue, especially among people with differing views, and emphasized the importance of "trying to understand each other's pain." He also called for the intestinal fortitude to stand up and fight for a prejudice-free world. The Holocaust, he said, mandated that we "chisel an Eleventh Commandment [to] never again be silent."
Indeed, his own life illustrates his point.
Born in 1940, Foxman survived the Holocaust because, he said, "in the midst of that hell" that burned 1.5 million Jewish children to ashes, his Polish Catholic nanny had the courage, humanity, and faith to stand up. She baptized and raised him as a Catholic during the war years. He arrived in America in 1950 with his parents, who had also survived, but fourteen other family members were lost.
He attended City College of New York and New York University Law School. In 1965, he joined the ADL, and for the last forty years has worked to put an end to the unfair discrimination and criticism of people everywhere through appeals to reason, conscience, and law. He will settle for achieving tolerance, he said, but his real goal is respect.
Foxman is resolutely optimistic about winning the battle. Teaching bigotry is woefully easier than unteaching it, he said, but it's also important to remember that no one is born with hatred. Each one of us "touches a whole world," he added, and each day presents opportunities to help exterminate a pestilence that has plagued hearts and minds for centuries.
At the event, Pat Hurley of the BC Law Students' Association presented a proclamation, signed by numerous student organizations, supporting religious freedom for all and stating that "hatred and bigotry against one group is hatred against all." Foxman also received the Seventy-Fifth Anniversary Distinguished Service Award during his visit.
—Michael Engallena '08
A Father, A Legacy
Son of First Asian Graduate is Honored
Harold and Hesung Koh
Harold Hongju Koh got his first introduction to law and diplomacy from the inside of a jail cell when he was five years old. His father, the late Dr. Kwang Lim Koh '61, was serving as South Korea's ambassador to the United States. One day, the Koh family was riding in Washington, DC, when their car broke down. Their Korean driver ran to get help and returned triumphantly, trailed by a brigade of fire trucks and police cars. It turned out the foreign driver, unaware of the seriousness of his actions, had pulled a fire alarm and was promptly arrested.
Dr. Koh hailed a taxi cab and took his family to visit the driver in jail. After unsuccessful attempts to secure the driver's release by invoking diplomatic immunity and arguing that there had been no criminal intent, the ambassador was permitted to see the driver in his cell, with his family at his side. The driver, a prisoner in a strange land, was crying. Dr. Koh placed little Harold inside the cell with the driver and shut the door. "Call the Washington Post," he told his wife. "Tell them the ambassador's five-year-old son was imprisoned because their driver pulled a fire alarm."
Harold and the driver were released immediately.
Now the Dean of Yale Law School and a passionate human rights advocate, Harold Koh returned in April to his birthplace of Massachusetts, where his father became the first Asian (Korean) to graduate from Boston College Law School nearly a half-century earlier. He was here as part of BC Law's seventy-fifth anniversary celebration and was honored with a Distinguished Service Award. His mother, Dr. Hesung Chun Koh, also a scholar, attended the event.
Before accepting the award, Koh, a celebrated author and former assistant secretary of state for democracy, human rights, and labor, lectured on "Transnational Law," a comparative approach to legal standards that measures one country's laws against the conventional wisdom of the global community.
Koh's own views on transnational law are reflected in the writings of former Justice Harry Blackmun, for whom he clerked from 1981 to 1982. In a 1987 Supreme Court case, Blackmun wrote in a concurring opinion: "US courts must look beyond national interests to 'mutual interests of all nations in a smoothly functioning international legal regime.'"
Koh noted that recent appointments to the highest court could herald a four-one-four split as to whether the US should be a melting pot of policies or a legislative island. "Taking views of foreign powers isn't a sign of weakness or a commitment to their ideals," he said. "It is simply an acknowledgement of them."
—Michael Henry '08
Greenhouse Given BC Law Award
A full house welcomed Pulitzer Prize-winning journalist Linda Greenhouse to the Law School campus last November. She took questions for over an hour, commenting on her years as Supreme Court correspondent to the New York Times and on changes to the makeup of the Court. At the time, John Roberts Jr. had just been appointed chief justice and hearings were about to begin on Samuel Alito Jr., who has since become an associate justice.
At the event, Greenhouse received the Law School's Seventy-fifth Anniversary Distinguished Service Award for her contributions to the legal profession and to society. She's also the recipient of Goldsmith Career Award for Excellence in Journalism from the Kennedy School of Government at Harvard and the John Chancellor Award for Excellence in Journalism from the Annenberg School for Communication at the University of Pennsylvania.