Faces of the Future
class of 2008 raises the bar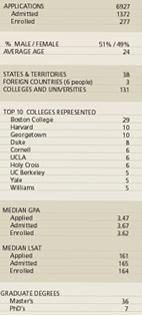 This year, BC Law received nearly 7,000 applications. That is almost 25 candidates for every seat. But beating the application odds isn't the only noteworthy quality of the class of 2008. Here's a glimpse at what makes this year's incoming class stand out.

The students are from a wide range of academic institutions, coming from 131 colleges and universities. They hold the distinction of being BC Law's most ethnically diverse class ever, with students of color representing 25 percent of entrants. In addition to stellar GPA and LSAT scores for the group, there are a number of Phi Beta Kappas, Fulbright Scholars, and National Merit Scholars. Among the languages they speak are Korean, Spanish, Japanese, Russian, Portuguese, Creole, Nepalese, Hebrew, and American Sign Language.

Their activites are evidence of their eclectic interests. Several have been legislative fellows and interns for numerous members of Congress. One was deputy director of operations for the Anti-Defamation League. They have taught first grade, the Classics, and college chemistry. One headed the music department at a private school, another worked in public broadcasting. The class's public service credentials include the Innocence Project, Peace Corps, Jesuit Volunteer Corps, Teach for America, and Americorps. They have volunteered in Appalachia, Niger, and Cameroon.

Other articles from In Brief:
"Always Doing, Always Giving"
Monan Honored for Distinguished Service
Faces of the Future
Other Stories from In Brief