Fighting the Good Fight for Fellow Minorities
benitez wins "woman of the year" accolade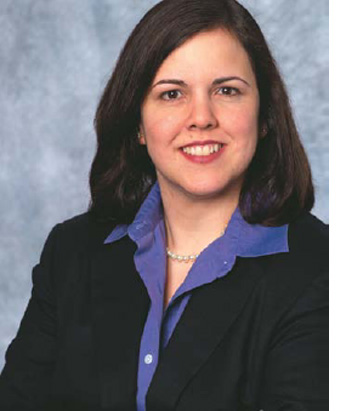 From petitioning the Supreme Court to handling multimillion dollar cases to mentoring young attorneys, Brigida Benitez aims high, for
herself and the Hispanic community.
Brigida Benitez '93 knows what it's like to win a high-stakes case in which the odds are stacked against her. She second-chaired the landmark victory for the University of Michigan before the Supreme Court in the case Time Magazine called "The Alamo of Affirmative Action," in 2003.
Benitez and her colleagues at the Washington, D.C. law firm of Wilmer Cutler Pickering Hale and Dorr, persuaded the Supreme Court of the real-world benefits of affirmative action. In doing so, Benitez said in a recent telephone interview, they won "a tremendous victory for all of higher education."
As the daughter of Spanish-speaking working-class parents from Cuba, Benitez is a natural champion of the value of diversity and the importance of broad access to higher education. Last June, Hispanic Business magazine honored her with its third "Woman of the Year" (WOY) Award for the national impact of her achievements and her longstanding commitment to progress in the Hispanic community.
In her acceptance speech at the award ceremony, Benitez pointed out that while Hispanics are now the largest minority in the country, they have a long way to go before they achieve proportional representation in decision-making positions. She noted that of the more than 1,200 federal judges in the US, forty-nine are Hispanic men and only fifteen are Hispanic women.
But Benitez is an optimist. "The more we succeed, the more opportunities we have to help those who come behind us," she said. She looks for opportunities to give young lawyers the kind of mentoring and support she received at BC Law, from professors like George Brown and Dean Hashimoto, who remain valued advisors.
When not handling multimillion dollar arbitration cases or conducting internal investigations for multinational companies, Benitez makes time for pro bono work that links her directly to the local Hispanic community. As president of the Hispanic Bar Association for the District of Columbia in 2004, she worked with Court of Appeals Judge Vanessa Ruiz and community groups to set up a thriving Spanish-speaking legal aid clinic.
Benitez credits her parents with instilling the work ethic that powered her as she worked her way through college and sustains her still through the twelve-hour-plus days of a Washington litigator. She also acknowledges her debt to her husband, Jorge Benitez, who writes on international relations, as her "number one supporter and cheerleader and true source of inspiration and help."
"None of us makes it alone," Benitez told fellow honorees at the Hispanic Business magazine gala for the top 80 women in business. "Together, we have the power to lead our people to our rightful place in society, a place where every Hispanic will be free of discrimination and free to fulfill his or her unique potential."

—Jane Whitehead


More from Esquire:
Looking Out for the Little Guy
New Sponsorships Offered
Treasury's New Maven
A Leader in Training
Alert to Oppurtunity
A Most Important Task