A Most Important Task
commander guinn driven to a job he was "meant to do"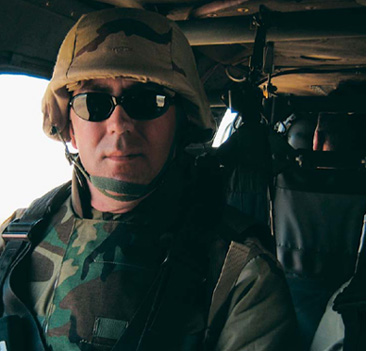 Commander Rex Guinn says that he wouldn't trade a legal career in the military for any other job.
Danielle Porcelli '03, a lieutenant in the JAG Corps, writes of her acquaintance with a fellow alumnus.
I remember the first day I had to approach Staff Judge Advocate Rex Guinn '89 of the Judge Advocate General (JAG) Corps' Naval District Washington, about a client. I was a junior JAG Corps officer and a defense counsel. Commander Guinn was the JAG who gave legal advice to the Admiral of the Washington district. In order to persuade the Admiral to take favorable action for my client, I had to first persuade Guinn. I was nervous about encountering a superior who was known to be decisive and to strike a strict bargain. Far from being the alarming figure I had imagined, however, I found him to be fair and forthright, and in all our dealings from then on, I always knew where I stood.
Four months after that first meeting in April of 2004, Guinn said he was leaving Washington in September to go to Iraq as Senior Attorney Advisor for the Regime Crimes Liaison Office—and the head of mass graves exhumations. An operational lawyer with a strong interest in international law, he felt that helping the Iraqi people rebuild their nation was one of the most important tasks he could undertake. During several tours of duty in the Middle East, Guinn had become intrigued by the Arab mindset and how it differs from the American perspective. "They have a 100-year plan, which requires strategic thinking about the future. Their priorities are family, clan, tribe—not country," he said.
During his stay in Iraq, from September 2004 to March 2005, Guinn sent weekly emails to former coworkers in the US, updating us on local conditions. The emails described experiences most of us could not even imagine. For example, he saw a mass grave filled with women and children sho in the head. He was nearly killed during a rocket attack on the US Embassy in Baghdad. He had just walked through a passageway in which two people were killed minutes later. For twelve hours, he mistakenly believed one of them was a close friend. Though that turned out not to be true, one of those who died was well known to him. In his final email about the attack, Guinn wrote: "So, we are slowly picking up the physical and spiritual pieces here and getting on with our various missions. This is the way both of them would have wanted it."
When I interviewed him for this piece, Guinn said the most important lesson he learned during his deployment was how to persevere in doing something you believe is right. He called the experience one of the most momentous of his life, "the significance of which will be even more noteworthy once the leaders of the Baath Party (Saddam Hussein and Ali Hassan al-Majid among them) are prosecuted for their crimes," he said.
Guinn was in charge of the exhumation of a mass gravesite outside Samawah. He had a staff of approximately fifty people, including military police, Marine Corps force protection, and civilian scientists, notably, Dr. "Sonny" Trimble, a worldrenowned archeological expert who works for the Army Corps of Engineers. When Guinn arrived, he faced a daunting task that included danger, extreme heat, resource problems, troop motivation, and "a complete lack of understanding of what it would take to get the job accomplished."
His sense of purpose was fueled, however, by what occurred in December 2004, when he visited the village of Sadar, from where, under the Hussein regime, Kurds had been corralled in trucks and driven for three days to Hatra, where the women and children were shot in the back of the head and left in a mass grave. His memory of the gratitude shown by the Kurds to the Americans for doing this important, though
gruesome work, stayed with him as he embarked on the exhumation outside Samawah, he said.
While gathering evidence for the prosecutions of Baath Party leaders, Guinn gave back to our troops as well. He put a call out to all of us stateside to send pajamas, toiletries, books, and CDs for a Christmas care package for the wounded American troops. We responded with eight footlockersize boxes for him to take to the hospital. He wasn't the only person visiting the hospital on Christmas Eve; Secretary of Defense Donald Rumsfeld arrived as well. "The troops were enormously grateful for all of the support from the home front," Guinn reported. The weekly email communication he had with us kept his morale high. "It is a perfect symbol of the friendship and support I have had from all of you during my time here," he wrote. "I am amazed and humbled by this. I am eternally grateful and will always look for ways to repay you all."
This past May, Guinn took up the post of Executive Officer (the second in command) of Trial Service Office East with Commanding Officer and fellow "legal Eagle" Captain Max Jenkins '86.
Concluding our conversation, I asked Guinn if he had any advice for BC Law students weighing employment options. "I would encourage people to follow their passions and not just take the job with the highest pay or the type of job you think you should take," he replied. "Take the job that is going to bring you the most happiness. I would not be truthful if I told you that I wanted to make a career of it from my first day on active duty, but I was open to the idea. It did not take me long to realize I had found my 'home' in the Navy. Being a Navy JAG was what I was meant to do. Could I make more money doing something else? Sure. Could I be happier? No way."

— Danielle R. Porcelli '03, LT, JAGC, USNR

More from Esquire:
Looking Out for the Little Guy
New Sponsorships Offered
Treasury's New Maven
A Leader in Training
Alert to Oppurtunity
Fighting the Good Fight for Fellow Minorities