Alert to Opportunity
vanek's entrepreneurial streak takes him places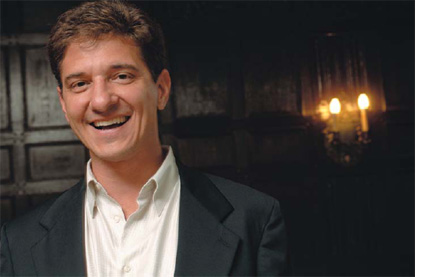 A lawyer with strong entrepreneurial ideas, Joseph Vanek '87 regaled students with stories of his enterprises producing voting machines for the handicapped and inspirational books for corporations. Photograph by Liz Linder.
Students interested in litigation, entrepreneurship, and practicing in the Chicago area were treated to an informational session recently with Joseph Vanek '87. Vanek, a partner at Daar and Vanek in Chicago, visited BC Law in September and spoke of his journey from an associate at a large metropolitan firm to
founding partner of a boutique firm to business entrepreneur with voting machine and publishing ventures to his credit.
Vanek's practice focuses on intellectual property, commercial, and trademark litigation, but he is also involved in a niche market publishing company called Simple Truths. It produces inspirational and instructional books for companies to use as motivational tools or gifts for employees and customers. Titles include The Power of Attitude, The Nature of Success, and The Essence of Leadership.
He is co-founder of Automark Technology Systems LLC, which has developed an optical scan ballot marking system designed to make voting more accessible to voters who are visually impairedor have other disabilities. The technology provides language assistance to voters who are more comfortable speaking a language other than English or who have reading difficulties. The company's Voter Assist terminal was used in Arizona in the 2004 presidential elections, and Vanek is expanding distribution to several states, including Massachusetts.
The key to his eclectic career, Vanek said, is not being afraid to delve into the unknown. "You never know where your opportunities will come from," he said. "Be open to working in a lot of different areas, because when your clients will take you there, you'll be prepared for the challenge."
Vanek also discussed the appeal of the Windy City for lawyers.
"Chicago is a huge market, with many openings for good associates. Most firms are open to hiring people who are relocating to the area, and BC has a very strong reputation in the city," he said. Currently, about 150 BC Law graduates are practicing in the Chicago area. Vanek would like to see that number grow to around 500 in the near future.

—Matthew Karr '08
More from Esquire:
Looking Out for the Little Guy
New Sponsorships Offered
Treasury's New Maven
A Leader in Training
A Most Important Task
Fighting the Good Fight for Fellow Minorities