Looking Out for the Little Guy
judge redden presides over salmon wars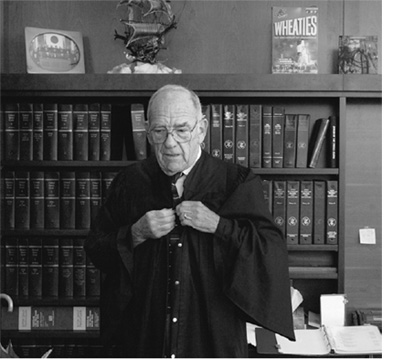 The "breakfast of champions" atop his bookshelf, long-time judge, Justice James A. Redden '54, has himself been a champion of endangered salmon.Photograph by Torsten Kjellstrand/The Oregonian
On June 20, 2005, Judge James A. Redden '54 of Federal District Court in Portland, Oregon, ordered the federal government to spill water through hydroelectric dams on the Columbia and Snake rivers to help young salmon migrating to the Pacific Ocean. The order followed Redden's May ruling that the Bush administration had presented a flawed analysis of the damage done to threatened wild salmon and steelhead populations by fourteen federal dams.
"It's a fight about who gets to use the river," said Redden, 76, of this latest move in a battle between environmentalists and fishing interests on the one hand, and hydropower companies, farming, and ranching interests on the other that goes back to the Clinton administration.
Like his rejection of an earlier version of the federal Salmon Plan in May 2003, Redden's recent finding in favor of environmentalists contesting the revised government plan was based on the provisions of the Endangered Species Act (ESA). Now, he fears that the act itself may be in danger, as a group of Republican governors and members of Congress are seeking to amend it.
"Those who want to amend it simply want to gut it," said Redden. "They will try to use the habitat for commercial development as opposed to leaving it as it is for the fish and wildlife that live along our rivers." But he believes the ESA enjoys wide support and predicts a tough fight in Congress over the proposed amendments.
The hundred or so lobbyists, attorneys, and environmentalists who are the chief actors in the salmon saga have already received a lecture from Redden. "I told them it was time to sit down and come up with some plan of their own that would satisfy everybody," he said. With the benefit of his experience from a distinguished career in public office as state representative, state treasurer, and attorney general of Oregon, before his appointment to the federal court bench, Redden may have a better chance than most of presiding over some form of reconciliation between the warring interest groups. And when he needs a break from the salmon wars, Redden said, he comes back east to Boston to cheer on his beloved Red Sox and the Boston College football team.
-Jane Whitehead
More from Esquire:
New Sponsorships Offered
Treasury's New Maven
A Leader in Training
Alert to Oppurtunity
A Most Important Task
Fighting the Good Fight for Fellow Minorities