The Moral Side of Trade
keeping the word 'just' on the international agenda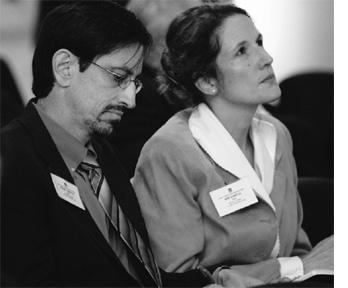 Professor Frank Garcia and his wife Kim were consultants to the foreign policy unit of the US Conference of Bishops, advising on justice in the Western Hemisphere. Photo Courtesy of Catholic News Service.
Founder of the Law and Justice in the Americas program and professor of international trade and comparative law, Frank Garcia has expertise in areas that inspired him to explore the notion of just trade in his recent book Trade, Inequality, and Justice: Toward a Liberal Theory of Just Trade. The book distinguished Garcia as one of the first authors to apply abstract theories of justice to concrete theories of international trade law. A unique opportunity to put theory into practice presented itself when he was contacted last June by Father Andrew Small, trade advisor for the US Conference of Catholic Bishops, for assistance with a conference on trade, growth, and poverty reduction. "I am Hispanic and Catholic, so I have been interested in working on Latin American issues for a while," Garcia said in an interview. "But I never thought of working with the church in this way, and I didn't realize the bishops maintain a foreign policy and operate in this capacity."
The conference was held in early September in Washington, DC. Sponsored by the Inter-American Development Bank and organized by the Latin American Episcopal Council (CELAM) and the conference of bishops, it brought together religious leaders, international financial policymakers, and legislators from nineteen countries in the western hemisphere to discuss the moral implications of trade integration. Garcia worked with his wife, Kim, a writer, poet, and adjunct professor at Boston College, to pen the keynote speech for Francis Cardinal George and to offer guidance as to themes and issues the conference should consider.
"There is a desire to bear witness to certain values of concern to the bishops and to the Catholic church as a whole," said Garcia. "One of the goals of the conference was to help church leaders link general concerns about justice and solidarity with actual policies, practices, and institutions of globalization. The hope is that they will be able to take a position, given their values and concerns, about some more or less desirable aspects of trade policy and thus serve as a resource to mobilize the people they speak for."
One role of bishops, especially those in Latin America, is to serve as advocates for social justice and speak on behalf of segments of society that aren't well represented. "The Catholic church is still a relatively powerful voice, but they haven't always used that opportunity wisely," said Garcia. "There are many people who want to see the church speak more progressively, and because Latin American bishops are responsible for social justice in their respective dioceses, it is important for them to be able to link that concern with policies on globalization and trade. In that sense, they need to be able to work like any other NGO [non-governmental organization]."
Though in the US the Catholic church has been fairly vocal on social issues, it has tended to be conservative in supporting the ruling class in many Latin American nations, Garcia said. "Latin American society has been deeply unjust and unequal for centuries. There is a tradition of the church trying to comment on social and economic issues, but what is changing is the world, and in that sense, globalization is a new opportunity for them to look at questions about economic justice," he explained.
Since the primary focus of Garcia's book was to persuade the field that economic justice is closely related to international trade, he viewed the conference as a unique opportunity to work with an institution that has already made this assumption. "The church has long been convinced that there is a link between justice and trade, and Kim and I found it very fulfilling to work to add flesh to that issue and help the conference of bishops articulate their position in a way that allows them to reach outside the church as well," said Garcia. "And while it was fantastic to hear some of the ideas that we kicked around over coffee with Father Andrew showing up in Cardinal George's keynote address, it was even more satisfying to see the bishops and leaders absorbing and responding to those ideas."

More from Legal Currents:
Policing Corporate Boards
The Moral Side of Trade
The Richly Debatable US Constitution
—Kristine Povilaitis '07