The Hard Realities of Advocacy
joseph jordon '06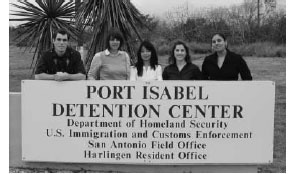 Not your typical spring break: Jordan and colleagues
experience US immigration law from the inside during
an internship in Texas.
Each new lawyer fears that first client interview. I certainly did. My anxiety mounted when my client entered the interview room wearing an orange jump suit emblazoned with PIPC—short for "Port Isabel Processing Center." The barbed wire fences lining the road as I drove into the Texas facility were reminders that, despite the center's proximity to the Gulf of Mexico, the man in front of me wasn't on vacation.
As illegal immigrants detained by US officials, the 700 or so men housed at Port Isabel are playing a waiting game. They took a risk by coming to America, and now they are facing the consequences.

I and five other BC Law students spent our weeklong February break interning with ProBAR, a nonprofit agency in Harlingen, Texas, that assists people detained at Port Isabel. My job was to write a brief in support of a Salvadoran seeking asylum under the UN Convention Against Torture (the Convention).
Most of the people appearing in the immigration courts of Port Isabel were picked up by the Border Patrol as they attempted to enter the US from Mexico. Those here for the first time see a judge in a process called Master Calendar and are released after receiving a date for a hearing to determine their status. If the person skips the court date, as more than 80 percent do, they are placed under an "order of removal"—meaning, if later found on US soil, they can be deported. The same order of removal applies to anyone who was previously deported and has returned. My client was Oscar (not his real name). In 2000, he was deported to his native El Salvador after being convicted in California for lewd and lascivious acts towards a minor. He returned to the US four years later and, when picked up by customs officials, claimed he feared being killed by a drug lord in his home town if sent back. Because he was under an order of removal, Oscar could not seek legal residency unless he could prove he qualified for asylum. To do so, he had to show that he was either part of a group actively persecuted in his country or that he risked the threat of torture, which would win him automatic protection under the Convention.
Oscar was not part of a definable group being persecuted, so he would have to use the latter defense. He would have to persuade the judge he'd be tortured if he returned to El Salvador, and that somehow the torture would involve "government acquiescence"—a stipulation that allows the US to avoid granting protection for purely personal disputes.
At twenty-seven, Oscar was a year older than I, but as I settled in across the table from him, I realized he actually was depending on me, and I began to wonder: Did I know enough as a second year law student to help? I determined to do the best I could for him in the week I had.
During the car ride to the detention center Monday afternoon, our adviser, Amy Wax '00, told us that in these first interviews we should act like journalists and gather the who, what, when, where, why and how of the client's situation. I asked Oscar the questions and this is what he told me:
One night while working as a security guard at a Salvadoran night club, Oscar saw a man pummeling another man in the head with an empty glass bottle. Oscar's boss had given him pepper spray, telling him to use it to diffuse aggressive behavior by customers. Oscar reacted as instructed and sprayed the man wielding the bottle. He later learned that the man was one of the most dangerous and powerful drug lords in El Salvador. A few days after the fight, men returned to the club looking for the security guard who had used the spray. Then the body of the other man in the fight was found with a bullet hole in the back of the head. Oscar said he left El Salvador before his identity as the guard could be revealed.
After telling me his story, the first question Oscar asked pertained not to the hearing on the following Monday, where Oscar was to present his application for Convention protection—the application I was there to help complete. Instead, Oscar wanted to know what would happen after the hearing. I sat there stunned. I hadn't considered the idea of future proceedings.
It is a lonely feeling to be sitting without answers in front of a man in an orange jumpsuit. Fortunately for me, our group was accompanied by experienced attorneys, and answers were mere footsteps away. After consulting with them, I returned and explained to Oscar that future actions depended on the judge believing his story, so it was very important that he appear credible. I had found that the account Oscar told me matched exactly what was recorded on his initial statement document, given me by ProBAR. In fact, he had also drafted a detailed graphic of the nightclub, showing his position, the scene of the fight, and the alleged drug lord's exit route.
Oscar's only hope, without corroborating evidence, was that the judge would believe that the threat of torture was real and probable—and warranted a withholding of his removal order. It was an uphill battle by any standard.
Then there was the matter of his previous conviction. In most immigration proceedings the normal rules of evidence do not apply: Prior convictions are always relevant and admissible. The judge considers past convictions to determine whether the applicant poses a threat to society. If so, the US does not automatically release him upon granting asylum protection, but, rather, can detain him indefinitely. If Oscar were deemed a threat after being granted asylum protection, he would be forced to choose between deportation to El Salvador—where he fears being killed—or remaining in detention.
Oscar committed his crime during what he called his "reckless youth," and claimed he had matured. I advised him that even if he didn't address the facts of his conviction in the brief, the judge at the hearing would ask what happened and he needed to be prepared to answer.
The hardest portion of my first interview with Oscar was the goodbye. Client interviews usually end with some sort of forecast, a future meeting time, say, or small assignments for both parties. Then the client expects to hear that "everything will work out." But did I really know anything about how Oscar's case would turn out? Was there "government acquiescence" as defined by the terms of the Convention? Could I prove it? Was his a "particularly serious crime" as defined by the Immigration and Nationality Act, or, more importantly, would the judge see it that way? Instead, I chose to tell my client the truth: that I would get to work. And I did.
I worked all week for Oscar, yet wished I had three more. I was fascinated by how involved I became in his story. Notwithstanding the obstacles Oscar faced, I felt his was a winnable case, and I meant to prove that to the court. While I am plagued by writer's block (or lack of motivation) when writing law school briefs for the fictional "Fourteenth Circuit" of Grimes, I had no trouble finding inspiration for this brief. The experience with Oscar has led me to believe that detaching myself from clients might be the hardest part of immigration law—or any law for that matter. With "zealous advocacy" comes an inclination to assume the clients' hardships and, by default, their hopes.
At press time, Oscar's case was still pending. Despite whatever assistance I provided Oscar, I'm certain his effect on me was greater. He helped remind me why I came to law school and what it is that I want to do. Without experiences like this, even the most virtuous among us can forget why we enrolled. I'm not so naïve as to not appreciate the reality of Oscar's situation: Statistics show that the great majority of (indigent) asylum seekers are denied. Each time an attorney takes a case like Oscar's he must know the likelihood that his efforts will be futile. Yet talented and committed attorneys continue to represent those seeking a better life in the US. I imagine the resulting sense of worth is compensation enough for the hours put in. I can confidently say it was for me.