Other Stories from In Brief
spring/summer 2005
Giving Justice a Chance
Prosecutor Stresses Value of ICC

"Humanity is learning how to destroy itself with weapons, but humanity is also learning how to control violence," said Luis Moreno Ocampo. "So it's a race."
Ocampo, chief prosecutor of the International Criminal Court (ICC), delivered this statement in January at the sixth annual Owen M. Kupferschmid lecture, hosted by the Holocaust/Human Rights Project at BC Law.
Prior to his appointment to his current post, Ocampo made a career of controlling violence by prosecuting those who perpetrate it on the largest of scales. For eight years, until 1992, he was chief prosecutor of the Federal Criminal Court in Buenos Aires. From 1984-'85, he was the assistant prosecutor in the "Military Junta" trial, which led to convictions of military commanders for mass killings.
Calling the ICC "a miracle," Ocampo said that prior to its existence, war or diplomatic agreement were the only options for resolving international conflicts. Now, he said, "justice is an option."
Created by the Rome Statute in 1998, the International Criminal Court consists of independent judges from five continents, sitting in a permanent jurisdiction, who apply universally defined criminal law. Genocide, crimes against humanity, and war crimes committed after July 1, 2002 are among those within the court's jurisdiction. He predicted the court's future will depend on its track record. That said, he added that the prevention of genocide, and not the adjudication of numerous cases, is the main goal. "The best outcome of this court is no case."
Better Lawyering Through Art
Advocacy Project Helps Troubled Girls

Sometimes helping a client find an emotional and expressive outlet can be just as important as addressing the client's legal needs, particularly when the client is a teenage girl involved with the juvenile justice system and in the care of the Massachusetts Department of Youth Services (DYS) for delinquency or youthful offenses.
A holistic approach to legal representation is the hallmark of BC Law's Juvenile Rights Advocacy Project (JRAP), a curriculum-based clinical program and nonprofit organization operating at BC Law since 1996. In advocating for girls and young women in the juvenile justice system, JRAP clinical students also attempt to respond to the clients' personal needs, said Professor Francine Sherman '80, JRAP director.
For five years, JRAP's strategy has included HUMAN (Hear Us Make Artistic Noise), a project that offers art classes to teans committed to DYS.
"Human was designed as a way of using art and poetry to give voice to the experience of these girls," Sherman said.
Twenty-year-old Minotte (only her first name is used to protect her privacy) was one of HUMAN's original participants, becoming involved in 2001. She enrolled, she said, simply to attain a form of freedom at the facility; classes provided a change of scenery. But when she started creating collages and drawings, she began to use her art as an emotional outlet.
"At first, nobody knew what I was going through," Minotte said. "I'd tell them but they wouldn't understand. With art, you can express how you feel. Everyone can look and see, 'That's what she's gone through.'"
"HUMAN exposes the law students to a side of their clients that they don't get to see when they're lawyering. It makes them sensitive and appreciative of that, and when they're out practicing, they'll take that with them," Sherman said.
Exploring Catholic Moral Doctrine
Judge Noonan Lectures on Divorce

Doctrine is rarely static. In both law and theology, doctrine develops over time, sometimes in response to societal changes, sometimes as a result of the interpretation of a particular judge, scholar, or even pope.
The development of Catholic moral doctrine was the subject of the Hon. John T. Noonan's lecture at BC Law in February. Noonan, a justice of the US Court of Appeals for the Ninth Circuit, based his lecture on his recent book, A Church That Can and Cannot Change: The Development of Catholic Moral Teaching.
In the book, Noonan traces the development of Catholic doctrine in areas of freedom of religion, usury, slavery, and divorce. The lecture focused on the last, tracing the development of Catholic doctrine on marriage dissolution. The doctrine has evolved from the original teaching of Jesus that "What God has put together, let no man put asunder"— meaning marriages could not be dissolved—to the current practice of papal dissolution of marriage, where marriages can be dissolved under certain Vatican-sanctioned circumstances.
Noonan pinpointed the beginning of Catholic dissolution doctrine to 57 A.D., with the letters of Paul to the Corinthians. Paul alluded to the possibility of dissolution of the marriage only when a non-Catholic abandons a Catholic spouse, although, Noonan noted, Paul's letters are "pregnant with ambiguity" regarding the extent to which Paul would have allowed papal dissolution.
Paul's concept for the dissolution of marriage under these circumstances became known, over time, as the Pauline Privilege, in which a pope will dissolve marriages "in favor of the faith"—in other words, as a favor to a Catholic whose non-Catholic spouse had essentially ended the marriage. Catholic scholars and popes further developed this concept over the centuries, beginning with Isaac in fourth century Rome, whose legal interpretation of Paul's letter stated that Catholics abandoned by non-Catholics could remarry.
The development of marriage dissolution under Catholic doctrine is complex, Noonan said. To demonstrate the depth of dissolution doctrine over two millennia, Noonan offered an account where Pope John XXIII dissolved the marriage of Lo Ma and Phan of China in 1959. While marital dissolution by a pope is not unique, it was in this particular instance because neither Lo Ma nor Phan was Catholic; rather, the couple had been married in a civil ceremony. Thus, there was no "privilege of the faith" to be exercised—neither spouse was Catholic.
The reason for the dissolution, then, arose when Phan emigrated to Indonesia and married Dorothy, a Catholic woman. Dorothy, concerned that her marriage to Phan violated church bigamy and adultery laws, petitioned the bishop of Djakarta to have Phan and Lo Ma's marriage dissolved. Pope John XXIII granted the request and dissolved the marriage between the two non-Catholics on August 19, 1959, an act that stretched the definition of "privilege of the faith."
The Djakarta example, Noonan said, illustrates some of the difficulties confronted by Catholic theological scholars who study development, which is the evolution of moral teachings as society and religion change. These difficulties stem from trying to reconcile the Biblical teachings that marriage is insoluble with the modern practice of papal marital dissolution, including problematic instances of papal dissolution such as the Djakarta example. By pointing out these difficulties, Noonan hopes to spur development scholars to address them and thereby to discern the current status of Catholic dissolution doctrine. "Development must come to resolve the difficulties," Noonan said.


Magazine Wins National Award
Bronze Medal Given for Excellence
Boston College Law School Magazine is a national Circle of Excellence award winner, having received a bronze medal in the 2005 competition sponsored by CASE, the Council for Advancement and Support of Education, editor Vicki Sanders has announced.
The award was given in the Special Interest Magazine category, which is for periodicals serving professional and other graduate schools. BC Law Magazine was selected from among forty-two entries in the category.
"The Law School is very proud of this achievement," said Marianne Lord, associate dean for institutional advancement. "The fact that the magazine continues to win national recognition—and the praise of our alumni—is proof that it is a vital and vibrant reflection of our community."
This is the third national CASE award won by BC Law Magazine in as many years. In 2003, the magazine took home a bronze in the special interest category and a silver "best article of the year" medal. It has also been the recipient of silver and bronze regional CASE awards.
"It is through BC Law Magazine that the communication flows both ways between the Law School and alumni," Lord added. "It enables us to reach out and not only inform, but also ask, 'What's new with you? What can we tell everyone about the interesting things you are doing? And, by the way, wait 'till you hear this.' It's a wonderful tool."
The Pro Bono Question
Does Firm Life Mean The End Of Public Service?
Many students enter law school with the desire to do public interest work. As loans pile up, however, some shift to career in private practice, and then are left wondering if the firm's pro bono program can satisfy their aspirations for public service.
At "Why Cashing In Is Not Selling Out," a program at BC Law in March, panelists discussed with students how to make pro bono a reality as they begin their careers in law firms.
"Firms say that they encourage pro bono work, but we wanted to know if 'pro bono' was just an attractive phrase in a glossy recruitment brochure, or something a firm really allows you to do," said Joshua Marmol '06.
The panelists, who included Bob Harnais of the Massachusetts Association of Hispanic Attorneys and Jacqueline Gonzalez Taylor of the Lawyers Committee for Civil Rights, stressed that firms benefit too.
"Pro bono work not only allows young lawyers to gain training and experience that is incredibly valuable to the law firm, it is also a marvelous way of making us feel like we are one firm that is an integral part of one community," said Marijane Benner Browne of Bingham McCutchen.
"There is a whole range of ways you can provide assistance to organizations on a local, national, or even international level," added Mark Smith of Goodwin Procter. "It is more important that you figure out what you're interested in than what you think you're good at. Pro bono work should be a way for you to connect to what you care about."


A Poet Studying Abroad
Studying International Law Yields Surprises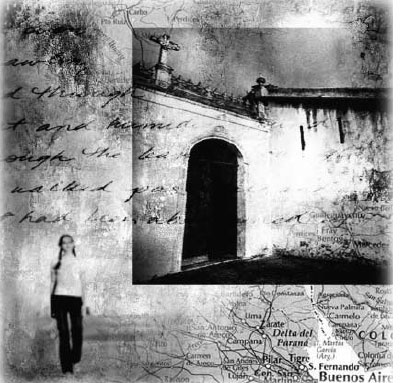 Image By: Alicia Buelow
As BC Law expands its international law programs, there can be unexpected outcomes. One such are the poems of Charity Clark '05, who penned Haiku for Recoleta while studying law in Argentina last fall. "I wrote in response to seeing in a new light the concept of privilege, and particularly the tragic disconnect between the privileged and the poor." Haiku for Den Haag was inspired by her summer at the International Criminal Tribunal for the Former Yugoslavia in The Hague. "I was fascinated by how a place sees over and over again the capacity for both human cruelty and resilience," she said.
HAIKU FOR RECOLETA

Scents of the city
are perfume, diesel, shit, and
medialunas.

In Recoleta
old men in elegant suits
smoke in calm cafés.

Women in fur coats,
in diamonds walk on
these same
old crumbled sidewalks

as the dark-skinned boys
with Andean bones sifting
nightly through rich trash.

The street tiles bear sad
pride from the elders begging:
"Una moneda?"

But the revelry
persists in football, flirting,
God, and asados.

Clubbing 'til sunrise
defies a half-heartbroken
country, old-rind poor.
I don't belong—I
with Spanish apologies
and lake eyes sated—
where
hides in the hot city glow,
and porteños ache.


HAIKU FOR DEN HAAG

In Scheveningen
the sun sets on the North Sea;
the cold always wins.

The cobblestone streets
endure German invasions
and time and winter.

I rode a bike home
under a crown of nameless
trees in waning spring.

I counted streets and
stars and the spots on my heart
where she is brave,

impervious to
crime and loss. This
city knows;
for she is brave, too.

And she has lost, too
under the midnight blue sky
and a quiet god.

—Charity Clark '05
Other articles from In Brief:
Adventures of An Election Observer
Students Launch EU Moot Court Team
Curtin Wins Pristigous Award
Rare Book Added to Library Collection