Adventures Of An Election Observer
didiuk '05 traveled to ukraine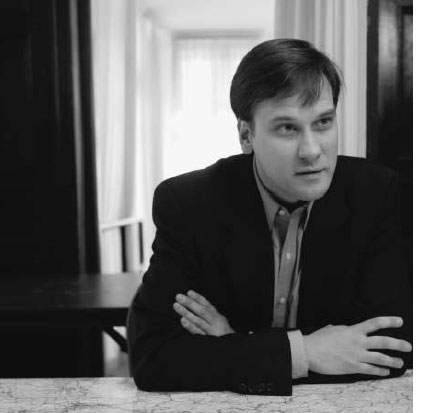 Didiuk says the Orange Revolution in Ukraine sent an unmistakable message to an entire region.
Photo by: Liz Linder
After the 2004 US presidential election, international attention quickly turned to another political contest on the other side of the world in Ukraine. Amid increasing reports of government interference and expectations of fraud, Ukrainians went to the polls to choose between Prime Minister Viktor Yanukovych and the liberal opposition candidate Viktor Yushchenko.
When Yanukovych was declared the winner of the November 21 vote, Ukrainians took to the streets to protest the fraud and manipulation that had denied them their democratic choice. The Orange Revolution had begun and would lead to an unprecedented revote on December 26 that would change the future not only of Ukraine, but also of the entire region.
While most Americans watched these events unfold through the international media, John Didiuk '05 had a much closer perspective.
After receiving his master's degree from the London School of Economics in 1997, Didiuk served in the US State Department in Ukraine, where one of his responsibilities was to monitor elections. He was an observer for several parliamentary and presidential elections. "These assignments allowed me to see first-hand how democracy was growing out of the Soviet past and giving Ukrainians the opportunity finally to have a say in the future of their country."
When invited by the Organization for Security and Cooperation in Europe (OSCE) to be an observer in Ukraine's presidential revote last December, Didiuk jumped at the chance. He spent election day visiting dozens of polling stations in schools, hospitals, community centers, and even prisons. Didiuk, who speaks Russian and Ukrainian, met with election officials, local observers, and voters, all of whom seemed to appreciate his presence. "Being there sent a strong message to the Ukrainians that they were not alone and that the international community supported the cause of Ukrainian democracy."
The voting process was straightforward, but effective, Didiuk said. Registered voters marked paper ballots and cast them in Plexiglas boxes under the watchful eyes of polling station officials and observers. As a safeguard against manipulation, the polling station commission comprised an equal number of representatives from each candidate. Officials counted the votes, sent the results to the regional commission, which forwarded them to the central election commission in Kyiv. As the results came in from more than 30,000 polling stations, the tally soon showed that Yushchenko would be the next president.
"The Orange Revolution sent an unmistakable example to other regimes in the region such as Russia, Belarus, and Kyrgyzstan, that government serves its people and can be replaced by popular elections," Didiuk said. He made similar observations during several appearances on CNN. He has also been involved in election observing at home. Building on a paper he wrote in his Election Law seminar, Didiuk founded the BC Law chapter of Just Democracy, a national organization of law school students that sends members to polling stations in local communities. The chapter sent a dozen students into Boston to observe the 2004 presidential elections. Didiuk plans to stay active in election observing in the future. "Being an election observer, whether at home or abroad, is a great way to see democracy in action and to play a personal role in guaranteeing a voting process that is free, fair, and open to everyone," he said.
-Keith McManus '06
Other articles from In Brief:
Rare Book Added to Library Collection
Students Launch EU Moot Court Team
Curtin Wins Pristigous Award
Other Stories from In Brief