Rare Book Added to Library Collection
coquillette donates illuminated manucript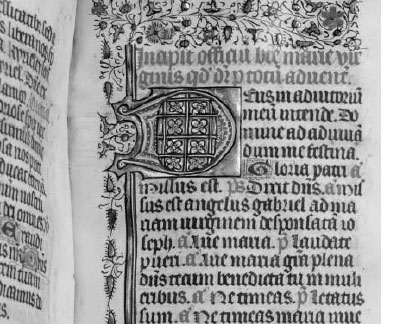 Meet the manuscript: This hand-decorated Book of Hours dates back to the twelfth or thirteenth century.
Photo by: Gary Gilbert
Daniel R. Coquillette, J. Donald Monan, S.J., University Professor at the Law School, has donated a 600-year-old illuminated manuscript to the BC Law Library. The manuscript is an Officium Beatae Mariae Virginis—a Book of Hours of the Blessed Virgin Mary.
"We're so honored to have this latest manuscript from Dan," said Associate Dean for Library and Computing Services Filippa Marullo Anzalone. "His generous donations have established our rare book collection as one of the most unique and respected in New England."
"This Book of Hours is a beautiful symbol of the Law School's Catholic Jesuit identity," Coquillette said. "It also provides an example of the art of the book, and demonstrates a stage before the early printed books from the late 1400s."
At a "Meet the Manuscript" party in May in his namesake rare book room, Coquillette dedicated his gift to Monan and William B. Neenan, S.J. Dating from Italy in the late 1300s or early 1400s, the manuscript consists of approximately eighty vellum leaves. It is written in black and red and features eleven large and intricately illuminated initials and many small ones. Some pages are decorated with floral borders colored in orange, blue, green, and red and are illuminated with gold. The inside cover of the manuscript is signed "Ex Dono Comiti…Grimaldi de Bellino…1788," and could have belonged to the famous Grimaldi family of Monaco.
The manuscript is part of a series of annual gifts of books and manuscripts that Coquillette has given to the Law Library in recent years. "Thanks to Dan Coquillette, we now have examples of works that tell us the story of the history of printing, from the days of handwritten manuscripts through the earliest days of printing and up through the eighteenth century," said Karen Beck, the curator of rare books. The illuminated manuscript will be on display in the Rare Book Room in the spring of 2006.

Other articles from In Brief:
Adventures of An Election Observer
Students Launch EU Moot Court Team
Curtin Wins Pristigous Award
Other Stories from In Brief