More Stories from Esquire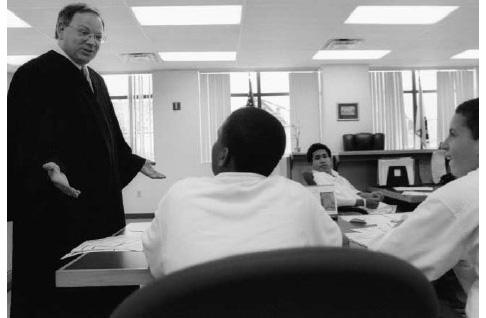 In an after-school apprenticeship program for seventh-graders, juvenile court Judge Mark Newman relishes the chance to teach youngsters that the law is a good thing.
Photo by: Micheal Manning
Shaping Young Minds
Judge Newman Turns Bench Into Crime Prevention Tool
The Honorable Mark Newman '75 has worked as an associate justice in the Lawrence session of the Essex County Juvenile Court system for the past two-and-a-half years, and he's done a lot of thinking about the nature of his role.
Lawrence is a working-class city twenty- five miles north of Boston that has presented Newman with some powerful cases, but he never loses sight of the fact that he's dealing with minors.
"Working in the juvenile justice system, you have to talk a little more and listen a little more. These children have to understand the law, and to understand what's going on in their cases. It's important to make children feel comfortable and to know that the legal system is intended, above all else, to protect them," he observes. "In a lot of cases, particularly care and protection cases and CHINS [Child in Need of Service] cases, it' not so important to find the proper punishment, but to find and provide the proper services for children."
Newman takes the time to ensure that the children before him know what they are doing in court and that they are speaking with their own voice, "the most important voice of all." In a telling recent courtroom incident, Newman spoke gently but firmly with a youthful offender who was pleading guilty. Newman didn't immediately accept the plea. He asked the boy not whether he was pleading guilty but whether he had actually committed the crime.
"Only the child knows whether he committed the crime," Newman says later. It's important that if they're pleading guilty, they're not doing so just to get out of court. We want them to know that we're trying to find the truth and prevent crime, not just finish a case and punish them."
Newman teaches similar lessons in other contexts. On the fiftieth anniversary of Brown v. Board of Education, for example, he went to Lawrence High School to speak with students about using the law to gain equality.
He also conducts a law apprenticeship program for seventh-graders in the after school program of the Lawrence Family Development Charter School, which shares the building with his court.
Early on, some of the apprentices expressed their distrust of lawyers. One of them even said, "Lawyers are liars." Newman countered by telling them stories about some of America's most famous lawyers, including Abraham Lincoln and Franklin Delano Roosevelt.
But the tale that really got their attention was that of Clarence Earl Gideon, who, after representing himself, was wrongfully convicted of breaking and entering in Florida in 1963. Newman told them about the work of Fred Turner, the attorney who proved Gideon's innocence in the subsequent retrial after the US Supreme Court granted Gideon's writ of habeas corpus.
Newman's stories left the students enthusiastic about playing the roles of attorneys in their own mock trial.
"It's a great feeling to teach children how strong an impact an attorney can have, and how worthwhile the profession can be," he says. "Children have so much opportunity to mold and change themselves. It's important they know the law wants to help them to do just that."
-Eddie O'Connor '07
Turning Lawyers into Novelists
Babitsky '72 Offers Fiction Writing Conference

Becoming the next John Grisham may seem like a tall order, but for the past four years Steven Babitsky '72 has been preparing aspiring lawyer-authors to give it a shot. As president of SEAK, Inc., Babitsky, with partner James Mangraviti Jr. '93, runs the annual Legal Fiction Writing for Lawyers Conference, the fourth installment of which will take place in September on Cape Cod.
Babitsky, who has run a similar conference for physician-authors for five years, says that the idea for the fiction writing conferences developed, in part, because he "noticed that a lot of physicians and attorneys are interested in writing. There is a lot of disenchantment with the practice of medicine and law, and there is the allure of being the next John Grisham."
Lisa Scottoline and Stephen Horn, two attorneys who are both New York Times bestselling authors, teach the conference, which covers topics such as the mechanics of writing, how to develop characters and plot, and getting published. In addition, there is a panel of literary agents from New York City who are interested in locating new talent.
The conference attracts 150–200 lawyers annually, from as far away as Alaska and California, Babitsky said. Over the years, the conference has expanded to include an extra day of "preconferences" on topics such as nonfiction and screenwriting.
-Keith McManus


Getting Ready for Reunion '05
Fete Includes Friday Reception, Breakfast with Dean

Months of effort toward fundraising and boosting attendance likely will pay off in October, when the Law School hosts Reunion '05, according to David Weinstein '75, chair of the event.
"The reunion committees are off and running—contacting classmates, getting people excited about what's going on at the Law School, and encouraging people to come to the reunion," said Christine Kelly, director of the Law School Fund. "Reunions are one of the most fun ways for alumni to reconnect with their Law School colleagues," added Linda Glennon, director of alumni relations. "We have a wonderful program planned for Reunion '05 and we're looking forward to a large turnout. It's always a 'the-more-the-merrier' kind of occasion."
Reunion '05, for the classes of 1955, 1960, 1965, 1970, 1975, 1980, 1985, 1990, 1995, and 2000 begins with a cocktail reception at the Boston College Club at 6 p.m. on October 14. Saturday, there's a breakfast with Dean John H. Garvey from 8:30 a.m.–10:30 a.m. and a reception and class dinners from 7 p.m.–11 p.m., all at the Marriott Long Wharf Hotel in Boston. A highlight of Saturday's dinner will be the presentation of the Law School's 75th Anniversary Distinguished Service Award to Mary Ann Glendon, BC Law's first female professor and now the Learned Hand Professor of Law at Harvard University.
Through the efforts of staff and alumni committees for each of the reunion classes, the Law School is renewing its emphasis on reunion giving—a key source of support for the Law School Fund, which assists everything from faculty research to scholarships to public service initiatives.
"Your gift at reunion time serves as a special 'thank you' for the lessons—both in life and in your career—that you gained from attending BC Law," Kelly said. "If you're not currently giving to the Law School, reunion is a great time to start." To make your reunion gift, visit www.bc.edu/lawschoolfund. To register, or for more information on reunion events, contact Glennon at 617-552-3935 or visit www.bc.edu/lawreunion.
-Vicki Sanders
LRAP Support on the Rise
Alums, Students All Choose Loan Forgiveness
When the William F. Willier Fund for loan repayment assistance to graduates in public service jobs was depleted last year, Dean John Garvey was forced to find other sources of revenue to continue to protect and enhance the Law School's loan forgiveness program. He turned to the alumni-supported Law School fund. Now, new initiatives have yielded a boost in giving for this purpose.
The Alumni Association, which presents the annual Law Day celebration, offered table sponsorships at the event that this year honored former Dean Richard Huber. The point of the sponsorships was to support loan repayment assistance (LRAP). The Law School's faculty, in a demonstration of their respect for Huber and support for LRAP, alone bought a $6,000 scholarship. The result of the Law Day effort was a $25,000 gift from the Alumni Association to the Law School Fund.
The class of 2005 decided that its class gift efforts would also be directed to loan repayment assistance. Dean Garvey participated in the student drive by pledging $2,000 to LRAP for every $10,000 pledged by the students and $1,000 for every ten percent of class participation. At press time, the class gift was expected to reach its goal of $100,000 in pledges and 22 percent participation.
Together, these efforts will have commited $125,000 to LRAP's coffers.
Further, Marianne Lord, associate dean for institutional advancement, indicates that LRAP fits the Law School's strategic goal of affordability. "when we help graduates in public service careers pay down their law school debt, we have not only achieved that goal, we have also been true to our commitment to enable them to do good in the world," she said.
Other Articles from Esquire:

Alumni Network Strengthens
Cancer, a Cause, and a Cure
Overseers Informed of Priorities
Dean's Council Numbers are up
Dean Huber Honored at Law Day
Flexing Some (More) Muscle