Dean Huber Honored at Law Day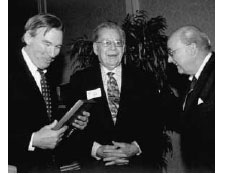 (l-r): Dean John Garvey, Richard Huber, Professor Daniel Coquillette
Photo by: Suzi Camarata
When BC President William P. Leahy, S.J., said in his opening remarks at Law Day last April, "We seek people who can be forces for good," he needed to look no further than the man seated too his right. Richard G. Huber, dean of the Law School from 1970–1985, was being honored with BC Law's 75th Anniversary Distinguished Service Award, and the evening was filled with tributes to his compassionate leadership.
Some 400 people gathered not only to hear testimonials to Huber but also to celebrate the accomplishments of a number of alumni. In all, thirty 75th Anniversary Alumni Awards were given to the presidents of the Alumni Council, the Black Alumni Network, and the New England chapters of the Alumni Council. The event was held at the Seaport Hotel at the World Trade Center in Boston. Platinum sponsors were Hemenway & Barnes, Liberty Mutual, McGrath & Kane, Mintz Levin Cohn, Ferris, Glovsky & Popeo. Gold sponsors were Morgan, Brown & Joy and Verrill Dana.
This was the first year that the Alumni Council, which presents Law Day, offered sponsorships to the event, which raised $25,000 for the Law School Fund for loan repayment assistance.
In his remarks, John Garvey said that as a fellow dean he appreciated the hurdles that Huber faced when he became dean in 1970. "When many people were adrift, he was an ideal leader," Garvey said.
Paul Kane '70, who was associate dean to Huber for seven years and delivered the tribute to him, reminded that audience that during the Huber years faculty and four new law reviews were added, the clinical program was funded, the school moved to the Newton Campus, and the sense of the students, faculty, and staff as family was engendered.
With typical humility, Huber accepted the award, saying, "I don't remember all those great things I have done…I was never a super human, or often a perfect human, but I think what we had was a group of people who all liked each other and worked with each other…"
Other Articles from Esquire:

Alumni Network Strengthens
Overseers Informed of Priorities
Cancer, a Cause, and a Climb
Dean's Council Numbers are up
Flexing Some (More) Muscle
Other Stories from Esquire