Cancer. a Cause, and a Climb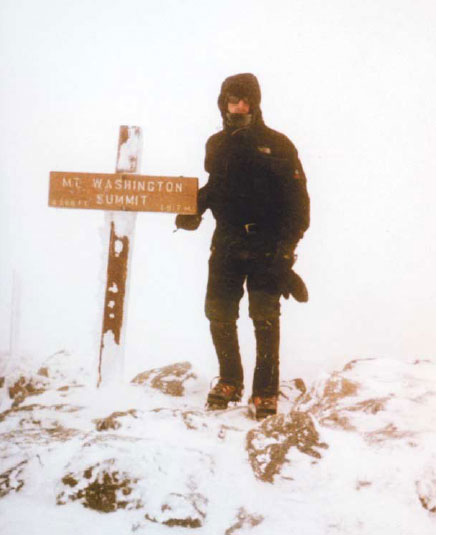 Battling leukemia himself, Kris Paulsen '01 climbs mountains to raise money for cancer research. Photo by: Todd McNaught
Kris Paulsen '02 says he's gone through peaks and valleys during his treatment for cancer. When he's climbing a mountain, however, he experiences only peaks—even if he has to look up 14,410 feet.
Paulsen hopes to arrive at the nearly three-mile-high summit of Washington State's Mount Rainier in July to support breast cancer research at the Fred Hutchinson Cancer Research Center in Seattle. He received a bone marrow transplant there in December 2002 to treat chronic myeloid leukemia and plans to give back to the organization in a way that will also benefit him.
Now an associate working in securities at Dechert in Boston, Paulsen was diagnosed with cancer at the end of 2001 while attending Trinity College in Dublin for what was to have been his final semester of law school. He was determined to earn his BC Law degree while fighting the illness and to maintain the lifestyle that he cherishes. "My doctors know that being highly active is one of the threshold requirements of my life, and if a protocol doesn't allow for that, we look at other options," he says.
He's working 80 percent at the firm (the hours are equivalent to a full-time job in most workplaces) and plans his training around his follow-up treatment at the Dana Farber Cancer Institute in Boston. To prepare for Mount Rainier, he took an Appalachian Mountain Club course and climbed Mount Washington in New Hampshire during wintertime. For Paulsen, it was the best time of year to do it. He's always loved the snow, always known that he should take advantage of it while it lasts.

"That's the way I feel with everything in my life now," says Paulsen. "I'm just on a hyper-accelerated timeline. As far as where the landscape meets the horizon, I don't know. If you look at my medical records, it's not good. But no one knows, and I've just got to keep on making the plans I make and doing the things I like to do."

For more information about the climb, contact Paulsen at brandnewmarrow@hotmail.com.
-Lewis I. Rice

Other Articles from Esquire:

Alumni Network Strengthens
Flexing Some (More) Muscle
Overseers Informed of Priorities
Dean's Council Numbers are up
Dean Huber Honored at Law Day
Other Stories from Esquire