Alumni Network Strengthens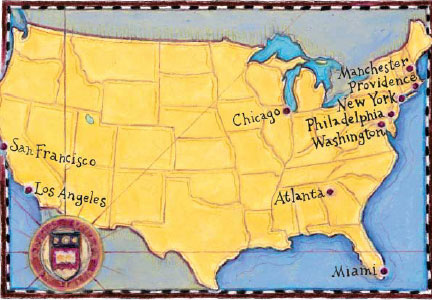 Illustration by: Elizabeth Wolfe
During the past year, the Office of Alumni Relations and Development has made good on its promise to continue to heighten BC Law School's national profile. Through alumni chapter events and increasing numbers of holiday, admitted applicant, special recognition, and 75th Anniversary receptions across the country, the alumni network has been expanding and strengthening. Sixteen events were held in seven cities in recent months.
"There is no substitute for connecting one-on-one," says Linda Glennon, director of alumni relations, adding that alumni have seemed to appreciate when the Law School brings events to their regions, making it possible for them to spend time with one another. "And they love it when we bring faculty." Professors Sanford Katz, Dean Hashimoto, and Frank Hermann, for example, were big draws at several recent gatherings.
The value of this outreach can be measured in numerous ways.
One is to address the concerns of applicants from other parts of the country about finding work in their home states after law school. When successful alumni attend admitted applicant receptions at prestigious law firms in the applicants' city or state and talk directly to the candidates about their own work and the power of the BC Law network, the alumni become living proof that it can be done. Those conversations often make the difference between winning or losing top candidates.
At a recent gathering, a California alumnae told applicants about how, in the bitter cold of winter, she was scraping ice off her car at the Law School and wondering if she'd come to the right place. A week later she got sick and wasn't able to attend class. Some classmates came to her apartment and delivered notes from the class she'd missed. She knew then, she said, that she had indeed come to the right place.
Emerging chapters in Atlanta, Miami, and San Francisco have proven to be a social and professional boon to their areas,
as have initiatives such as the chapter website launched in Los Angeles. The 75t Anniversary Alumni Awards have presented another opportunity to locate and honor graduates nationwide.
As these various activities have gained momentum, so has the determination of the Alumni Council and volunteers all over the US to promote the national reputation of BC Law, Glennon says. She predicts an even busier calendar of events for the 2005–2006 academic year.
-Vicki Sanders

Other Articles from Esquire:

Flexing Some (More) Muscle
Cancer, A Cause, And a Climb
Overseers Informed of Priorities
Dean's Council Numbers are up
Dean Huber Honored at Law Day
Other Stories from Esquire