Flexing Some (More) Muscle
veris '98 sets example as recreation director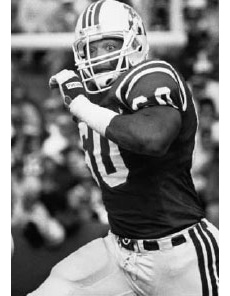 Veris '98 was also a powerhouse in his New England Patriot days.
The Boston school kids who meet Garin Veris '98 see him as a guy from the neighborhood, albeit a very large guy. They're too young to remember him rushing the quarterback on the defensive line for the New England Patriots, where he played from 1985 to 1991. Then he shows them his Super Bowl ring, which usually gets their attention.
Veris hopes that his message will too. As the new director of recreation for the City of Boston, he preaches the benefits of youth sports. As a Stanford University and BC Law graduate, he also demonstrates that sports can lead to success off the playing field.

"We're really trying to get kids to think of recreation as a great way to have fun, stay in shape, learn discipline, respect, and all the things I learned as somebody involved in sports," he says. "We have to get the kids focused on exercising, eating right, getting their education, and also having some fun."
For the job, Veris recruits Boston youth to participate in the recreation programs he oversees throughout the city and solicits area businesses to provide financial support. He's accustomed to raising money as a former fundraiser for Stanford and Marquette universities, where he worked after graduating from law school. He attended BC Law with an eye toward becoming a sports agent but didn't enjoy his brief experience in that field. A new generation of professional athletes, mesmerized by the money available to them, often didn't heed his advice, he says. But even if he never practices law, he's grateful for his legal training.
"I could talk about the great times with the Patriots, but law school was one of the most eye-opening times in my life," says Veris. "It forces you to really rethink how you've lived your life and puts in perspective how long our legal system's been in existence and how it keeps adjusting."
On the day of an interview, he had just returned from a visit to the Patriots to seek support for recreation programs. His office in the Boston Centers for Youth and Families on Tremont Street is lined with football memorabilia: his beat-up helmet from Stanford, a citation naming him to the college all Pac-10 conference team, a photo of himself as a Patriot. Most kids will never enjoy the same experience with athletics at the highest level. But it's okay, he says, to have dreams, just as he did when he was growing up in Ohio, pretending to be a running back for the Cleveland Browns. He also came home from school and finished his homework before doing anything else. Sports can help dreams come true, he says, even if the dreams have nothing to do with sports.
"I love sports and I love what sports has done for me," says Veris. "To pass that information on about how important sports and recreation are in kids' lives and what it can mean later on, that's what's exciting to me. I'm an example of it."
-Lewis I. Rice
Other Articles from Esquire:

Alumni Network Strengthens
A Cancer, a Cause, and a Climb
Overseers Informed of Priorities
Dean's Council Numbers are up
Dean Huber Honored at Law Day
Other Stories from Esquire