The Invisible Race
transracial adoption as window into social domination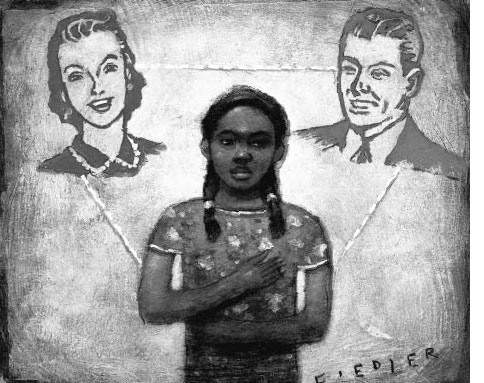 Illustration by: Joseph Daniel Fiedler
It's generally expected that an adoption, which can remove a child from a tumultuous foster care system or a precarious home life, is in the child's best interests. But whether that is so becomes a more complicated question when the child is a different race from his or her adoptive parents. In the context of transracial adoption, does race matter? Should it matter, because, say, white parents, despite their best intentions, may be ill-equipped to understand the world from which their black adopted child comes?
Panelists at a recent symposium hosted by BC Law's Third World Law Journal attempted to answer such questions as they explored the issue of transracial adoption amid broader issues of race and dominance. To celebrate the twenty-fifth anniversary of the Journal's founding, the symposium highlighted issues at the heart of those that inspired the Journal's founder, BC Law Professor Ruth-Arlene Howe '74: the social, economic, cultural, and political concerns of populations underrepresented in American society and in legal scholarship.
After honoring Howe for her longtime work with the Journal, speakers at "Black Children and Their Families in the 21st Century: Surviving the American Nightmare or Living a Dream Deferred?" offered a discussion of dominance and invisibility— the extent to which the specific needs of black children and their families continue to go unaddressed in the face of the long-term effects of racism and discrimination.
Black children, in fact, generally are invisible in society's larger discussion about racism and discrimination, said David Hall, a professor and former dean at Northeastern University School of Law. Hall and other panelists listed the variety of social indicators—such as graduation rates, test scores, and infant mortality rates—where black children lag behind white children, and the negative social indicators—like incarceration rates, dropout rates, and drug use, among others —where black children outpace their white counterparts. Hall argued such problems are rooted not only in America's history of racism and discrimination, but also in America's continued inattention to the real needs of black children.
Rather than addressing these needs, Hall asserted, leaders have focused on the ways in which black children can serve other social goals: how their suffering can make them poster children for adults' social agenda. An example of this, Hall said, was the focus on school desegregation during the civil rights movement. Hall argued that although those battling for desegregation believed their actions would help to dismantle the rest of America's racial barriers and that was a laudable and necessary goal, such a focus meant the dialogue on education shifted away from the true needs of black children.

Consequences of Invisibility
"The strategy of focusing on educational quality regardless of where the students attended school was never seriously adopted because the children were invisible, and so were their needs," Hall said. "…If anyone had asked black children like myself during that period what we needed and desired in order to enhance our education, very few of us would have said we wanted to attend integrated educational institutions."

Similarly, he emphasized, the recent societal debate on the cultural, racial, and political advisability of transracial adoption makes the problems of black children in foster care only temporarily visible— and only so much as doing so serves adults' larger agenda. Although white couples who are unable to have children increasingly have been attempting to break down some institutional and legal barriers to adopting black children, many do so not necessarily out of a desire to improve the world in which the adoptive child exists, Hall claimed.
"Many see the adoption as an opportunity to bring the child into their world but not to be an active participant in the child's world," Hall said. "The visibility of black children grew out of the selfish adult need and not out of the unselfish desire to change the historical and contemporary suffering and invisibility of black children."
On the other hand, argued Angela Mae Kupenda, a professor at Mississippi College of Law and former visiting associate professor at BC Law, argued that it may be possible to serve both the needs of black children and a larger social agenda. The key, Kupenda said, is refocusing how leaders talk about black children and the black community.
"If we phrase the problem in such a way as to say that blacks and black children are looking for special attention…then individuals are going to say, 'Why do they need something special? That special attention…is discriminatory against white adults and white children,'" Kupenda claimed. "On the contrary, the request needs to be remarketed to say that black children do not need special attention; rather, black children need to receive the same regard that is given to white children."
Regarding transracial adoption, Kupenda said, many leaders treat the subject of a white couple adopting a black child with much less skepticism than they address the idea of a black couple adopting a white child. Where white children are adopted by black families, Kupenda argued, white leaders are more likely to claim that race matters; it affects the ability of parents to understand the world in which the child lives. So, if the debate shifts to providing the same regard to black children being adopted, leaders may reconsider their views on transracial adoption generally.
In refocusing the debate in this way, Kupenda said, black children could advance a larger social agenda without becoming invisible, as Hall claimed.
"The proper use of a child for the purposes of acquiring a better long-term situation for that child specifically and for black children generally is not a misuse," Kupenda said. "…If there is competition for healthy white babies by blacks, the competition itself…would be enough to cause the necessary attention to reconsider the issue of transracial adoption.…As more black couples raise white children with loving connections to the black community, I submit that racism in this country would actually be diminished and that [that] white child specifically, and all of us generally, would live in a better society."

Who's the Village?
Zanita Fenton, a professor at Wayne State University Law School, argued that the needs of black children cannot be served without also providing support systems to their caregivers, particularly because black children are more likely to end up in the foster care system. Focusing on controversial issues like transracial adoption only obscures the larger problems waiting to be solved, she asserted.
"It takes a village to raise our children. how is the village constituted? What are the supports that we are giving the village that is caring for the child?" Fenton said "…We also need to ensure that the adults who are caregivers for children have the resources that they need to care for those children. So [there is] not always a selfish motivation [to serving the needs of adults]; sometimes it is ensuring the children have what they need through the people that give them their care."
Moreover, what's usually missing in any discussion of the needs of black children, argued Steven Hobbs, a storyteller and a professor at the University of Alabama School of Law, is attention to strengthening the child's spirit—the way in which the community and families build up the child's ability to bounce back from the problems they face. Serving the needs of black children is about more than providing them day-to-day essentials; rather, it's about ensuring they have the mental tools and social skills to navigate through society. A key part to crafting such characteristics of resiliency is providing children with the motivation to work toward their futures.
"We want to be able to give them an experience where they can see and hear that [that] future can be positive," Hobbs said. "There will be trying times, but there's some good stuff out there too."
-April Otterberg
Other Stories from Legal Currents:
Women are not Alike