Women Are Not Alike
discerning differences in female populations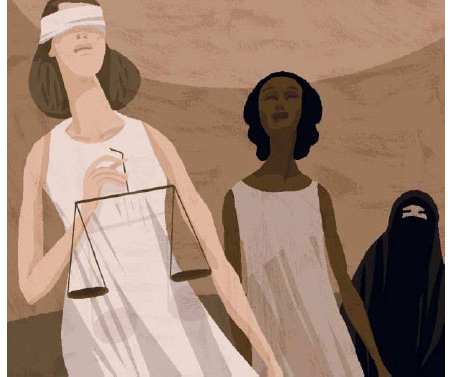 Illustration by: Pep Montserrat
The law is supposed to be a neutral arbiter of individual affairs. It's supposed to be colorblind, class-blind, and gender-blind; in a sense, the law is supposed to be above these kinds of human imperfections. But in reality, the law does not function in a neutral fashion, and even if it did, it still would affect people differently— according to an individual's specific race or ethnicity, class, and gender. That's what three experts argued at January's panel discussion on critical race feminism held at BC Law and sponsored by the Law Students Association and the Women's Law Center. Critical race feminism seeks to understand how one's characteristics influence the individual's experience in society and how society's decisions affect groups of individuals according to those characteristics. Critical race feminism, said panelist and pioneering critical race feminist Professor Adrien K. Wing, is about recognizing that there is more than one female or minority voice and that a true understanding of race, class, and gender issues requires breaking down the assumptions that the white, middle-class female experience holds true for all females or that the black male experience equates to the black female experience.

Domestic Violence and Latinas
As a critical race feminist, panelist Jenny Rivera, a professor at City University of New York School of Law at Queens College, studies intimate-partner violence within the Latina community. She argued that although the feminist movement has helped to ensure domestic violence laws and women's support systems reflect the female perspective, the legal system generalizes women's experiences and assumes that all women will benefit from the same laws and structures. Such generalizations ignore the very real differences in women's experience with domestic violence, differences that often are tied to cultural, racial, and ethnic characteristics. "Latinas have rejected the cookie-cutter approach to intimate-partner violence, an approach which suggests that all women experience intimate-partner violence the same or in significantly similar ways—it's just that Latinas experience it in Spanish," Rivera said. "It's the difference between a battered Latina's movement and a Latina battered women's movement.…A battered Latina's movement would challenge us to consider the most appropriate civil and criminal remedies and would ask us to determine how best to respond to the concerns of Latina survivors based on their experiences." Latina women who are victims of domestic violence are underserved, Rivera argued, by the social and legal systems put in place to assist all domestic violence victims. For instance, most domestic violence shelters are located far outside Latino communities, and few provide Spanish translators; the result is that Latina women find shelters to be isolating and alienating places. Moreover, the law's continued focus on quick arrests of domestic abusers—a crisis-based response to violence—ignores the fact that the Latino community can be skeptical of legal intervention in family life and Latinas may desire solutions less disruptive to the community. "Latinas accept the need for a certain level of legal intervention and law enforcement; our questions are what type of intervention and law enforcement and on what terms?" Rivera said.

The Chinese Challenge
Such questioning is part of the point of critical race feminism, according to panelist Margaret Woo, a BC Law professor In detailing her research into the recent experiences of women in China as the country shifts to more of a market economy, Woo explained that critical race feminists seek to ensure that when society undergoes huge changes, leaders and academics consider and understand the needs of individual groups and the impact of societal changes on their rights. "What is important is to always ask the questions that haven't been asked by the majority and to speak for those who have no voice," Woo said. In particular, Woo said, China has been undergoing significant political and economic development that make it even more important for critical race feminists to push leaders to consider the needs of all members of the Chinese population, especially women. Three factors drive global political development, according to Woo: the pervasiveness of the market ideology and the notion that the market will solve all social ills, the reliance on legal structure for private ordering, and universality, because the market theoretically transcends culture. For women in China, these three forces have meant the private sector is less willing to step in to provide services the government no longer offers, for instance. Moreover, leaders pursue overall economic growth as a way of addressing women's poverty, even though growth at the institutional level may barely reach women, who are China's primary supply of low-wage earners. Another result of the market ideology. Woo explained, has been the commoditization of women—the creation of markets for female babies, for marriage, and for sex. In analyzing the impact of Chinese economic and political development, Woo said, critical race feminists can draw attention to the unique experiences of women and help leaders to understand and better address their needs. Like Woo and Rivera, Wing, a professor at the University of Iowa School of Law, readily suggests the questions she believes aren't being asked by the majority. The author of numerous texts on critical race feminism, Wing currently focuses on the experiences of Muslim women in America and abroad—part of a population of Muslims that Wing argued is the subject of the kind of racial profiling, under the law and otherwise, previously experienced in the US only by African Americans.
The Muslim Question
But few leaders and scholars are asking how this new discrimination, and the legal system that can support it, is affecting various Muslim women: those wearing headscarves, those struggling to explain to their children why their teachers treat them differently, and those raising a family after a male breadwinner has been detained. Instead, Wing maintained, Muslims are stereotyped as a group in the dialogue on the war on terror, so scholars and leaders address discrimination of Muslims only as a group. The particular needs of Muslim women in dealing with this new discrimination are simply ignored, she said. "Today's Muslims are looked at as inferior, inherently criminal, silent, invisible, [and] as readily profiled," Wing said. "If there is any thought at all to adding in gender, it is to centralize all Muslim women as dumb, stupid, silent, oppressed, hiding under a burkha, and with no self-motivation. We have to decentralize these women and look at them in the complexities they have…and decide how to help them or work with them in [dealing] with the war on terror."
-April Otterberg
Other Articles from Legal Currents
The Invisible Race