Class Notes
bc law magazine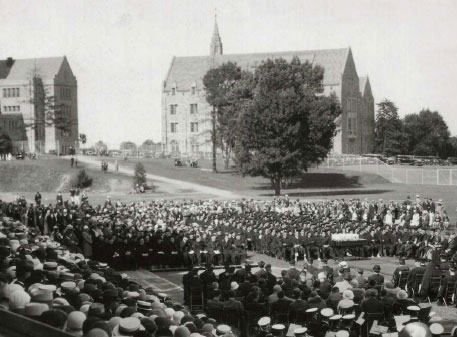 Auspicious day: Graduates of the first class of the Law School celebrated on BC's pastoral campus June 8, 1932. (Photo courtesy of University Archives/Burns Library, Boston College)
Esquire
1930s
1960s
1970s
1980s
1990s
2000s
In Memoriam
Citations
We gladly publish alumni news and photos. Send submissions to BC Law Magazine, 885 Centre St., Newton, MA 02459, or email to sandervi@bc.edu.
1930s

Benjamin J. Cantor '37, a pioneer in the field of forensic photography for seventy years, is the author of Courtroom Guide for Non-lawyers and a co-author of Photographs in Civil Litigation.

back to top
1960s
Bruce N. Sachar '60 has published From the Chicken House to the Court House (Author-House 2004), an autobiography that weaves recollections from his life with the details of a murder trial he's just concluded. Sachar practices in Lynn, Massachusetts.

Hon. Joseph J. Reardon '64 was elected to the Raymond Moore Foundation Board of Trustees. He is the first justice of the Barnstable Division of the District Court Department of the Massachusetts Trial Court. He and his wife, Eileen, have seven children and live in Medway, Massachusetts.

Michael E. Mooney '69 received a Distinguished Achievement Award for outstanding commitment to public service from St. Norbert College in De Pere, Wisconsin. He is managing partner at Nutter, McClennen & Fish LLP in Boston.

Thomas F. Stephenson '69 was named to a six-year term on the Harvard University Board of Overseers.
James C. Sturdevant '72 was selected as a finalist for the 2004 Trial Lawyer of the Year Award by the Trial Lawyers for Public Justice Foundation for his contribution to the public interest as co-counsel in Miller v. Bank of America. He is the founder of the Sturdevant Law Firm in San Francisco, California, and president of the Consumer Attorneys of California.

James C. Stokes '75 was named co-chair of the Boston Bar Association International Law Section. He is a partner in the corporate governance and mergers and acquisitions practice groups at Bingham McCutchen LLP in Boston.

Jerold L. Zaro '76 was appointed commissioner of the New Jersey Sports and Exposition Authority. He is president and managing partner of Ansell, Zaro, Grimm & Aaron, P.C., in Ocean, New Jersey.

Peter F. Zupcofska '76 was elected to the Boston Bar Association Council. He is a partner in the estate planning practice group at Bingham McCutchen LLP in Boston and specializes in probate litigation and family law.

R. J. Cinquegrana '78 was elected vice president of the Boston Bar Association. He is a partner at Choate, Hall & Stewart in Boston, where he leads the firm's government enforcement and compliance practice group.

Mitchell E. Rudin '78 was appointed president of the New York Tri-State Region of CB Richard Ellis, a real estate services firm with corporate headquarters in Los Angeles, California. He and his wife, Bonnie, have three children and live in Scarsdale, New York.

Lauren Stiller Rikleen '79 was named to the list of Massachusetts "Super Lawyers," a distinction granted to 5 percent of attorneys in the state through voting by their peers. The polling was conducted by Law & Politics, and the results were published in the November 2004 issue of Boston Magazine.
Ronald A. LeGrand '80 was named chief diversity officer of the AARP. He was formerly the organization's director of African-American membership development.

Ann L. Palmieri '81 was elected president of the Tufts University Alumni Association.

Kenneth F. Ehrlich '82 was named co-chair of the Boston Bar Association Business Law Section. He is a partner in the business department of Nutter, McClennen & Fish LLP in Boston.

Jonathan E. Moskin '83 is a partner at White & Case LLP in New York, New York, where he practices in the areas of litigation and intellectual property law.

Deborah Anne O'Malley '85 joined Bowditch & Dewey LLP in Worcester, Massachusetts, as a partner in the firm's real estate and environmental practice group.

Donna Stoehr Hanlon '87 is assistant general counsel of Fidelity Investments in Boston. She was formerly senior counsel in the ERISA/employee benefits practice group of the Boston firm Goodwin Procter LLP.

Hon. David K. Chivers '88 was sworn in for his third six-year term as an administrative judge with the Massachusetts Department of Industrial Accidents. He and his wife, Marie, live with their two sons in Wilbraham, Massachusetts.

Stephen D. Menard '88 joined Powell, Trachtman, Logan, Carrle & Lombardo, P.C., in King of Prussia, Pennsylvania, where he practices defense litigation.

John J. Isaza '89 is general counsel for IntraLase, a Lasik eye surgery medical device company headquartered in Irvine, California.
Kelly Wilkins MacHenry '91 joined Snell & Wilmer LLP in Phoenix, Arizona, and concentrates her practice in product liability litigation.

Roland Sanchez-Medina Jr. '91 opened Sanchez-Medina & Associates, P.A., in Coral Gables, Florida, and specializes in corporate, real estate, and tax law.

Joan Redleaf Durbin '92, her husband, Mark, and their son Zachary announce the birth of Samuel Joseph Durbin in December 2003. She works as associate regional counsel for the US Environmental Protection Agency in Atlanta, Georgia.

Brigida Benitez '93 was awarded the Excellence in the Legal Profession Award by the Mexican American Legal Defense and Educational Fund.

Richard D. Lara '93 is a partner at Mase, Gassenheimer & Lara, P.A., in Miami, Florida, and focuses his practice on complex civil and commercial litigation. He and his wife, Bertha, have two daughters and live in Miami.

Scott C. Rankin '93 was promoted to senior vice president and associate general counsel of the Bond Market Association, where he is also managing director of the association's European Securitisation Forum. A resident of London, England, Rankin hosted an alumni roundtable regarding legal careers abroad for students in the BC Law London Program this spring.

Steven Chan '95 is general counsel and company secretary of Chinadotcom Corporation, headquartered in Hong Kong, China.

Steven M. Rosenthal '95 is senior counsel in the intellectual property department at Diageo North America in Stamford, Connecticut. Formerly, he was a senior associate at Skadden, Arps, Slate, Meagher & Flom LLP in New York, New York.

Gregory P. Varga '95 was elected partner in the insurance group at Robinson & Cole LLP in Hartford, Connecticut. He and his wife, Tara, have two children and live in Glastonbury, Connecticut.

Andrew M. Apfelberg '96 joined Rutter Hobbs & Davidoff in Los Angeles, California, as a member of the firm's corporate and securities practice.

Jennifer McCoid Thompson '96 and her husband, Craig, welcomed their first son, Nolan Alden, in November 2003. She is senior counsel at the Weather Channel in Atlanta Georgia.

Christina D. Cobb '97 is portfolio manager in the personal financial counseling group at Ernst & Young LLP in Boston.

Christine A. Kelly '97 was appointed director of the BC Law School Fund in October.

Carolyn J. Ratner '98 is a litigation associate in the national health law practice at Epstein, Becker & Green, P.C., in Washington, DC.

Timothy N. Schofield '99 is principal attorney of Schofield & Associates, a Boston firm specializing in civil litigation, trusts and estates, and criminal defense. Formerly, he was an associate with the Boston firms Sally & Fitch LLP and Goulston & Storrs.

Susan M. Tarrant '99 is an associate at Casner & Edwards LLP in Boston and practices in the area of nonprofit organizations. Formerly, she was with the Boston firm Mintz, Levin, Cohn, Ferris, Glovsky & Popeo, P.C.
Meredith A. Geller '00 joined the faculty of Northern Illinois University College of Law in DeKalb, Illinois, as a legal writing instructor and academic support coordinator.

Louis P. Lehot '00 has relocated to the Paris, France, office of Shearman & Sterling LLP, where he is a member of the firm's capital markets practice. He and his wife, Tita, and their son, Adam, welcomed the arrival of a baby girl, Jasmine Elise, in May.

John R. Connolly '01 joined Hanify & King, P.C., in Boston as an associate in the firm's bankruptcy and financial restructuring practice group. He and his wife, Margaret, live in West Roxbury, Massachusetts.

James S. Sanzi '01, a lieutenant in the US Navy JAG Corps, was assigned as a special assistant US attorney to the civil division of the US Attorney's Office in the Southern District of California. He and his wife, Erika, live in San Diego, California.

Scott T. Lashway '02 is an associate in the litigation practice group at Testa, Hurwitz & Thibeault LLP in Boston. Formerly, he was an associate at Cadwalader, Wickersham & Taft LLP in Washington, DC.

Nicolas M. O'Donnell '03 was selected for the 2004–2005 Public Interest Leadership Program of the Boston Bar Association.

Robert D. Bailey '04 is an associate at Riker, Danzig, Scherer, Hyland & Perretti LLP in Morristown, New Jersey, and focuses his practice in the areas of commercial litigation and product liability.
Edward J. O'Brien '35

Isadore Reece '35

Edward I. Bailen '41

John F. Cremens '41

Saul E. Katz '41

Ernest C. Sullivan '47

Edmund A. Baldi '48

Richard J. Ferriter '48

John J. McCarthy '48

William G. Shea '48

Robert F. Troy '48

Richard L. Wilder '48

Edward G. Boyle '49

Francis T. Jantzen '49

John S. Lennon '49

Paul D. Sheehey '49

Francis I. Sullivan '49

James F. Travers '49

William T. Cahill '50

John J. Lynch '50

Joseph P. Murray '50

Louis A. Perras '50

Eugene J. Cafarelli '51

Joseph P. Fleming '51

Eric J. Stenholm '51

Adolph N. Anderson '53

James F. Morrissey '53

Cornelius F. Murphy '57

Joseph A. McDonough '58

Leonard J. Powers '58

Owen S. Clark '60

Frederick A. Lawrence '60

Joseph A. Sesnovich '61

Paul G. Garrity '62

Willard J. Stievater '64

Joseph G. M. Vidoli '64

Thomas L. Leen '66

Harold C. DuLong '68

Brian R. Saltus '69

Paul D. Gallese '72

Robert B. Patterson '72

H. Michael Zukowski '78

Aruneshwar Das '81

Kenneth D. Herman '81

Angel Ojeda Jr. '84

Albert T. Anastasio '85

James D. P. Farrell '86

Michael Duk Young Park '94

Loretta M. Radikas '95

Adam M. Rayman '01
Hon. Suzanne V. DelVecchio '67 and Hon. R. Malcolm Graham '74, awarded honorary doctors of law degrees by New England School of Law in Boston.

Thomas R. Murtagh '69, confirmed as associate justice of the Massachusetts Superior Court in October.

Hon. Barbara J. Rouse '73, appointed chief justice of the Superior Court Department of the Trial Court of Massachusetts, succeeding Suzanne V. DelVecchio '67.

Hon. Robert C. Scott '73, Democratic representative from Virginia, was honored by the Virginia Legislative Black Caucus Foundation in September.

Hon. Lynda M. Connolly '74, sworn in as chief justice of the District Court Department of the Trial Court of Massachusetts in June.

Philip D. O'Neill Jr. '77, appointed Nomura Lecturer on Law at Harvard Law School.

David W. Bianchi '79, listed among the top 2 percent of civil trial lawyers in Florida Trend's Florida Legal Elite 2004.

John A. Tarantino '81, inducted as a fellow into the International Academy of Trial Lawyers.

Maria E. Recalde '88, awarded a Certificate of Distinguished Service by the Boston Bar Association for her work as Boston Bar Journal chair.

David P. Rosenblatt '82, recipient of the American Jewish Committee's 2004 Judge Learned Hand Award and, with Michael D. Brockelman '66, named a "Super Lawyer" by Law and Politics.