"Women Don't Ask"
by keith mcmanus '06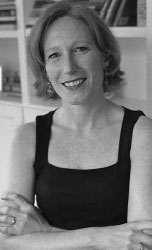 Babcock's book proposes strategies for reversing women's reluctance. (Photo by Charlee Brodsky)
AUTHOR BABCOCK TALKS NEGOTIATION AND GENDER
The glass ceiling is alive and well today. This statement resonated throughout Linda Babcock's October talk sponsored by the Women's Law Center, as she addressed law students about the interplay between negotiation and gender and its effect on women.
"Men are much more likely to use negotiation to get what they want," said Babcock, "and women are much more likely to take what is offered."
Babcock, a professor of economics at Carnegie Mellon University's H. John Heinz III School of Public Policy and Management, is the co-author (with Sara Laschever) of Women Don't Ask: Negotiation and the Gender Divide, which is about the connection between gender and the propensity to negotiate in everyday life.
The concept for the book arose when a group of Babcock's female Ph.D. students inquired about why they were being made teaching assistants, while their male classmates were being given full teaching responsibility. Babcock went to the dean with the question and was told: "More men ask. The women just don't ask."
Armed with a slew of statistics, Babcock explained to students how the failure to negotiate something such as a starting salary at a first job can influence a person's total career earnings. According to Babcock's studies, 7 percent of female students negotiate the terms of their first job offer, as compared to 58 percent of male students. The difference between a $25,000 and $30,000 starting salary, however, can result in a total difference in wealth of $568,000 at retirement.
The reason for women's reluctance to negotiate, Babcock explained, is largely a result of socialization, with everything from allocation of chores to the content of Saturday morning television contributing to the dynamic.
"Boys are taught to assert themselves and go after what they want," said Babcock. "Boys, starting at age six, will start to raise their hand even if they don't know the answer; girls, on the other hand, may not raise their hand even if they know the answer."
In addition to hindering women and their earning power, this reluctance to negotiate is known to have negative effects on employers as well, opening firms to discrimination lawsuits, increased attrition rates, decreased productivity, and the loss of the women's negotiating skills and point of view, Babcock said.
Babcock offered several tips on how women can alter this dynamic, such as identifying possible negotiable items that occur in daily life and acting upon them and doing research to figure out "what you are worth" before initiating a salary negotiation.
Other articles from In Brief
Student Veterans Share Stories
Drinan Inspires at Medal Ceremony
More from In Brief