Drinan Inspires at Medal Ceremony
calls lawyers "makers of peace"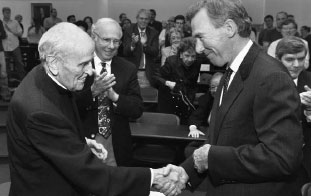 Dean to Dean: John Garvey (r), who calls Father Drinan a "personal hero," thanks him for his distinguished service. (Photo by Justin Allardyce Knight)
BC Law kicked off what will be a three-year celebration of its seventy-fifth anniversary in October, by presenting former Dean Robert F. Drinan, S.J., with the first in a series of distinguished service medals with which the Law School will recognize role models in the legal profession.
The event drew close to 300 people, who were rewarded with a rousing speech, in which Drinan made a case for public service—"We are the defenders of those who need our help"— and challenged students to think globally. He decried the fact that there is more hostility toward America than ever before and asked how it looks for the US to walk away from the challenge of establishing a permanent, Nuremberg-like international criminal court, which the Pentagon has refused to endorse. Remember, he told the gathering, "Lawyers are the makers of peace."
"Father Bob Drinan was one of the most influential deans in the history of the school," Dean John Garvey said of the Drinan years, 1956 to 1970. "He was instrumental in expanding and improving the reputation of Boston College Law throughout the nation. I am constantly hearing stories from alumni who were inspired by him, who thank him for getting them into Law School and starting their careers. He has been a personal hero to me."
During a long career, Drinan has also served as a priest, professor at Georgetown University Law Center, congressman from Massachusetts, and human rights activist. He was called "the stuff of which legends are made," when he was nominated for the American Bar Association's ABA Medal, which was awarded to him in August.
Other articles from In Brief
Student Veterans Share Stories
"Women Don't Ask"
More from In Brief