Student Veterans Share Stories
by eddie o'connor '07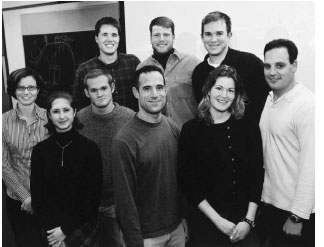 Back row (l-r): Franklin Schwarzer '06, Ian McConnel '06, and Joseph Simmons '07. Front row: Hillary Massey '07, Lisa Senay '05, Spence Hanemann '07, Robert BenEzra '05, Zoe Argento '07, and Michael Fazio '07. (Photo by Suzi Camarata)
LOYALTY, SACRIFICE ARE COMMON THEMES
Veterans Day acquired a more personal dimension November 11 as veterans attending Boston College Law School shared their memories of life in uniform with classmates and faculty.
They've served in various capacities in nearly every corner of the globe, from defending the coastline of the United States to serving in combat in the Middle East to preserving the peace in the Balkans.
"These students are veterans, but they're people, too," says Robert BenEzra '05, president of the Boston College Law School Veterans Association, which counts about 20 members. "There's a human face to the military, but a lot of people just don't see it."
BenEzra was a 2L when America invaded Iraq, but after finishing his first semester, he returned to active duty with the Army National Guard and was deployed to Iraq in March 2003 to train Iraqi police forces. He came back to school in January 2004.
Joseph Simmons '07 served in the Army in Iraq and has seen his share of combat. He had previously been deployed on a peacekeeping mission to Macedonia that turned into combat duty in 1999 when NATO warplanes began air campaigns against targets throughout Yugoslavia. Suddenly, instead of manning observation posts along the Serbian-Macedonian border, his division found itself defending Albanian citizens from Serbian attacks. When Simmons returned to Kosovo in 2001, the shoe was on the other foot. Instead of fighting off Serbs, he was now protecting them from retribution by
Albanian militants.
Simmons answered yet another call to duty after September 11. Upon his return from Kosovo, he had completed six years and could have returned to begin law school. Instead, he chose to go to Iraq, in part because, "In the Army, you're taught about loyalty, sacrifice, and selflessness. If I went home, every time I looked in the mirror after that, I wouldn't have liked what I saw."
Joining an infantry division, he took part in the invasion of Iraq through Karbala and Baghdad. Simmons recalled his division's quiet entrance into Baghdad overnight, and the Iraqis' surprise to see tanks and other military vehicles at their airport when day broke.
Time in the service is not without its moments of fun. Michael Fazio '07 told of the razzing he received as the sole Coast Guardsman aboard a Navy ship as part of an exchange program designed to keep each branch of the service familiar with the other. The ribbing lasted until the 454-foot frigate encountered monsoon conditions near Singapore and Fazio, used to bouncing around the ocean on 100-foot Coast Guard vessels, took it all in stride. "This was one of the smallest frigates in the Navy, but to me it felt like a cruise ship, even in a monsoon. I ate three square meals a day while everyone else was turning green. I walked into an officers' meeting after the conditions died down and asked, "Okay, does anybody else have any Coast Guard jokes to make?"
Ian McConnell '06, who toured to the Adriatic and Mediterranean seas in 2000 as a Marine infantry officer, talked about the camaraderie central to a military career. "As with any hard experience, including law school, the military binds people together in a
very meaningful way," he said. "You might not realize it as it's happening, but a few years down the road, you know just how much it meant, and how strong a bond was forming."
—Eddie O'Connor '07
Other articles from In Brief
Drinan Inspires at Medal Ceremony
"Women Don't Ask"
More from In Brief