Gallery
joyce koo dalrymple '06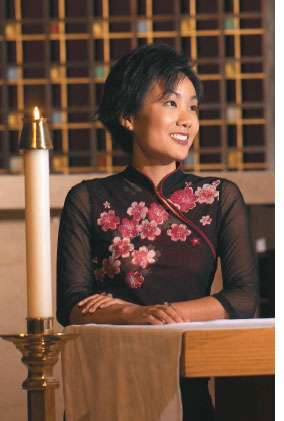 (Photo by FJ Gaylor Photography)
Stanford University graduate. Former TV news reporter. President, International Law Society and Christian Legal Society.
How did you get interested in human trafficking? Through a Boston nonprofit, the American Anti-Slavery Group. My eyes were opened to slavery worldwide. In the US, 50,000 women and children, many of them immigrants, are forced into servitude in factories, farms, and households annually.
Do you feel you are effecting change? My clinical work is the most fulfilling because I enjoy interacting with clients and providing tangible assistance. I'm lucky to work with Catholic Charities. I'm preparing asylum cases, where winning means the clients won't have to return to a country where their lives are endangered.
Why your involvement in the Christian Legal Society? It's hard for law students in general to maintain perspective and balance, so CLS highlights faith as an integral part of practicing law, especially in terms of seeking justice. It's important to make a connection with deeper values and to integrate those values and faith in your profession.
What do you do in your free time? Spend time with my husband. I love movies, rollerblading, dancing. I went to a performing arts high school. I wanted to be a dancer before I wanted to be anything else.
—Edward J. O'Connor '07