Stamping Out Corporate Scandels
april otterberg '06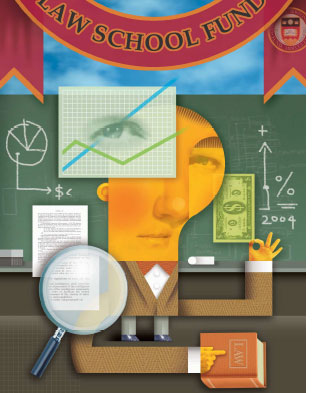 (Illustration by Gordon Studer)
Once upon a time, tuition paid the lion's share of a legal education and law schools were considered profit centers that fed dollars into their universities' coffers. Classes were large. Faculties and the number of course offerings were small. Staff size and facilities were modest.
Those fairy tale days are gone. The field of law is growing rapidly. With that growth has come the demand for more courses (students at BC Law may now choose from more than 150 electives, for example), which means more faculty, which in turn means more staff and classrooms and offices and student and faculty programs.
All of which, of course, costs money.
When the pie of financial resources at Boston College Law School is divided into the six sources of funding—tuition and fees, admissions revenue, university funds, gift and grant revenue, endowment income, and other—the widening gap between tuition and the cost of doing business as a law school becomes obvious.
In addition to larger faculty size and greater breadth of courses, "more law means that demand is up for liveclient and real-life practice experience along with the expectation of more and faster information," says the Law School's new Associate Dean of Institutional Advancement, Marianne Lord, who has worked in BC development for two decades, including time at BC Law. "These factors have raised the bar for more financial resources so far beyond the reach of tuition that law schools no longer can survive, let alone thrive, on tuition revenue. Capital and annual gifts for operating support and endowment are no longer the bubbles in the champagne, they are the fluoride in the water."
Noting that law schools didn't even raise money as recently as the 1970s, Dean John Garvey says that fundraising has become an increasingly important function, especially at places like BC Law, which aspire to remain among the nation's top schools. "I don't think people understand how complicated and professionally run alumni relations and development is these days," he says.
With the arrival in September of Lord, a mostly new team of fundraisers, and an expanded alumni relations and development department, new strategies are emerging to ensure that BC Law remains competitive and achieves a number of objectives. The primary goals are to:
increase annual giving to the Law School Fund by almost 21 percent to $1.36 million and participation to 32 percent—or more than 3,300 alumni—in fiscal year 2005;
raise $3 million in capital gifts (of $100,000 or more), such as endowed scholarships and chairs, in fiscal year 2005;
develop new and expand existing programs to involve alumni earlier and more effectively in class gift, reunion, and other fundraising and community-building efforts;
improve awareness of the Law School Fund and the vital things it supports, which include scholarships, loan repayment assistance, student public interest stipends, faculty research grants, alumni events, law review and oral advocacy programs, and BC Law Magazine;
provide the means by which the Law School can realize goals set forth in its strategic plan, among them adding faculty, expanding the school's international focus, establishing an LL.M program, and providing student housing and other enhancements to the campus.
Let's start at the beginning. The cost to run BC Law in fiscal year 2004 was $34.4 million. Tuition and fees covered $24.1 million, leaving a balance of $10.3 million to be made up from other sources. The university covered the greatest share of the difference with $7.5 million, admission application revenue paid some $500,000, and other revenues contributed another $500,000. A hefty $1.2 million in gifts and $600,000 in endowment income was directed specifically to programs and services that enhance the alumni community and the academic life of students and faculty.
Though the books may have balanced at the end of the year, Associate Dean for Finance and Administration Henry Clay explains that the Law School is feeling increasingly pinched. He says the costs of efforts essential to BC Law's continuing pursuit of excellence, and of programs critical to fulfilling the mission, are increasing more rapidly than available funding revenue. For example, the William F. Willier Fund was recently depleted after sixteen years of helping graduates in low-paying public interest jobs offset some of their debt. The progression of the Willier Fund is instructive because it demonstrates the way needs and revenues are trending away from each other. In 1997, nineteen applicants received $50,600 from the fund. In early 2005, forty-nine applicants were awarded a total of $170,320 (assembled from four funds, including the Law School Fund).
Clay provides some context for why situations such as the Willier Fund's are becoming more commonplace and why the Boston College Law School Fund and other alumni gift programs are becoming more essential. He notes that key branches of the Law
School's direct income stream are confined by circumstances.
For one thing, he says, BC Law's $16.9 million endowment (small in comparison to its peer institutions) is subject to uncertainties such as the recent recession, during which it can be less productive than anticipated. The useable portion of income from the endowment is also restricted by the university to a specified percentage per year, such as 5 or 5.5 percent.
Second, the institution is dramatically dependent on tuition: in fiscal year 2004, tuition provided about 91 percent of Law School revenue (without counting other funds provided by the university). Yet, there are both prudential and competitive restraints to raising funds by increasing tuition.
Third, as tuition increases, so does the need for financial aid. Although the university has a practice of expanding financial aid commensurate with tuition increases, the Law School must also be mindful that the cost of attendance has reached $47,911. "We are concerned about establishing a cost of attendance that could lead to having a student body made up primarily of those who are able to pay and those who are willing to assume substantial, and usually long-term debt," Clay explains.
Fourth, the university, which is responsive and supportive, has a constellation of graduate and undergraduate needs and requests to address as it strives to enhance its role in the nation's academic community, Clay says. The expectations BC Law generates can exceed the readily available financial resources (even without the pressures resulting from rankings in national publications).
"With this perspective, you can see how valuable annual giving is," Clay says. "The Law School Fund is the answer to the question, 'Where are we going to get the money?'"
Under the circumstances, he adds, greater self-reliance is needed to ensure a bright future for the Law School. Indeed, it's at the heart of Lord and Garvey's emerging agenda for institutional advancement.
Their plan identifies a fundraising need of $70 million over the next seven to ten years, $38 million of which would be added to the endowment, $32 million of which would be expendable. These figures include ten endowed chairs and professorships at a cost of $2 million to $3 million each (at present, the Law School has a single chair, given by Darald and Juliet Libby in the name of Michael G. Pierce, S.J.); approximately $1 million annually for student scholarships, grants, and summer stipends in addition to tuition remission; a permanently endowed loan repayment assistance program, valued at $2.2 million; $26 million in facilities improvements, including graduate housing; a Law School Fund that raises $2 million to $3 million annually; and an alumni gift participation rate of 45 percent.
Both capital gifts and annual gifts have a place in BC Law's fundraising picture. Their roles, though, are different. "Giving to the Law School Fund allows our alumni to shape BC Law in a very immediate way. The dean can put those unrestricted dollars into critical areas to keep things moving in the right direction," says Lord. "Giving at the capital gift level of $100,000 or more, on the other hand, allows alumni to transform the future."
Providing some perspective on the difference between the buying power of the Law School Fund and the endowment is the fact that a $1.5 million Law School Fund is equivalent to the 5 percent income from a $30 million endowment. Or, if looked at as a per-student expenditure based on the Law School's actual $16.9 million endowment, the endowment last year generated $1,100 per student while the small-by-comparison $1.1 million Law School Fund generated $1,375 per student.
Another virtue of the Law School Fund is that the money can be spent without restrictions. It is there to pay for the expected: For example, the fund contributed approximately $18,000 to student organizations, competitions, and other student-related activities last year. (The bulk of the student activity budget comes from student activity fees and general operating funds.) The Law School Fund is also there to pay for the unexpected: Associate Dean for Students Norah Wylie recently tapped the Law School Fund to help a student whose laptop was stolen and another who needed help paying rent one month after dealing with a medical emergency.
The Law School Fund itself can generate additional money in certain instances. For example, the fund contributed more than $40,000 last year to the Public Interest Law Foundation (PILF) to support summer grants for students working in public interest jobs. Because the internships are considered work-study positions, they are supported by federal funds. "With federal matching funds, the Law School can leverage roughly $1,000 from the Law School Fund into a total grant of $3,500," Garvey explains.
Another example of annual gifts in action was Garvey's ability to draw $400,000 from the Law School Fund last year to encourage faculty scholarship with summer research grants. Heightening awareness of faculty scholarship is a priority for the Law School in its quest for first-rate new talent; it's also an important measure in law school rankings. In recent years, Garvey has sought to motivate faculty by increasing summer stipends by $2,500 for those whose research results in publication. The cumulative effect of these investments is paying off in spades. Last year, the faculty published eleven books and dozens of articles.
An example of capital gifts in action is the endowed $300,000 Molly and Phil Weinstein Scholarship Fund, which David C. Weinstein '75 gave in honor of his parents. He did so to support deserving, high-achieving Jewish students. The first scholarship recipient is David Gillers '06, who is receiving $15,000 per year for three years.
"If someone like David Weinstein is truly interested in being certain that a legal education is available to the most talented, committed people, regardless of their economic circumstances, the only way to ensure that that remains an institutional priority is to create an endowed fund," Lord explains. "The donor has shaped the Law School forever by securing the qualities that he or she benefited from here. The donor ensures a course for this ship."
Such endowed or restricted scholarship funds do not tell the whole scholarship story.
About $4.6 million of the Law School's income from the university actually comes in the form of tuition remission. The average scholarship package is $12,000 ($5,000 less, incidentally, than competitor Boston University Law School). The average 2004 graduate left school with a debt of $84,400, despite the fact that between 45 and 50 percent of them received grant assistance as part of their financial aid award. If BC Law wishes to offer its graduates diverse career options, including entering the low-paying public service sector, then increased scholarship dollars are a must, says Lord.
Another aspect of scholarships is their usefulness in securing the most desirable applicants. Traditionally, BC Law has not offered academic scholarships for this purpose; they have been primarily need based. To remain competitive, the Law School has had to find new means to win the best students. Starting in 2003–2004, Garvey tapped the Law School Fund for fourteen $5,000 scholarships for these "Alumni Scholars," who receive the funds each year for three years. This year, the number of 1Ls receiving the scholarships doubled, pushing the total number of awards to forty-two at a cost of $210,000.
"In three to four years we will be giving out $600,000 plus from the Law School Fund for these scholarships," Garvey anticipates. "They have already made a difference in the quality of students we are getting. And it is not just grades the scholarships improve, they also improve our diversity record."
Attracting top students, increasing faculty scholarship, building community by supporting student organizations and events (the Law School Fund makes a difference with even relatively small gestures such as buying pies and other refreshments for the annual Harvest Desserts fest) may be the outcomes of alumni generosity but they are not its essence. Behind any successful fundraising effort are the alumni themselves.
In order to involve them more directly and actively, Lord and her alumni and development staff are working on an integrative approach to programming. An example is the 2005 Reunion, for which social and gift committees were formed earlier than usual for the ten returning classes. At a kick-off dinner in November, the recruits were given ambitious class participation and gift goals, something that had not been priorities in the past.
"We are putting a lot of emphasis on class gifts for several reasons," says Lord. "They create pride within the classes and competition among the classes. When you can have alumni inspiring their classmates to come to reunion and give to the Law School Fund, you renew their sense of camaraderie and connection to the BC Law community, and you enable them to give back in ways that are meaningful to them."
The BC Law Alumni Association is also contributing to the new energy with several programs of its own. One has been the push to expand the chapter network. The effort resulted in the establishment of three new chapters this year alone, in Atlanta, Miami, and San Francisco. Another is the decision to offer $5,000 sponsorships in support of the annual Law Day event, which is presented by the association. Proceeds will go to the Law School Fund.
In addition, as part of an effort to establish the giving habit early among alumni, the institutional advancement team and the Alumni Council, which governs the association, are offering incentives to 3Ls to establish class gifts before graduating. The council, for instance, has promised up to a $10,000 match for money raised by the class of 2005.
Altogether, with money raised from its 1,500 dues paying members, the association spends about $80,000 annually on a 1L mentor program, scholarships, and events.
With the association, the alumni and development staff, and the university all pulling in the same direction toward a new future for the Law School, the years ahead look promising. "If you have alumni good will, which we have a great deal of at Boston College Law School, and a commitment of resources by the university and the dean, which we also have, then you have the formula to build a successful development effort," says Lord.