Poetic Justice
by elaine lembo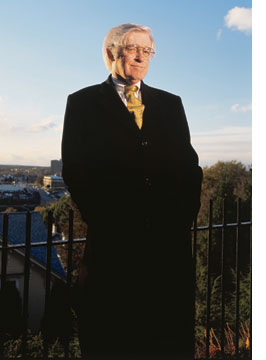 Justice William P. Robinson III
(Photo by Dana Smith)
In summer 2004, the Red Sox weren't the only ones trying to beat the odds. Attorney William P. Robinson III '75, a partner at Edwards & Angell, the noted Providence law firm, had submitted his name three times over a couple of years for a seat on the bench of the Rhode Island Supreme Court. By July, Robinson was still 0 for 3. If the General Assembly didn't act on the springtime nomination by Governor Donald Carcieri by the end of the month, Robinson's cherished bid would wither with the summer heat and the governor would have to find another candidate.
The sixty-day period, during which unrelated legislative business and party squabbles repeatedly pushed aside consideration of his bid, was for Robinson the most grueling inning of his professional life, leaving him wondering until the very end whether or not he was still in the game.
Among the colleagues and friends conducting a phone-in campaign on Robinson's behalf was Sister Mary Sylvia Rice. Rice was Robinson's seventh grade teacher, and she knew the ins and outs of the state house because of her work on the legislative committee of the Multiple Sclerosis Society. "I'm used to it," she says. "I go on crusades every so often."
So every day Rice joined the phone chorus until she'd called every member of the Rhode Island General Assembly. "You better swear that guy in," she told each one.
In the final hours of the final day the nomination was alive (July 30), Robinson was unanimously confirmed by the house and senate.
Rice attended his September 7 swearing in and her presence was a highlight for Robinson. "Sister Mary Sylvia was acknowledged at the ceremony and the entire assembly stood and applauded," he recalls. "In life, each of us has magic moments that are unscripted. That was one of them."

It is October, and "Lexis"—Robinson's nickname, after the research tool—is beaming. The sunlight shining through the windows of the Valley Inn in Portsmouth, Rhode Island, where he's taking a break after "riding circuit" and hearing cases in the local high school auditorium, adds to the glow. His face is framed in the halo of a full head of electric-white hair. Of all the memories from his confirmation day, Rice's story needed to be retold.
And make no mistake—could it be the Irish in his blood?—Bill Robinson loves to tell a tale. He's a living storehouse of hundreds more, some illusory, some literary, some factual, others personal. A giant of a man with a firm handshake, his life list of high-profile cases litigated, public offices and honorary titles held, academic degrees attained, languages spoken, countries traveled and lived in, poems translated and poems penned, runs as long as his stride.
"I'm a restless spirit," he admits. "God gave me a good set of brains." Seconds later, the man who speaks French, Spanish, German, Latin, Greek, and Catalan, demurs. "I'm just an ordinary person."
Don't believe it. No ordinary sixty-fiveyear-old still runs from one appointment to the next like a student constantly late for class. Indeed, the state's newest associate Supreme Court justice is fully engaged in learning his new job.
Robinson is used to learning. His academic credits include one law degree, one doctoral degree in French and Spanish literature (University of Connecticut), one master's degree in French literature (University of Rhode Island), and one bachelor's degree in philosophy (University of Louvain, Belgium). He began as a language teacher, then, after finishing Boston College Law School, served as law clerk at the US Court of Appeals for the First Circuit in Boston from 1975 to 1977.
The bulk of his legal career, twenty-seven years, was spent at Edwards & Angell. Robinson specialized in civil litigation, and he performed trial and appellate-level work before state and federal courts.
Of the many diverse cases in the areas of media law, civil rights, and employment discrimination that he took on, three in particular showcase his skills and knowledge of constitutional law and First Amendment issues.
• He represented WJAR-Channel 10 reporter Jim Taricani, who refused to name the source of a videotape that was part of an FBI probe into Providence City Hall corruption—the case that became known as Plunder Dome. (In December, attorney Joseph A. Bevilacqua Jr. voluntarily revealed himself as the source.)
• Robinson was heavily involved in the ultimately successful appeal of a criminal contempt charge that followed the Providence Journal's publication of information from FBI logs about deceased organized crime figure Raymond J."Junior" Patriarca.
• He successfully litigated for Narragansett Television in Harris Nursing Home v. Narragansett Television. The station was sued for libel after broadcasting an exposé on the nursing home. In a recent interview with Rhode Island Lawyers Weekly, Robinson said he felt good about the 1995 case, which went to the Rhode Island Supreme Court, because it "addressed the issue of what a public figure is for defamation law purposes." He argued that the nursing home was a public figure and had to prove malice to win the suit.
The cases demonstrate Robinson's love of the First Amendment, and with that, his support of the media's right to monitor government. "I believe that the drafters of the First Amendment saw the press as being, in effect, a fourth branch of government—a private sector branch outside of the three official branches," he says. "The role of the press is to scrutinize the other three branches and to scrutinize major players in society as well. This scrutinizing role of the press is absolutely essential to the maintenance of a sane society, but the holders of power will from time to time seek to extinguish the searching light of press scrutiny. For these reasons, I enjoyed defending the First Amendment rights of the media more than any other of my activities as a litigator in private practice."
In his new Supreme Court role, however, the litigator has bid farewell to advocacy in favor of objectivity. The day he was sworn in, he resolved "on each and every day that lies before me to be as open-minded and as fair as it is possible for me to be. It is easy to say that, but I firmly resolve here in public to strive each day to be open-minded and fair in my approach to every issue."
Robinson's scholarly and ethical approach to the law, combined with his massive appetite for research and study, made him more than popular to be around at work—it made him a crucial presence.
"I'd say that within our department he was the go-to person on First Amendment and constitutional law issues," recalls Edwards & Angell attorney and former colleague Deming Sherman. "He was collegial. He loved to sit and talk about the issues. He's intellectually curious about everything. He read everything in sight. Before you spent time [doing research] at a computer, you asked Bill first. You could save a lot of time just knocking on his door."
Yet long before the big degrees and the big cases, when Bill Robinson was just a seventh grader, he'd unwittingly found his most perceptive ally—Sister Mary Sylvia Rice. "He stood out," she says. "He was an excellent student, very bright. He could put facts together, analyze them, and draw a conclusion. He has the ability to see the big picture."
What kind of a thinker is capable of confronting the world in all its complexities? A thinker who's broadminded and who makes time to daydream—a thinker like Bill Robinson.
The tavern-like dining room of the Portsmouth Inn has a rustic atmosphere that reminds him of his beloved Spain. "I don't play an instrument. I do not sing well. But I love poetry. Listen to this," he starts, breaking into a few lines, in Spanish, of poet Gerardo Diego's work, "Rio Duero."

"That's music," he says when he's done. "I just can't sing."
Poetry—here it is, spilling out in joyful recitation, spontaneous stanzas Robinson seems to pull from bursting mental files. Poetry also gives him a break from it all—including the law. "Translating poetry is creative, it's escape," he says. "How's that different from someone who plays golf? I find translating poetry is a great way to get your mind off everything else. I'm a poet to the profoundest core of my being. I have to discipline myself to deal with reality every day. You get up, you brush your teeth. You go out in the world. Some people love it. I love reverie."
Unfortunately, reverie is hardly a central component of his daily life. Two months into his new job and not only has he not yet unpacked the boxes back at his chambers, but he's also surrounded by boxes in East Greenwich, at the home where he and his wife, Marlene, raised twin sons and a daughter. The Robinsons are moving to a house they're building in Misquamicut, a village on the state's southwest coast.
Front and center now is the workload of the Supreme Court—a week of oral arguments a month, followed by conferences and written opinions by the five justices on appeals of cases first heard in superior, family, and other state courts.
Normally, the Supreme Court sits at the Licht Judicial Complex in Providence, the state capital. But before lunch this October day, Robinson and his fellow justices have heard five cases in Portsmouth. Not only does the effort serve as outreach to citizens who otherwise wouldn't get into the capital to see the appellate court in action, it also creates an educational opportunity for Porstmouth High School students, who attend and ask questions of the lawyers who argue their cases before the court of last resort.
During the introduction, Chief Justice Frank J. Williams grabs a huge pile of bound papers. "You can see the amount of paperwork!" he tells the young crowd. The hefty stack contains briefs and statements by lawyers for the day's hearings. In front of each justice on the makeshift bench are legal pads, pens and pencils, more copies of briefs and statements, notes, and glasses of water. The newest justice is seated on the far left, in the traditional spot in the hierarchal pecking order; the chief justice sits in the middle. Robinson has stashed at his feet additional files containing extra notes and documents.
As the cases proceed and the lawyers deliver their arguments, Robinson listens carefully, sometimes removing his glasses, sometimes folding his arms across his chest, occasionally leaning back. At least once he leans his forehead on his hand, then rubs his eyes. He asks several questions related to each case, but mostly he maintains a studious, quiet demeanor, a sharp contrast to his more experienced colleagues who engage in lively questioning and banter with attorneys and the assembled crowd.
Session over and formalities dispensed with, Robinson and the other justices vanish behind the black curtains of the high school stage, and the lawyers and students engage in a question-and-answer session.
"What was the 'Act of David?'" one student asks.
Classmates giggle and lawyers swarm to the teenager's aid, explaining the meaning of affidavit.
Robinson hasn't missed a trick. Back at the inn, he says of the students, "Some of them were holding hands." So, he was looking out into the rows. He had spied the thick black mascara, tattoos, spaghetti-strapped shoulders, the chatter, and the dozing in the rows behind the first two, where the monogrammed shirt cuffs, cuff links, black suits, and briefcases dominated. He reflects upon the fact that the students are in the midst of deciding what to do with their lives.
To make a point about the young witnesses of the traveling circuit, he calls upon—who else but?—a poet. This time, it's T.S. Eliot's "Journey of the Magi."
"'A cold coming we had of it,'" he recites. "'Just the worst time of the year ...'"
"As in all great poetry, all of us are trying to follow a star," he explains. "We don't know where it leads us. We kind of go day by day. If you'd asked me on high school graduation night what I wanted to do the next day, let alone the rest of my life, I'd have had no idea what to say."
Fortunately for Robinson, the eldest of six children from East Providence, his father, William P. Robinson Jr., who served as the state education commissioner, gave him the freedom to take life as it came. "He let us do our thing," Robinson says, and that included giving his son the opportunity to attend school in Europe. While he studied at the University of Louvain, he considered becoming a priest, but later switched to languages and literature. He continued studying, working, and traveling throughout Europe, fine-tuning his speaking skills while soaking up his surroundings. "If you wanted bread and wine you had to know the words," he says.
By the time Robinson was close to his thirtieth birthday, he was in Europe again, on a post-doctoral fellowship. He realized the job market for academics in the US wasn't good, so he took the LSAT and applied to Boston College Law School.
"Why the law? I was looking for something that would give me stable income," he says. "BC was great. It emphasized community values. Material values aren't the most important values. Getting along is important, trying to be intellectually honest and decent is important. BC really takes its Jesuit traditions seriously, among them, to give service to humanity.
Jim McGuirk is an Edwards & Angell attorney and BC Law classmate of Robinson, who worked with him on the Law Review and recommended that he join the firm. "If there was ever anybody by activity and disposition who should be an appellate judge, it's Bill. He always took a scholarly approach, and he's interested in the interdevelopment of laws and society," McGuirk says.
Robinson may not be at Edwards & Angell in the flesh anymore, but his presence is still felt there and elsewhere. He stays up late reading, translating poetry, and sending clippings of articles and poems to friends. McGuirk had just received a new batch. "I got several things from him yesterday. They run the gamut. Did you know he's got a Yeats poem inscribed on his tumblers at home?"
The line on the glasses is a stanza from the justice's favorite English language poet, William Butler Yeats, and he has found it consoling in times of defeat: "Think where man's glory most begins and ends; And say my glory was I had such friends."
In Misquamicut, when the glass mugs come out of the boxes at Bill Robinson's new home and he proposes a toast, it will be to victory. For, like his favorite baseball team, he's a long shot no more.
Elaine Lembo is the managing editor of Cruising World Magazine in Middletown, Rhode Island, and a freelance writer.