Other Stories from Esquire
bc law magazine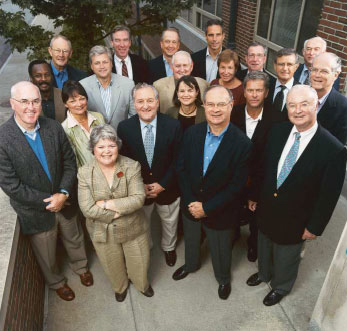 Back row (l-r): John J. Curtin Jr. '57, Dean John H. Garvey, John T. Montgomery '75, David C. Weinstein '75. Middle row (l-r): Walter B. Prince '74, Robert P. Joy '75, Douglas J. MacMaster Jr. '58, Hon. Ellen Segal Huvelle '75, Richard T. Colman '62, Robert A. Trevisani '58, William A. McCormack '67, Kevin B. Callahan '67. Front row (l-r): Richard P. Campbell '74, Joan A. Lukey '74, Mary "Meg" Connolly '70, R. Robert Popeo '61, Carolyn Thayer '75, Robert T. Tobin '64, John F. Boc '74, Paul J. McNamara '65. (Photo by Charles Gauthier)
Big Help
Board of Overseers Listens, Advises

Now numbering forty-five, the Board of Overseers is playing an increasingly important advisory role at the Law School.
At the October gathering, Dean John Garvey reported on plans to hire a new international tax professor, the high-achieving and diverse class of 2007, and proposals for an LL.M program and Center for Law and Religious Institutions.
Academic Dean George Brown said efforts to support faculty research and publishing were advancing (grants totaled $500,000 last year), and Assistant Dean of Admissions Elizabeth Rosselot noted that $5,000 scholarships and online recruitment chats were attracting top applicants.
Career Services Director Maris Abbene spoke of a brightening job picture and of efforts to keep new-graduate employment numbers high, a factor in US News & World Report rankings. Associate Dean for Institutional Advancement Marianne Lord offered plans to increase alumni participation and cited new giving goals this year: $3 million in capital gifts and $1.36 million in donations to the Law School Fund.
Reunion '05 Planning Under Way
New Goals Mark Change
Reunions at BC Law are going to be different from now on, and the planning for Reunion '05 is an indicator of things to come. At a kick-off dinner at the Law School in November, alumni volunteers were introduced to a new game plan for increasing participation in both attendance and class gift drives.
Reunion '05 Chair David Weinstein '75 explained to the gathering of fifty people the rationale behind the remodeled reunion strategy. "The Law School's advancement enterprise has a new profile that reflects new and higher ambitions for the years ahead," he said. "This is a decisive moment as the Law School endeavors to lengthen its strides and secure its place among the nation's top schools."
Under the direction of the new Associate Dean for Institutional Advancement, Marianne Lord, the reunion effort, which she considers integral to the Law School Fund's success, got off to an earlier start than usual. Volunteers were recruited for the social and fundraising committees of each of the ten reunion classes (those ending in '00 and '05). And ambitious fundraising and attendance goals were set.
Reunion 2005 begins with a Friday symposium at the Law School on bio-warfare research facilities. Saturday a campus brunch will be followed by a tour of the Big Dig in Boston. The reunion dinner will be held at the Marriott Long Wharf downtown. Reunion weekend is October 14 and 15.
For more information about your class reunion efforts, contact Alumni Relations Director Linda Glennon at linda.glennon@bc.edu or 617-552-3935.
Reunion 2004
Together Again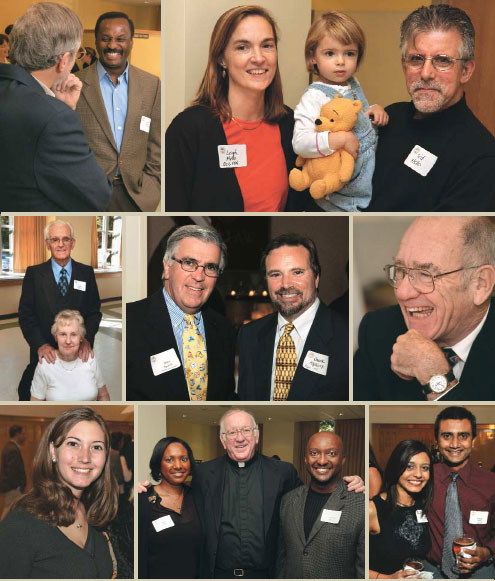 (Photos by Justin Allardyce Knight)
Help Fund Student Stipends
Donate Items to Public Interest Auction
BC Law's Public Interest Law Foundation (PILF) is hoping for a record level of support from alumni at the seventeenth annual PILF Auction, to be held April 7.
The auction is the primary source of funding for PILF's summer stipend program, which enables students to gain legal experience through public interest internships. Last year's event raised $34,000 and provided stipends to seventy-two students.
Organizers currently are accepting donations to be auctioned during the event. Donations in recent years have ranged from vacations in Tahoe and stays in summer homes, to movie tickets, sports memorabilia, and homemade baked goods. To donate an item, please contact Sarah Davis at 617-522-0916 or access the donation form on the PILF Auction website at http://www.bc.edu/bc_org/avp/law/st_org/pilf/pilfpages/auction.html.
Last year's auction program, accessible on the website, also can provide donation ideas.
In addition to donating, you can support the auction by attending on April 7. A silent auction will begin at 3:30 p.m. in the Stuart Hall Commons. A live auction will follow. Activities will conclude by approximately 6 p.m. An online auction also will be available for the first time. Check the website periodically for emerging details.
—Harriott Bolster '07
BOOKSHELF

Mission Flats (Random House, 2003) By William Landay '90
In 2002, William Landay '90 was sitting in the waiting room of his wife's obstetrician when his cell phone rang with the news that his novel Mission Flats had been accepted for publication. A few minutes later, he was seeing his child through an ultrasound for the first time. "It was quite a day," he remembers.
Six years earlier, Landay had left his job as a prosecutor in the Middlesex County District Attorney's Office to write full time. "I had just turned thirty and I felt it was time to give writing a shot," he explains. "I didn't want twenty years to pass and think, 'What if?'"
It wasn't an easy decision. "I was very intimidated. Writing a novel is so outside the realm of most people's experience. It's like climbing a very high mountain and not knowing whether you'll reach the top," he says. He cashed in his retirement savings and wrote for about two years, completing one novel, until the money was gone. He laughs, "It wasn't much of a grand plan."
He returned to the DA's office in 1998 for a year, but the work only reconfirmed his commitment to writing. So he left and began a second book, bartending on the side. Mission Flats was his third novel in six years and the first he tried to sell.
Fast paced and compelling, it bears some resemblance to Mystic River, the popular novel-turned-movie about crime in South Boston. Landay's tale is about a small town police chief who becomes embroiled in big city crime and politics when the decomposed body of a Boston prosecutor is found in his jurisdiction.
But nothing is as it seems in Landay's book. The good guys and the bad guys refuse to be categorized as they move between opposing ends of the moral spectrum. Their allegiances and loyalties constantly shift, which keeps the tension on throughout the book.
Narrator Benjamin Truman also refuses to fit into a stereotype. He's a brainy, self-deprecating character, a young would-be historian turned small town chief of police. In crafting Truman, Landay drew on his experiences at the DA's office, where he says he came to the world of crime as an initiate. During his years as a prosecutor, Landay says he always felt he was "an outsider to the criminal world. I was always wide-eyed from my first day to my last."
With the critical and commercial success of Mission Flats—the hardcover print run was 40,000 copies, it was published in thirteen other languages, and is now out in paperback—Landay's bartending days are behind him. Now he spends his time in his Newton Corner office, just down the street from BC Law School, churning out five pages a day on his next book. Mission Flats earned him the right to call himself a writer, and he's not giving that up.

Killer Smile (HarperCollins, 2004) By Lisa Scottoline

Though not yet an author, Ted Naccarella '87 has his hand in a best-selling novel. Naccarella, who is a partner at Synnestvedt & Lechner in Philadelphia, received an email one day from Lisa Scottoline, asking for some help on a mystery novel she was writing. Unfamiliar with her name, he googled her and quickly learned she was a New York Times best-selling author and a fellow Philadelphia lawyer. He met with her that very afternoon and spent two hours advising her on the intricacies of intellectual property law. By doing so, he helped craft the climactic courtroom scenes of the book. Naccarella says those were among the most fun hours he's ever billed and the experience has rekindled a desire to write his own book.

—Marlissa Briggett '91
Other articles from Esquire
McCormack Takes Reins
Journal Turns Twenty-Five
Law Lite