McCormack Takes Reins
by april otterberg '06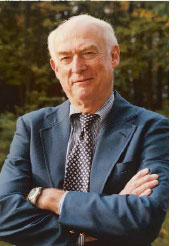 William McCormack says strengthening chapters is necessary for a law school with a national reach. (Photo by Charles Gauthier)
Chapters Still a Council Priority

William McCormack '67 doesn't need a stronger connection to Boston College. He and two brothers attended BC, and one brother and his daughter are graduates of BC Law. But McCormack's long ties to the BC community are what motivate him as this year's Alumni Council president, while he works to foster exchanges among alumni and to boost the Law School's national reputation.
Council officers over the last several years have begun the process of strengthening alumni chapters and increasing their number. Last year's president, Mary "Meg" Connolly '70, recognizing that BC Law's demographics are changing (increasing numbers of students come from beyond the Northeast), started her term with this goal. It's one McCormack is continuing.
"It's a goal and a bit of a vision," McCormack said. "To look at it one year and then have a new theme the next year wouldn't do justice to an objective like developing chapters because it's not something that's done overnight. We'll continue to focus on it next year."
Reaching the expanding alumni network through chapters is fundamental to ensuring that BC Law remains well-recognized in the legal community. Increased alumni activity "makes the Law School more visible in those areas of the country [where chapters exist], which helps the school in terms of national recognition," McCormack said.
Another focus of the chapters is enabling alumni to support each other.
"We want to not only raise recognition of the Law School in different parts of the country, but to also bring people together so they have networking opportunities," McCormack said. "We'd like to have chapters welcoming recent graduates....Early in your career, it's good to know people outside your firm. And there's a certain level of trust and familiarity among alumni because we've all had the common experience of going to BC Law."
Atlanta is just one of the cities targeted this year to host an alumni chapter for the first time, McCormack said. And some existing chapters, like the Los Angeles-based Southern California chapter, are experiencing new growth, said Andrew Apfelberg '96, chapter president.
Unlike alumni in cities in the Northeast, those in southern California can have difficulty maintaining their ties to the Law School and to each other. So, after a survey of area alumni showed that more than 98 percent wanted alumni networking opportunities, Apfelberg launched an alumni directory and a chapter website. Both have increased communication among alumni, not to mention attendance at the chapter's social events.
"We've gotten a groundswell of involvement and activity," Apfelberg said. "People who had given up on alumni involvement now are back. The feeling is that we're giving people something of value for their membership."
Apfelberg said that in addition to hosting brown bag lunches, maintaining an electronic bulletin board listing job opportunities, and organizing events with other chapters, his chapter is helping to create other chapters on the West Coast. Cities like San Diego, which has an alumni contingent not yet large enough to support a chapter, will draw on Southern California's resources and expertise until it can stand on its own.
Southern California's experience in needing a different kind of structural support to become more active is something the Alumni Council is addressing.
"In order to do extra projects like creating chapters, we have to be that much more stable at the Law School because we become a resource center for more people," McCormack said. "We're relying on staff who work very hard."
At the same time, McCormack and the rest of the Alumni Association are open to new ideas. "All alumni are part of the Alumni Association," McCormack noted, "and if there's a way the association can do a better job for them, we'd like to know."
Other articles from Esquire
Journal Turns Twenty-Five
Law Lite
Other Stories from Esquire