Class Notes
bc law magazine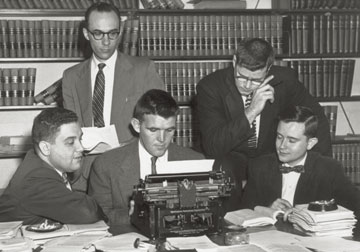 What's a laptop? A trusty typewriter and lots of paper were all these law students needed to get their work done.
Esquire
1960s
1970s
1980s
1990s
2000s
In Memoriam
Citations
We gladly publish alumni news and photos. Send submissions to BC Law Magazine, 885 Centre St., Newton, MA 02459, or email to sandervi@bc.edu.
back to top
1960s
Alan S. Goldberg '67 presented a lecture on privacy and security in health care at the annual meeting of the Virginia Bar Association in Richmond, Virginia, and via audioconference for the American Bar Association (ABA). In April, he taught a distance-learning course titled "eHealth Care, Privacy, and Technology" at Suffolk University Law School in Boston; co-taught a Virginia CLE seminar titled "HIPAA Transactions—Privacy and Security"; moderated a session titled "The New Era of Corporate Responsibility, Corporate Ethics" at the annual conference of the Food and Drug Law Institute in Washington, DC; and was featured in Maryland magazine regarding a seminar titled "eHealth Care, Privacy, Security, and Technology" that he co-taught at the University of Maryland School of Law in Baltimore, Maryland. A partner in the Washington, DC, office of Goulston & Storrs, he was appointed the first substantive Webmaster for the ABA Health Law Section and the section's delegate to the ABA Section Officers Conference Technology Committee.
James M. Micali '73, chairman and president of Michelin North America, was elected to the board of directors of Lafarge North America.
Steven Weisman '73 is the author of A Guide to Elder Planning: Everything You Need to Know to Protect Yourself Legally and Financially, published by Prentice Hall in September. He has a general law practice in estate planning and elder law in Cambridge, Massachusetts; is an adjunct faculty member at Bentley College in Waltham, Massachusetts; and is the host of a syndicated radio show.
Marion K. Littman '76 spoke at a health care workshop sponsored by the Civil Practice Committee of the Somerset County (New Jersey) Bar Association. She is a partner at Norris, McLaughlin & Marcus, P.A., in Somerville, New Jersey.
Gilda Tuoni Russell '76 is the author of Massachusetts Professional Responsibility, a legal ethics treatise published by LexisNexis Press. She is a partner at Holland & Knight LLP in Boston.
Gary M. Markoff '77 is the managing partner and serves as chair of the business law group at Sherin & Lodgen in Boston. He is a trustee of the Greater Boston Aid to the Blind, a member of the executive board of the American Jewish Committee, and a co-founding trustee of the Rachel Molly Markoff Foundation.
Frances Allou Gershwin '79 was named partner in the Boston office of Burns & Levinson LLP.
David F. Capeless '82 was sworn in as Berkshire County (Massachusetts) district attorney by Governor Mitt Romney in March.
Steven K. Forjohn '83 retired from the US Army Judge Advocate General's Corps. He is a civilian attorney for the US Marine Corps in Japan and specializes in environmental law and government contracting.
Lisa C. Wood '84 joined Foley Hoag LLP in Boston as a partner in the firm's litigation practice.
Debra W. Yang '85, US attorney for the Central District of California, discussed "Corporate Fraud—Trends, Changes, and Policy" at BC Law in March.
Marta D. Masferrer '86 is in private practice in San Juan, Puerto Rico, and specializes in labor and employment law.
Josephine McNeil '87 is the executive director of the nonprofit organization, CAN-DO, Citizens for Affordable Housing in Newton (Massachusetts), which celebrated its tenth anniversary in February.
Kimberly A. Rozak '88 was named partner at Mirick O'Connell in Worcester, Massachusetts. She was previously associated with the Boston firm Morgan, Brown & Joy.
Robert P. Fox Jr. '90 is a partner in the real estate and finance department of Nutter, McClennen & Fish LLP in Boston.
Roger L. French '90 was appointed vice president and general counsel of Digimarc ID Systems in Burlington, Massachusetts. He and his wife, Marilyn Emack '90, reside in Topsfield, Massachusetts.
Michelle R. Peirce '90 joined the Boston firm Donoghue, Barret & Singal, P.C., where she focuses on complex civil litigation and white-collar criminal defense. She was formerly in the trial department at Goodwin Procter LLP in Boston.
Joseph E. Mullaney III '91 joined Nutter, McCLennen & Fish LLP in Boston as a partner in the firm's business department. He was formerly a partner with the Boston firm Mintz, Levin, Cohn, Ferris, Glovsky & Popeo, P.C.
Brigid Kane Hurley '92 is co-author of the 2003–2004 edition of Taxation of Distributions from Qualified Plans, published by Warren, Gorham & Lamont. She is a member of the employee benefits practice group at Hodgson Russ LLP in Buffalo, New York.
Richard P. Rhodes Jr. '92 married Theresa M. Ferretti in Jonesville, New York, in October, with Michael R. Scinto '92 and Joseph Bartulis '92 attending as members of the wedding party. He is counsel for Claims Service Bureau of New York in Long Island. The couple resides in Clifton Park, New York.
Timothy A. Gagnon '93 joined Colin A. Coleman '87 as partner at Coleman & Gagnon, P.C., in Needham, Massachusetts, and continues to practice in the areas of wills, trusts and estates, tax law, business law, probate administration, and business succession planning. He was previously a partner at Jursek, Dennis & Gagnon LLP in Needham.
Sarah Elisabeth Curi '95 received a M.P.H. from the Harvard School of Public Health in 2002. She is the director of Legal Services and Compliance at Winchester Hospital in Winchester, Massachusetts.
Victoria Lyn (Hansel) Grady '95 was elected partner at Phillips Lytle LLP in the firm's Rochester, and Buffalo, New York, offices where she specializes in banking and commercial law. She and her husband, Sean, have three children and live in Brockport, New York.
Keith C. Ryan '95 presented a paper titled "Ethical Implications for Military Defense Counsel Assigned to Represent Enemy Combatants before Military Commissions" at the Joint Services Conference on Professional Ethics in Springfield, Virginia, in January. A lieutenant in the US Coast Guard Reserve, he is the training officer for the US Navy Harbor Defense Command Unit 201 in Newport, Rhode Island. As a civilian, he is a special agent with the US Department of Health and Human Services, Office of the Inspector General, Office of Investigations, in Hartford, Connecticut.
Daniel E. Will '95 was elected partner at Devine, Millimet & Branch, P.A., in Manchester, New Hampshire, where he is a member of the litigation department. He and his wife, Laurel, have two daughters and live in Hopkinton, New Hampshire.
Andrew M. Apfelberg '96, a senior associate in the business practice group at the Los Angeles, California, office of Luce, Forward, Hamilton & Scripps LLP, was elected president of the Los Angeles chapter of the BC Law Alumni Association. He married Rebecca J. Gorny, a production coordinator for Fox World Productions, in January.
Katharine P. Costello '96 was elected partner at Pepe & Hazard LLP in Boston, where she is a labor and employment attorney specializing in representing and counseling employers in employment decisions and all types of employment litigation.
Daniel K. Hampton '96 was elected partner in the Boston office of Holland & Knight LLP where he is a member of the firm's litigation section and focuses on intellectual property and appellate litigation.
William H. Stassen '96 was elected partner in the litigation department at Fox Rothschild LLP in Philadelphia, Pennsylvania, and is a member of the firm's condemnation practice group and emergency relief team.
Catharine H. Freeman '98 opened a solo practice in Hartford, Connecticut, in February. She remains affiliated with the firm Willinger, Willinger & Bucci, P.C., in Bridgeport, Connecticut, as of counsel.
Colleen Manning Hankins '98 and her husband, James Hankins, announce the birth of twin sons, Alexander and Zachary, in December. She is senior legal counsel at Fidelity Investments in Boston.
Laureen O'Brien '00 is associate general counsel for the AFL-CIO Housing Investment Trust in Washington, DC.
Michelle E. O'Brien '00 joined Sugarman, Rogers, Barshak & Cohen in Boston as an associate concentrating in civil litigation in the areas of business, employment and product liability, and insurance.
Suzanne Schaming Oliver '00 is assistant counsel at EquiServe in Canton, Massachusetts.
Veronica R. Pawlowski '00 joined Richardson & Harman LLP in Pasadena, California, where she specializes in real estate, construction, employment, and labor law and litigation.
Eric M. DiVincenzo '01 joined Moehrke, Mackie & Shea, P.C., and focuses his practice on environmental litigation. Formerly an associate at the Boston firm Hale & Dorr LLP, he resides in Brookline, Massachusetts.
John M. Lanning '37
Joseph P. Horne '38
Jacob Geisinger '39
Edward F. Connor '41
Daniel G. Holland '44
Edward J. Niland '47
William H. McBain '49
William T. Cahill '50
Raymond A. Cote '51
William A. Curran '51
Carlos F. Hill '52
Frank D. Zeuli '54
Raymond J. Doyle '55
Robert R. Gabriel '56
Thomas J. Joy '56
Edward M. O'Brien '57
John H. Treanor '58
John E. Seth '59
Robert O. Kelley '61
Paul V. Donahue '63
Paul L. Levine '63
Fletcher R. Vredenburgh '65
Steven D. Ostrowsky '67
William W. Thomas '72
Bette A. Winik '80
Alan H. Rudman '83
Sara Eddy '88
Deborah S. Youngblood '91
Hon. Suzanne DelVecchio '67, recipient of the William J. Kenealy, S.J., Alumnus of the Year Award at BC Law Alumni Association Law Day.
Michael S. Greco '72, nominated for American Bar Association presidency.
William D. Kirchick '76, named 2004 Estate Planner of the Year by the Boston Estate Planning Council.
David J. Tracy '77, selected for inclusion in the Chambers USA Guide to America's Leading Business Lawyers.
David W. Bianchi '79, obtained the largest fraternity hazing verdict in the country for the parents of a fraternity pledge who drowned in a hazing incident at the University of Miami.
Phillip L. Weiner '80, recipient of the Hon. David S. Nelson Public Interest Award at BC Law Alumni Association Law Day.
Renee M. Landers '85, recipient of the St. Thomas More Award at BC Law Alumni Association Law Day.
John N. Affuso '93, recipient of the 2003–2004 Courage Award from the BC Law Lambda Law Students Association.
Carlos A. Garcia '94, received a Linowes Leadership Award from the Community Foundation for the National Capital Area for his work with the Higher Achievement Program in Washington, DC.
H. Lamar Willis '99, recipient of the Recent Graduate Award at BC Law Alumni Association Law Day.
James P. Dowden '00, appointed law clerk to Associate Justice of the US Supreme Court Stephen Breyer.