Exploring Catholic Moral Doctrine
keith mcmanus '06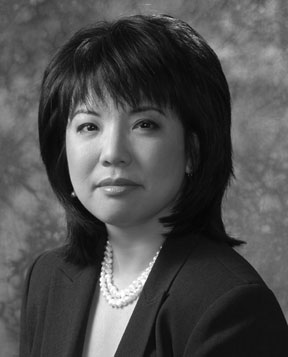 As a US Attorney, Debra Yang '85 is on the front lines of investigating and prosecuting corporate fraud.
Prosecutor Yang Talks Strategy
It's no secret that feelings about corporate America aren't what they used to be; scandals such as Enron and WorldCom have shocked the public and damaged confidence in American business.
One BC Law alumna is helping to ensure the scandals of yesterday don't happen tomorrow. As US Attorney for the Central District of California and a member of President Bush's Corporate Fraud Task Force, Debra Yang '85 prosecutes companies and seeks long-term policy solutions for America's business ills.
Since these scandals broke in 2002, decreasing corporate fraud has become a top priority of the US Department of Justice, said Yang in a Law School address last spring. Because their resources are limited, prosecutors have begun working more closely with Securities Exchange Commission staff, a combining of resources that enables them to move quickly to prevent further squandering of investors' money. Also, rather than waiting until attorneys can charge a defendant for every crime he or she may have committed, Yang's office focuses on one or two counts and obtains a faster conviction, relying on changes in federal sentencing guidelines to boost potential penalties.
Limited resources also may affect how prosecutors select cases. Though some observers accuse the government of targeting Martha Stewart in the ImClone insider-trading scandal because of her celebrity, Yang believes the case was pursued because of its deterrent value. "It's not just because it's Martha. The government cannot possibly go after everybody, so we have to select certain cases—not the individual, [but] the case—where it will set an example…and send a big message out to the public that you can't do this," Yang said.
Bush's task force realizes a balance must be struck between penalizing wrongdoing and being so tough that businesses struggle to function—particularly in deciding whether to go after a corporation or the individuals involved.
"We have the ability to essentially drive the corporation into extinction," Yang said. "By doing that, I'm well aware of the fact that it'll put [people] out of work, and create a great amount of scrambling in the particular field in which the corporation operates."
So, in her own prosecutorial decisions, Yang uses federal guidelines drafted in 2002. They say the government should consider factors such as the corporation's compliance programs and the risk of harm to investors.
"One thing I ask…is whether or not there's a history of this," Yang said. "Sometimes it's something where the corporation has…lived a certain lifestyle for many years, through many CEOs. Then you have to take a different look at the corporation."
This leads to closer inspection, and though Yang said corporations complain the additional scrutiny and new regulations are too onerous, she believes it's all necessary— and successful. "The cases coming in now are smaller in loss value… It signals that we are getting to the bottom of this," she said.
Other articles from In Brief
BC Law Ventures into Virtual Classroom
Keeping Mutual Funds Honest
The Ultimate Clerkship
More from In Brief