BC Law Ventures Into Virtual Classrom
by natalie engler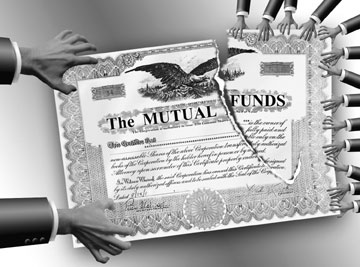 Illustration by Ray Bartkus
Bogle offers solution
Recent mutual fund industry scandals are among the starkest examples of the avarice to which much of the financial industry has succumbed, Jack Bogle, founder of the Vanguard Group of mutual funds, told a full house at the Law School earlier this year.
The scandals occur in part because the structure of most mutual funds encourages profit-seeking and potentially irresponsible handling of investments, he said. Most funds are run by external management companies whose profits are tied to fees and commissions that fund managers and brokers generate. Such costs, which increase through strategies like quickfire trading, market timing, and extensive advertising campaigns, are subtracted from investors' returns.

By contrast, Bogle's brainchild, the Vanguard Group, operates on the model of the first mutual fund, Massachusetts Investors Trust (MIT), founded in 1924. MIT was managed by its own trustees, rather than by an external corporation. Without an additional group of managers requiring payment, MIT passed on low costs to shareholders. As an example, Bogle said that before MIT gave up this model in 1969, its costs were set at 6 percent of the fund income. But last year, using the model of most other mutual funds, the fund's costs soared to 80.1 percent of fund income—returning to investors just 19.9 percent of gross fund income.
This cost disparity shows the dramatic consequences for investors that can flow from a mutual fund's use of external management services, according to Bogle. To avoid this, when he founded Vanguard in the 1970s, he sought to revive the trustee-management model.
"Fund shareholders own Vanguard lock, stock, and barrel, and none of their investment returns have to be diverted to the owners of a management company [or] financial conglomerate," Bogle said. "…That structure has been an essential element in the returns our shareholders have enjoyed."
Because high costs reduce investor profits, Bogle believes that, at some point, investors either will shy away from mutual funds altogether or demand enormous structural changes to the industry. "I am sure that shareholders will not ignore their economic interests forever," he said.
Other than a change in structure, though, part of the answer to the industry's problems may lie in increased regulation because the industry has demonstrated it can't police itself. But Bogle believes a more comprehensive solution would be to combine regulation with a shareholder- centered approach to investment and a renewed focus on investment management as a profession, not just a business.
"We need not just strategy and structure, but spirit—the spirit of mutuality, a spirit of trusteeship, the spirit of fiduciary duty, an all-encompassing spirit of stewardship, [and] a spirit of service to the millions of shareholders who have entrusted the mutual fund industry with their hard-earned dollars," Bogle said. "Our industry's future depends on the simple recognition…that the management of other people's money is a loyal duty and a solemn trust."
Other articles from In Brief
BC Law Ventures into Virtual Classroom
Stamping out Corporate Scandals
The Ultimate Clerkship
More from In Brief