The Ultimate Clerkship
by nathan winegar '06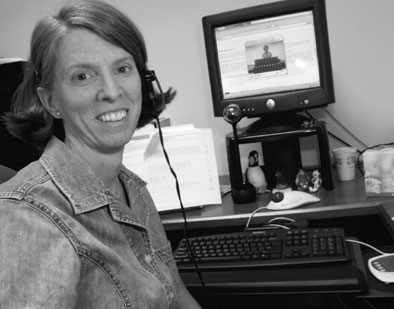 Irene Good '89 taught BC Law's first online course last fall. One student called the virtual experience "one of the most valuable" classes she's ever had.
Research course taught entirely on web
Boston College Law School made its first foray into distance learning last fall with a course called Online Immigration Law Guided Research taught by Lecturer and Legal Information Librarian Irene Good '89. It is an online version of a course Good has taught for the past four years.
In launching it, the school joins thousands of colleges and universities worldwide that offer online courses. Although some estimates indicate that by 2005, 90 percent of American institutions will provide at least one course over the internet, the legal profession has been slower to go virtual, only gaining American Bar Association approval in 2002.
What did Good discover with the experiment? There were the anticipated hardware and software snafus, but her biggest challenge was her time.
Because students in online courses can become isolated, frustrated, and fall behind more easily than their classroom counterparts, they require more frequent assignments and feedback, Good explains. Refashioning course content for electronic consumption is also labor intensive. Good had to type every lecture, shoot and upload videos of herself performing and explaining database searches, grade fourteen assignments every week, and monitor chat room discussions. As a consequence, "I worked every weekend, all weekend long," she says.
A few clicks after logging onto the course, second-year student Rachel Salazar found the written lectures and the videos showing Good at her own computer screen, entering search terms and clicking buttons on a database, while explaining every action. There was a bulletin board for discussion and a list of hypothetical problems to solve every week.
To decipher the puzzles, the students learned to use library reference books and online and other research tools such as Kurzban's Immigration Law Sourcebook and the Code of Federal Regulations. They also mastered the ins and outs of government agencies.
Good admits there are trade-offs to this teaching method. She didn't get to know the online students personally, as she does her classroom students, but she did have more contact with them via her weekly feedback on their assignments.
Both teacher and student say the benefits are worth the demands. "I think they learned the material better, because all the learning is put on them," Good says. And Salazar says "it was one of the most valuable courses I've had. I feel like now I can research almost anything in immigration law."
Online teaching is not suited to every subject, Good observes. It would be difficult, for example, to take the Socratic Method of teaching into a virtual classroom. But teaching research techniques rarely relies on this law school mainstay. With research, "you either know how to do it or you don't," says Good. "And the only way you learn how to do it is to do it over and over again."
She plans to offer the course online again in 2005.
Other articles from In Brief
The Ultimate Clerkship
Keeping Mutual Funds Honest
Stamping out Corporate Scandals
More from In Brief