The Ultimate Clerkship
by nathan winegar '06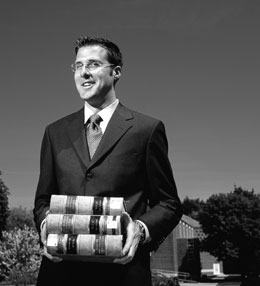 "I quickly fell in love with studying law," says James Dowden '00, who begins his job with the US Supreme Court Justice Stephen Breyer in July. (Photo by Dana Smith)
Dowden heads to Supreme Court
For the third time in school history, a Boston College Law School graduate has been selected to become a US Supreme Court Clerk. James P. Dowden '00 begins his clerkship for Justice Stephen Breyer in July.
Dowden, who has been a visiting assistant professor at BC Law teaching family law and white-collar crime, is eager to begin his court work. "It's a fantastic opportunity for young lawyers," he says. "You're on the cutting edge of legal issues." He joins the ranks of former BC Law clerks, Ed Leahy '71, who clerked for Justice William Brennan, and Paul Salamanca '89, who clerked for Justice David Souter.

Dowden's path to the Supreme Court has been one of distinction. He came to Boston College as an undergraduate from Bridgewater, New Jersey, where he was executive vice president of his high school's student government. He graduated from BC Law summa cum laude and won the James W. Smith Award for the graduating student with the highest academic rank. He went on to clerk for Justice Anthony J. Scirica in the US Court of Appeals for the Third Circuit in Philadelphia and later became a litigation associate at the Boston firm Ropes & Gray.

When he began law school, Dowden never imagined becoming a judicial clerk, let alone a Supreme Court clerk. "I am the first lawyer in my family. I had no concept of what a clerkship was when I came to law school," he says.
From the start at BC Law, Dowden realized he'd found his calling. "During my first year, I quickly fell in love with studying law," he says. He credits the mentoring he received for leading him toward a clerkship. Professor Sanford Katz, for whom Dowden worked as a research assistant, is proud of his former student's accomplishment. "He's an extraordinary young man," Katz says.

Other articles from In Brief
BC Law Ventures into Virtual Classroom
Keeping Mutual Funds Honest
Stamping out Corporate Scandals
More from In Brief