Gallery
natalie langlois '07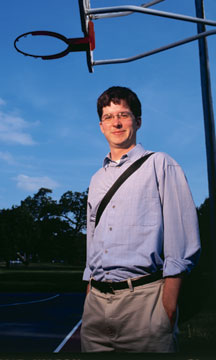 (Photo by Dana Smith)
Winner of 2004 Zubrow Fellowship at Philadelphia's Juvenile Law Center. Former high school teacher, AIDS outreach worker, and aide to domestic-abuse victims and the homeless.
How did it feel to win the Zubrow Fellowship? The résumés at the Juvenile Law Center are pretty outrageous. People there have done some incredible work, and all I did was teach for five years.
Why did you teach and what were the challenges? The year [I did] HIV education really drew me to working with youth. You always had to be on your toes. Kids do the darndest things. They cannot articulate the forces that motivate them, and there are so many such forces: friends, parents, neighborhood, what they watch on TV. The work includes lots of laughter and creativity.
What's next for you? I'm not sure I'm ever going to be a lawyer's lawyer. Maybe at heart I'm a teacher. Lawyers are empowered people in our society and we have a pretty extreme burden to take that seriously. [Lawyers need] to be helping those who do not have a voice of their own.
Any life-changing moments? Sorry, no jaw-dropping events to report. I choked on a hot dog when I was seven and they had to remove it with big long hooks they stuck down my throat. That was life changing at the time.
—Nathan Winegar '06